MLB Trade Speculation: Each Team's Best Prospect Who Could Be Dealt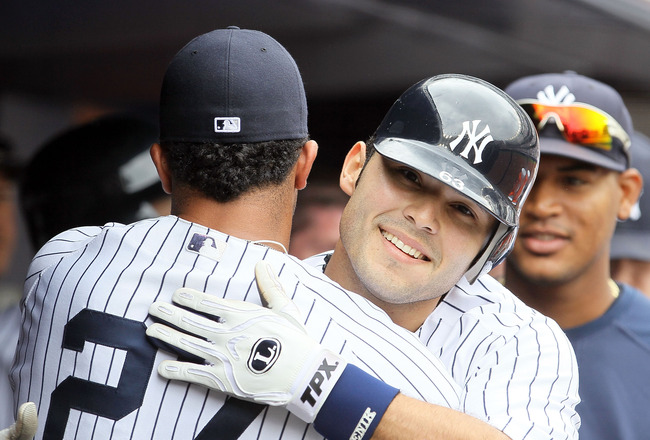 Jim McIsaac/Getty Images
Trading a prospect is like sending a child off to college. You really don't want to do it, but you know that, in the long run, it will benefit the child. Maybe, just maybe, you'll benefit too.
That is how MLB teams approach the concept of trading their young guns. Is he really worth trading? Will the return be enough to justify the trade? Making these tough decisions are what defines great GMs.
This winter, teams will face many such decisions. Because of this, I have gone through each organization and selected the best prospect who might be traded. There is no guarantee any of these players will be moved, but there is a reason for each of them.
Here is each team's best prospect who could be dealt.
Arizona Diamondbacks: Bobby Borchering, 3B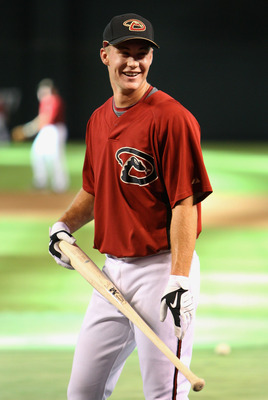 Christian Petersen/Getty Images
With Ryan Roberts seemingly in charge of the hot corner in Arizona, Bobby Borchering's importance seems to be dwindling in terms of the future of the franchise. This hard-hitting third baseman could be dealt to a team looking for some corner-infield help in return for starting pitching, a shortstop, or more prospects.
Atlanta Braves: Carlos Perez, LHP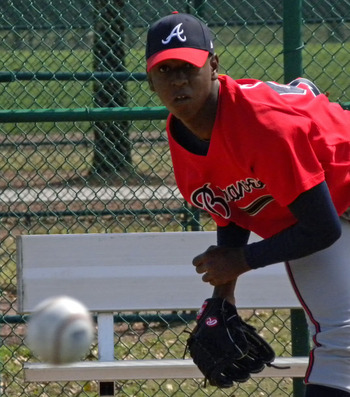 Atlanta has an embarrassment of riches in terms of pitching prospects. Following a subpar 2011, though, lefty Carlos Perez seems to be the odd one out. Julio Teheran, Arodys Vizcaino, Mike Minor, and Randall Delgado will all likely be in the big leagues soon, and that creates a problem for Perez. Atlanta could move him to acquire some more offense.
Baltimore Orioles: Mychal Givens, SS
Givens faces an unfortunate problem in Baltimore—he is a great prospect behind a better one. With Manny Machado destined to be Baltimore's shortstop of the future, Givens would only likely be able to succeed in Baltimore at a different position. If another team wants to take him and develop him into their franchise shortstop, the Orioles would probably be willing to listen.
Boston Red Sox: Brandon Workman, RHP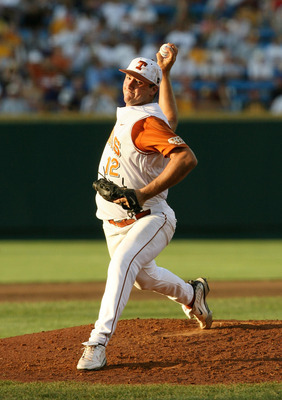 Elsa/Getty Images
The former Texas Longhorns stud is a very good prospect in the Red Sox farm system. However, due to the nature of the beast, the fact that he isn't an elite prospect makes him fairly expendable. The Red Sox would probably like to use him as a trade chip to get more proven major league talent to help recover from a crushing end to the 2011 season.
Chicago Cubs: Matt Szczur, Outfielder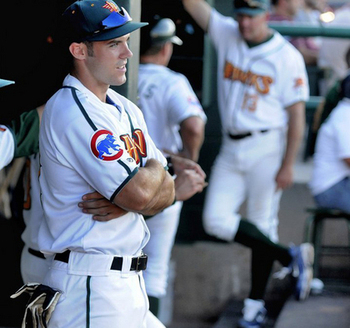 (For those wondering, it's pronounced "Caesar")
Matt Szczur, one of the relatively unheralded prospects in the Cubs' system, has the unfortunate predicament of being behind Brett Jackson in the Cubs' conveyor belt of outfield prospects. Knowing the nature of their team, it is unlikely that both Jackson and Szczur will become future MLB outfielders in Chicago. That said, it would be wise to trade Szczur to fill holes.
Chicago White Sox: Eduardo Escobar, SS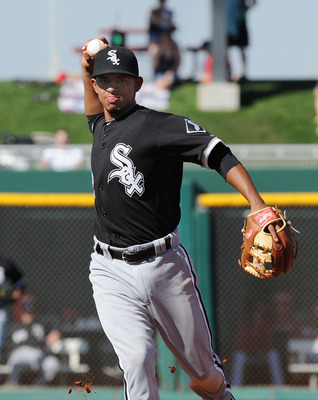 Norm Hall/Getty Images
Escobar is a very good prospect, and the White Sox have been very high on him. However, it really doesn't seem like Alexei Ramirez will be going anywhere anytime soon, and the longer he is on the White Sox, the less chance there is of Escobar playing soon. Because of that, it is logical to shop Escobar as a future shortstop for a team. That could net the White Sox some outfield help or pitching to help the team climb back into relevance.
Cincinnati Reds: Yasmani Grandal, C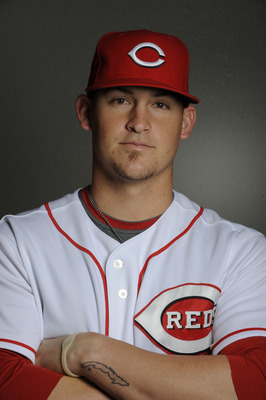 Rob Tringali/Getty Images
The Reds have the same problem as a lot of other teams—they have a logjam at a position. Grandal is an excellent catcher prospect, but with Devin Mesoraco also in the mix, it will be hard to find Grandal playing time any time soon. That opens up the door for a trade, and having a good all-around catcher is a huge pickup for any team. The Reds could do very well in trading Grandal.
Cleveland Indians: Jason Knapp, RHP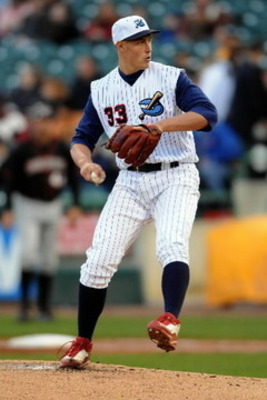 Knapp, one of the best arms remaining in Cleveland's farm system, was acquired in the trade that sent Cliff Lee to Philadelphia in 2009. He has had shoulder issues though, and his health is a major point of concern. As such, the Indians would probably like another team to take a risk on him if the return is good enough. They will probably try to shop him around this offseason.
Colorado Rockies: Tyler Matzek, LHP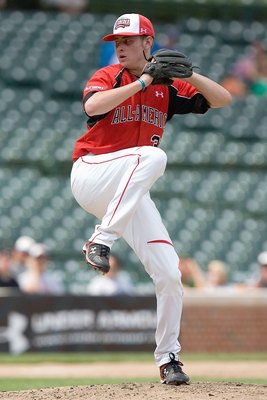 Dilip Vishwanat/Getty Images
Matzek's relatively disastrous season, coupled with Colorado's acquisition of Alex White and Drew Pomeranz, makes him an attractive option to be traded. Colorado can use Matzek's high ceiling to draw in teams as trade partners. A big-time lefty starter is a valuable commodity, so Matzek would probably come at a high price.
Detroit Tigers: Francisco Martinez, 3B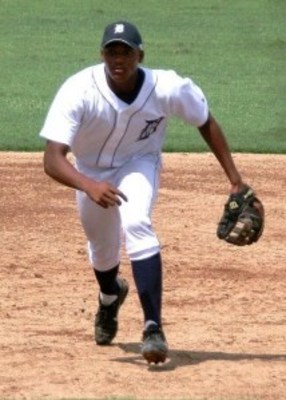 A common thread among a lot of these teams is the "roadblock issue". The Tigers face the problem of having two very good third base prospects. However, the better one, Nick Castellanos, is going to be a future franchise player and isn't likely to be moved. That leaves Martinez, who has a very high upside. He is still very young, and there will be many teams willing to take a chance on him.
Florida Marlins: Marcell Ozuna, Outfielder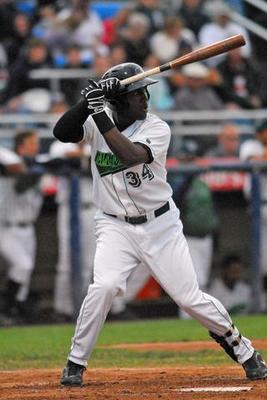 With Logan Morrison and Mike Stanton occupying the corner outfielder positions, Ozuna's value to the Marlins has declined. He does not have the defensive ability to play center field every day, so the Marlins could ship his big bat to a team that needs a corner outfielder of the future. The Marlins don't really want to part with him, but if the return is enough, it may be worth it.
Houston Astros: Tanner Bushue, RHP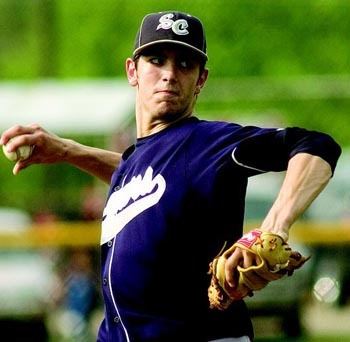 Houston probably has no intention of trading a big-time prospect. Bushue, a second-round pick in the 2009 draft, somewhat fits that bill, but he is far enough away where the Astros could trade his "future value" to get someone who could help the team in the short run. Houston has little hope of improving in 2012, but trading a player like Bushue for a proven major leaguer may help.
Kansas City Royals: Yordano Ventura, RHP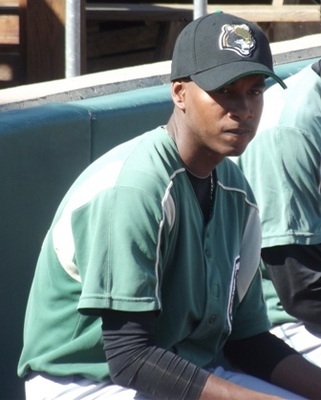 First off, let me speak for failed baseball players everywhere by saying, "Not fair." Ventura is listed at 140 pounds and 5'11", but his fastball registers in the upper 90's, even touching 100, on the radar gun. That is just crazy. However, because of his relatively small frame, he becomes somewhat of an injury risk. Kansas City might want to sell him based on that risk and hope that a suitor bites on his huge fastball.
Los Angeles Angels: Jean Segura, 2B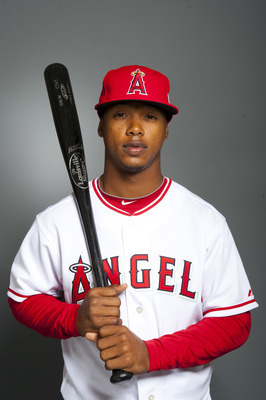 With Howie Kendrick and Maicer Izturis presumably in control of the middle infield in Los Angeles for the next few years, Jean Segura, despite being a few years away from being MLB-ready, might not be able to jump right onto the field. He has tremendous talent and a similar skill set to Cleveland prospect Jason Kipnis. This talented second baseman could find another team lacking depth at the position and make a push to be the second baseman of the future.
Los Angeles Dodgers: Leon Landry, Outfield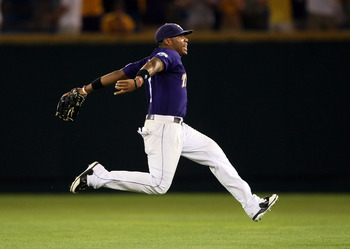 Elsa/Getty Images
The former LSU star is one of the top non-pitcher prospects in the Dodgers' system. Given the team's financial woes, prospects will be playing a big role in the future of the team. However, outfield is not a particularly pressing need, and dealing Landry would allow the Dodgers to acquire depth at other positions in the infield.
Milwaukee Brewers: Wily Peralta, RHP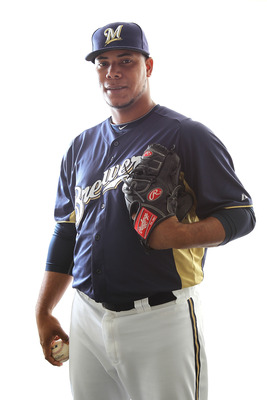 Jonathan Ferrey/Getty Images
The big righty had a terrific 2011 season, and the Brewers have reason to be very excited about Wily Peralta. But in the grand scheme of things, he may be more valuable as a trade chip than as a future starter for Milwaukee. Because Prince Fielder is likely gone, trading Peralta could help lure in a replacement (maybe Michael Young from Texas). The Brewers may want to explore trading this talented pitcher.
Minnesota Twins: Aaron Hicks, Outfielder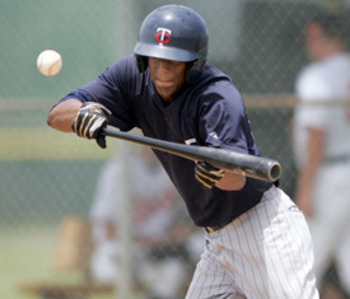 Minnesota has a very talented outfield prospect in Hicks, whose disappointing 2011 season could lead to the Twins souring on him. With that, he becomes fair game for a trade, and many teams will surely be asking about the athletic outfielder. He fits the B.J. Upton mold many teams covet, so he could be a relatively in-demand prospect.
New York Mets: Kirk Nieuwenhuis, Outfield
Elsa/Getty Images
The Mets are going to be rebuilding for a few years now, and a rebuilding team sometimes has to trade part of the future for more parts of the future. In this case, trading toolsy outfielder Kirk Nieuwenhuis could be a good move. The trade partner would be getting a potentially very good outfielder (if he stays healthy), while the Mets could acquire some additional pieces to help them have a more successful future.
New York Yankees: Jesus Montero, C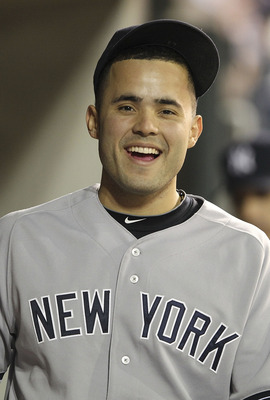 Leon Halip/Getty Images
Let's get this straight—Montero is a hell of a prospect. The Yankees would love to keep him. But because of the high uncertainty in the New York rotation, Montero's blue-chip value could be parlayed into a very good starting pitcher.
Montero's straight-up value is debatable, but there is no question he could net the Yankees a very good starter.
Oakland Athletics: Renato Nunez, 3B
Nunez, the Venezuelan third base prospect for the A's, is likely a few years away from the big leagues. Even so, the Athletics seem to be fairly happy with Scott Sizemore at third base, at least for the foreseeable future. Trading Nunez and his high-ceiling talent could net the A's some long-term outfield help, something that is arguably a bigger need than anything for the team at this point.
Philadelphia Phillies: Domonic Brown, Outfielder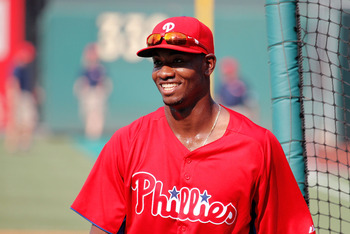 Len Redkoles/Getty Images
Before you shoot me, Phillies fans, here's my reasoning. Don't you think that, if the Phillies really loved Brown, they would have traded for Hunter Pence? I know they needed offense at the trade deadline, but Pence is a great fit in Philly, and it isn't really logical to think he will be gone soon.
Brown, meanwhile, is temporarily homeless. But countless other teams would love to get their hands on him. The return could be anywhere from Jimmy Rollins' replacement to a legitimate third baseman to a few bullpen arms.
Pittsburgh Pirates: Starling Marte, Outfielder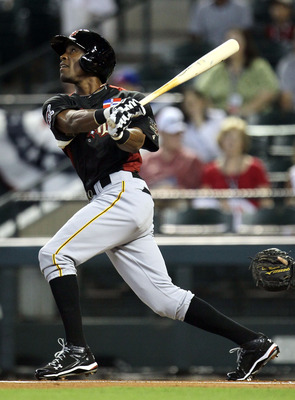 Jeff Gross/Getty Images
This is another example of a team parlaying one talented prospect into several less-but-still-talented prospects. Marte is an excellent player, and projects to be a player much in the mold of Andrew McCutchen. He would be a player in high demand if put on the market, and Pittsburgh could fill a lot of organizational holes by dealing Marte.
St. Louis Cardinals: Zack Cox, 3B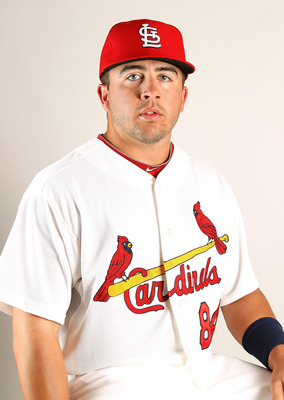 Mike Ehrmann/Getty Images
Zack Cox is the top offensive prospect in the St. Louis farm system. However, the breakout season of David Freese has made Cox's value, at least with the Cardinals, somewhat diminished. Many other teams could use a potential long-term third baseman, and Cox could provide them with that guy. St. Louis probably will look to shop him as part of a package deal, potentially being the centerpiece of such a deal if (here it comes) Albert Pujols departs.
San Diego Padres: Rey Fuentes, Outfielder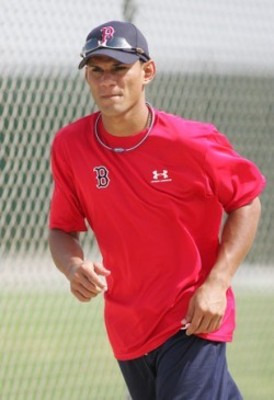 Fuentes isn't one of the top five prospects in the Padres system, but he is still a very good player. The former Red Sox prospect and UMiami stud, Fuentes has the potential to be a good outfielder. Because the Padres have many holes to fill, Fuentes could be moved to bring in some infield help, perhaps, or more bullpen arms in San Diego.
San Francisco Giants: Francisco Peguero, Outfielder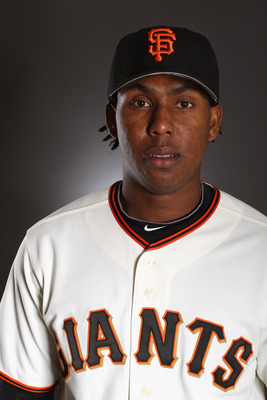 Ezra Shaw/Getty Images
San Francisco has already shown a willingness to trade future for present. When the Giants traded Zack Wheeler to the Mets, they showed that it is possible for them to part with almost any prospect as long as the return is justifiable. Trading Peguero would send a future star outfielder away, but bring in more offense as the Giants look to retool and knock the Diamondbacks off their perch atop the NL West next year.
Seattle Mariners: Blake Beavan, RHP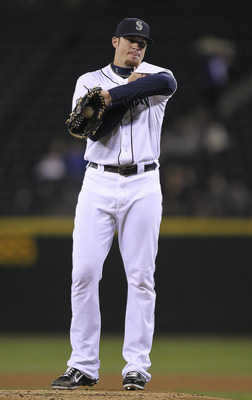 Otto Greule Jr/Getty Images
It is not secret at all that the Mariners need some offense. Having a relative abundance of young arms, the Mariners could decide to move one of their pitchers in order to acquire, for example, some young outfield bats. The big righty Blake Beavan saw some time in the majors this year, and looks to be a solid MLB starter. Teams value that, and shipping off Beavan would likely net the M's some good offensive prospects, or perhaps more MLB-ready hitters.
Tampa Bay Rays: Alex Cobb, RHP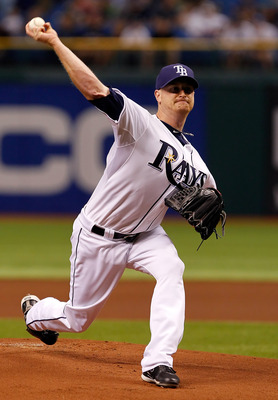 J. Meric/Getty Images
The Rays have a very happy problem this winter. What do these eight names have in common:
James Shields, David Price, Jeremy Hellickson, Matt Moore, Jeff Niemann, Wade Davis, Alex Cobb, Alex Torres
You guessed it! These are eight Rays pitchers who are all viable options to be MLB starting pitchers. Unfortunately, there are only five spots. Of these, Cobb is the prospect most likely to be moved. He will likely be shipped out, along with Niemann or Davis.
Texas Rangers: Engel Beltre, Outfielder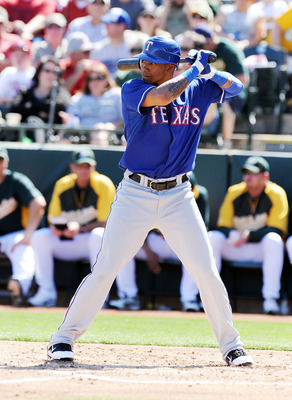 Norm Hall/Getty Images
Beltre (no, not Adrian) is a terrific baseball player. There is no doubt about that. But character issues and a general lack of mental awareness has made him sink in the rankings of Rangers prospects. However, the talent is definitely there. He is a good, multi-talented outfielder. If a team is willing to take on the risk, the Rangers would probably love to get rid of him if the price is right.
Toronto Blue Jays: Aaron Sanchez, RHP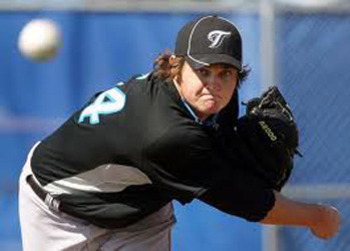 The Blue Jays have a lot of good arms in their farm system, and sometimes, to get better you have to part with good talent. Sanchez could be one of those players that the Blue Jays trade. He has the potential to be a very good player, but because of the Jays' relatively good starting pitching depth and lack of bullpen arms, Sanchez could be traded in return for some MLB relievers.
Washington Nationals: Derek Norris, C
Doug Benc/Getty Images
The Nationals have some good depth at the catcher position, with Norris being arguably their best prospect. But they also have Jesus Flores and Wilson Ramos, two very good catching prospects who could both be solid MLB catchers.
The Nationals could shop Norris to look for some starting pitching or some more bats. A logical trade partner would be the Tampa Bay Rays, who need catching and have plenty of starting pitching to go around.
Keep Reading