Ben Roethlisberger Injury: Updates on Steelers' Week 6 Status and Fantasy Value
October 10, 2011
Jared Wickerham/Getty Images
Pittsburgh Steelers quarterback Ben Roethlisberger played through the pain to post his best game of the season on Sunday. Roethlisberger threw five touchdowns in the blowout win over the Tennessee Titans. He was in obvious pain during the contest, and fantasy owners will have to hope Big Ben's bothersome foot doesn't lead to any setbacks ahead of a Week 6 clash with the Jacksonville Jaguars.
Keep checking back to this page throughout the week for the latest news on his playing status and fantasy football value for Week 6.
Sunday, Oct. 16 at 12:17 p.m. EDT
As expected, Ben Roethlisberger is starting against the Jacksonville Jaguars, according to Rotoworld's Staff.
Thursday, Oct. 13 at 1:25 p.m. EDT
After a dominant Week 5 performance in which he threw for five touchdowns against the Tennessee Titans, there is little doubt that Roethlisberger will play in Week 6 against the Jacksonville Jaguars. According to KFFL.com, Roethlisberger may have to wear a protective shoe for one more week as well.
"I felt a lot better this Monday than the week before," Roethlisberger said. "Usually Monday and Tuesday are the most painful days but it felt really good this week. I found a bruise on my leg but I don't know where it came from." Roethlisberger said he will modify the protective shoe he wore on his left foot, but that the team's Week 6 game might be the last time he wears a special shoe.

Wednesday, Oct. 12 at 4:55 p.m. EDT -- Tim Daniels
CBS Sports commented about Big Ben's improved play as last week's progressed and looked toward this weekend's game against Jacksonville. They aren't completely convinced he's back to being fantasy worthy quite yet, though.
Though Roethlisberger's numbers leading up to Week 5 had been so-so, he showed once again that he's the centerpiece of the Steelers offense and reminded us all just how effective he is when playing through pain. With a favorable matchup Week 6 against the Jaguars, he's worth a look as a low-end No. 1 Fantasy QB again.
After such a strong performance, Roethlisberger should be in your lineup against the Jaguars unless you have one of the elite QB options on your roster.
Wednesday, Oct. 12 at 2:05 p.m. EDT -- Tim Daniels
Roethlisberger has been rewarded for his warrior-like performance against the Tennessee Titans last week. Steelers Digest tweeted about Big Ben's Week 5 honor after it was announced. Needless to say, he earned it.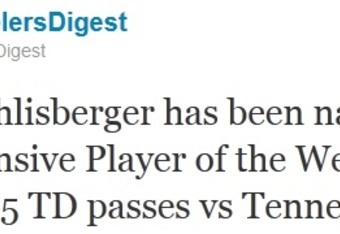 Pittsburgh's quarterback will play again this week against Jacksonville barring an unforeseen setback in the next few days.
UPDATE: Monday, Oct. 10 at 12:10 p.m. EDT by Donald Wood
Even with a nasty limp and certain damage to his ankle, there was no question that Ben Roethlisberger was going to play in Week 5 against the Titans and the same can be said for this week's game against Jacksonville
The Pittsburgh Post-Gazette is reporting about Ben's Play in Week 5's game against the Titans:
Playing with a sprained left foot, Ben Roethlisberger threw TD passes on the first three possessions and finished with 228 yards and five TDs, tying his career high. Roethlisberger executed a lot of quick-rhythm passes, targeting 11 receivers, and finished it off with a 40-yard scoring pass to Mike Wallace. His only mistake: A botched spike when he was intercepted.
While I don't believe he will throw five touchdowns again this season, Ben has been playing better and holding on to him is not the worst idea. If you have a better option, you should continue to pursue it.
Monday, Oct. 10 at 2:45 p.m. EDT
Skip Bayless of ESPN had some high praise for Roethlisberger following the QB's Week 5 performance. The controversial pundit has to be taken with a grain of salt because he usually says things simply to draw a reaction, but he's actually pretty accurate about Big Ben.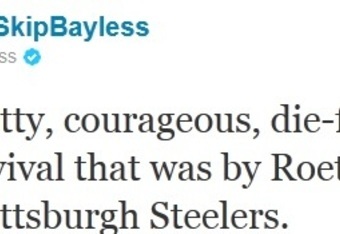 It was a very important early-season game for Pittsburgh, and Roethlisberger showed up in a big way. As of now, it looks like he'll be jogging out there once again next weekend. And after his most recent performance, fantasy owners will probably have no choice but to have him in their lineups.