Andre Johnson Injury: Updates on Texans Star's Week 6 Status and Fantasy Value
October 10, 2011
Thomas B. Shea/Getty Images
The Houston Texans need Andre Johnson back in a bad way.
The superstar wide receiver has been out of commission due to a hamstring tear and is sorely missed.
UPDATE: Sunday, Oct. 16 at 3:25 p.m. EDT
As expected, Johnson has been ruled out of today's game against the Ravens. According to Rotoworld.com, the All-Pro receiver is expected to make his return in Week 8. 
It was obvious when the Texans acquired Derrick Mason earlier this week that Johnson was likely going to miss at least one game. Now that he is likely out two weeks, the offensive dynamic will completely change. 
It's a good thing that they got Arian Foster back when they did, otherwise they would be in real trouble right now. 
UPDATE: Friday, Oct. 14 at 2:51 p.m. EDT
According to Nick Scurfield of HoustonTexans.com, Andre Johnson has had the stiches removed from his leg, so that he may begin full rehab.
This bodes well for Johnson owners, but it's still a reach to think he will play this weekend.
UPDATE: Thursday, Oct. 13 at 12:15 p.m. EDT
When Johnson went down with a hamstring injury, things did not look good for him or the Texans. Now, ESPN NFL analyst John Clayton has doubts that he will be able to return this weekend against Baltimore.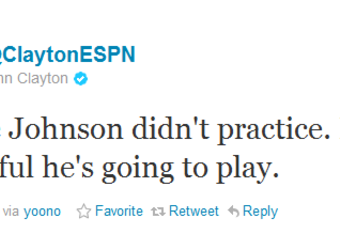 The Texans offense is not the same without Johnson. They will have to rely on Arian Foster a lot in this game, because they aren't going to be able to throw the ball down field as much as they normally would. That's not a bad thing, but they do lose the element of surprise. 
UDPATE: Wednesday, October 12 at 2:40 p.m. EDT
The Houston Texans have reason to be worried about Andre Johnson's health. They have even more reason to be worried about what his absence will do to their team.
With a little under a week left until the trading deadline, the Texans went out and traded for a veteran receiver: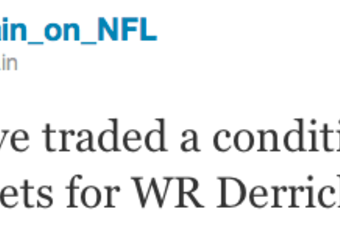 Now, this could all be a quick ploy to learn some things about their Week 6 opponent, but it could also be a safety move for a veteran receiving presence.
Jacoby Jones has not been good in Johnson's stead and the Texans' top receiver have become tight end Owen Daniels and running back Arian Foster.
Mason failed to make an impact in New York, and it will be interesting to see exactly what Houston brought him in for.
Either way, the injury to Johnson has to be considered part of the reasoning for the move.
UPDATE: Tuesday, October 11 at 9:25 a.m. EDT
Any chance of Johnson getting on the field this weekend against the Ravens has been ruled out and he is still in question for Week 7. The Houston Chronicle reports:
There is no timetable for the return of receiver Andre Johnson He won't play at Baltimore on Sunday and might not be available for the Oct. 23 game at Tennessee. He could return for the Oct. 30 Jacksonville game.
It is important to note that the Texans have handled hamstring injuries with caution already this season. They held Arian Foster out of a game and it looks to have paid off. The only possible remedy for hamstring injuries (and Johnson had surgery) is time to heal.
Coach Kubiak did offer some positives though as he said: 
We'll see where he's at each week ... As of right now, the soreness has gone away, and his rehab has picked up.
But the key words here are "each week." Johnson is too important to this team's postseason hopes to rush him back onto the field and they don't have a bye until Week 11.
Jacoby Jones will continue to be the receiver on the outside, but it is the tight ends and running backs that will see increased passes their way.
Owen Daniels, Joel Dreessen, James Casey and Arian Foster will be big parts of the passing game in his absence. 
UPDATE: Monday, October 10
According to Texans beat writer John McClain of the Houston Chronicle: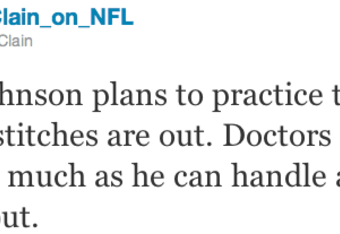 He is still, however, not expected to play until at least Week 7. They'll obviously have to monitor him, but any progress is good.
The Texans are one of the unfortunate teams to have a late bye week.
Houston has had to deal with a rash of injuries, and the Week 11 bye is looking terribly far away.
On top of Johnson's injury, they just lost their best defensive player, Mario Williams, for the season.
Johnson's absence has been noted by opposing teams already. Rather than having to dedicate a top corner and safety to defend Johnson, teams can key on Arian Foster in the backfield.
Tight end Owen Daniels has become the team's top target, and he is far less fearsome without Johnson clearing space for him.
In Week 5's loss, Arian Foster and Joel Dreessen both went over 100 yards receiving on five receptions, while Daniels caught seven balls.
Schaub's play was noticeably worse outside of his game-ending interception:
If Johnson were in the game, this would likely be a fade route to him.
Schaub completed just under 50 percent of his passes, which is 10 points less than his season average and 15 points under his career average, and nearly matched his interception total for the season in this game alone.
Needless to say, Johnson's absence is a big problem.
Jacoby Jones is still the man in his place for Week 6, as many expect Johnson to return in Week 7. Don't expect to much from Jones, though, as Schaub will rely on Foster and Daniels once again in the passing game.
The Ravens defense will not be easy to rush against, and the Texans will have to do everything they can to get the ball in Foster's hands.
When Johnson does return to the lineup, he will be a must-start even with limited. The Texans do not have the luxury of dropping games in their quest for a postseason berth.
We will update when more is known.