Chelsea FC: Michael Essien, Ramires and College Applications
October 10, 2011
Alex Livesey/Getty Images
It seems like an eternity ago now, but it was only a few months ago that we all awaited with eagerness the start of the Chelsea preseason.
Sure, we were not expecting magical matches for the ages against some lowly sides from southeast Asia, but once the players hit the pitch at Cobham, we could start counting down the days to the start of the season.
Like many of you, the only thing that really concerned me during those very early days was who would be joining the blues. What new faces would Villas-Boas bring into the team? What kind of new spark could they incite on a team that lacked certain twang at the end of an attack?
So, every morning before work and school (and of course every hour while I was there), I would visit Chelseafc.com. Most days nothing new would come through. Just another story about a Chelsea player saying "this was the year" or Villas-Boas projecting his uplifting, yet oddly bland philosophy of the game.
But one day I went on, and there was some news—news that I thought would change Chelsea forever.
It was a Friday, July 8th, to be exact. Abnormally hot in my Brooklyn, NY apartment, it was one of those nights when you forgo any concern about conserving money or the environment and you crank that A/C up to freezer levels.
I crawled out of the pool of sweat I was laying in only to realize that I had either undressed myself in my sleep or my clothes had just evaporated off my skin and the little microbes of a cheap wife-beater now added to the dense humidity that seemed to rest on my shoulders.
I made my way to my couch, plopped down on to lumpy cushion made all the worse by the fact that it is cheap pleather. I opened my laptop and started my routine—email, news, weather (still freakin' hot!), and Chelsea.
On the front page, on the left hand column of their top stories there was a title that didn't particularly strike my interest. It said "ESSIEN STATEMENT." I didn't think much of it.
I figured it was just now the Ghanaian's turn to do his PR and say in broken English that he believes that this is the best Chelsea team ever and that it will be tough, but they will break through to win it all.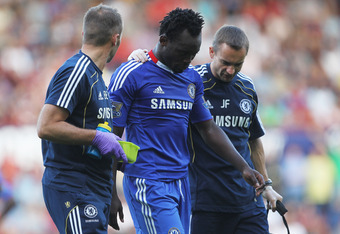 Hamish Blair/Getty Images
So I went about my morning as usual—ate breakfast, took a shower, got changed, etc. Before I left the apartment that had I left a Turkey on the coffee table all day, I would've come home to a perfectly roasted and ready-to-eat bird, I decided to check the Chelsea site one more time.
This time when I went on, the Essien story was not buried to the right, it was now the main headline. I figured I might as well read it. I like to procrastinate whenever I can anyway. However, instead of the formulaic BS I had expected from an athlete I was greeted with the following message:
"Michael Essien suffered an injury to his right knee during training this week. He will undergo tests over the next few days to determine the extent of that injury. Until we have the full results of those tests we will not be commenting further."
I don't know what happened over the next few hours. I either was in so much shock I fell over and hit my head on the coffee table or perhaps I finally succumbed to heat stroke. But when I finally regained consciousness, I realized two things.
1) The heat again had somehow miraculously driven me to rid myself of my clothes in my unconscious state (even more amazing given the fact I was wearing a suit) and 2) this was not a dream.
A few days later, the shock and uncertainty of the news was followed up with one of the worst of possible outcomes. Essien had torn his ACL, the Achilles heel for an athlete (except the Achilles itself, of course).
Michael Essien has a very interesting place in Chelsea lore. He is touted as one of the best players on the team—and rightfully so. His amazing versatility is unmatched not only on the team, but probably by any player in the world.
Asked to play primarily a holding role on the blues does not stop him from venturing deep into the attack and unleashing some of the fiercest shots in all the game. He is pure muscle, almost more primalistic in his approach than anything.
Instinctive in decisions and confident in movement, his full repertoire of ability is really on display when he plays for Ghana.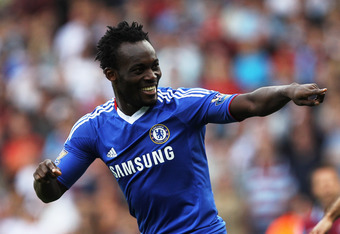 Hamish Blair/Getty Images
But for all of this praise, he has been absent through injury for much of the team's success. He has played in only 224 matches in all competitions since he joined the club back in 2005.
Compare that to the other staples of Chelsea success over the last decade—Didier Drogba at 270, John Terry at 283 and Frank Lampard at 303 games. Injuries seem to be the only reason that Essien's talents are not appreciated at a greater level by more fans of the game.
Fans all around the Chelsea nation possess a deep sorrow, as deep as one can feel for someone they do not know and have no real emotional attachment to. It kind of feels like when you are applying for colleges and you go ahead and throw your hat in the ring for a long-shot like Harvard.
You know while you're applying whether or not you have what it takes to get in, but you do it anyway, hoping for the best. It is out of your mind during the few months between the application due date, and the decision letter arrives in your mailbox.
As soon as it does, you are reminded of it. Even though you are holding the one-page rejection letter in your hand that you knew you were going to get from the start, there is a bit of sadness in your eye, knowing that this is the last piece of mail you will get with the Harvard letterhead on it.
But life goes on nonetheless. You get accepted into a few other colleges, and even though they don't sound like Harvard, they have their perks.
You choose one and go to it. At first, you may not know exactly what you are getting into, but within a few weeks there is little difference that you could see between your school and the fictive dream you have imagined Harvard as.
Why does Harvard have this allure of being an exceptional school? Why does every student across the nation bill it as the top university, that echelon of upper education that extends well higher than any other?
The answer is simple—tradition.
Over the years (centuries) it has set itself apart from any other university by producing Presidents, CEOs, Olympians, Nobel Prize winners and billionaires.
Does that mean it is better than my alma mater, St. Francis College, a small liberal arts college of 2,500 students in Brooklyn, NY? Probably.
However, that does not mean that success cannot come out of St. Francis any less than it does from Harvard. It is what you make of it that dictates your success.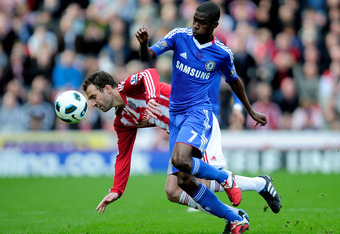 Jamie McDonald/Getty Images
The injury to Essien surely knocked the fans of Chelsea back a bit, but by no means had them curled up in balls, spouting tears. We and the club just had to choose another school, and they chose Ramires.
Thankfully it has been more than we can ever have hoped for.
Through Chelsea's first 10 games, Ramires started eight, notching two goals (tying his total in 41 appearances last season) and being arguably the best all-around player on the team.
The loss of Essien would have been most felt in his ability to control the midfield—not as much in crisp passing as just being a presence that stymies counters and wins 50/50 balls with a relentless hustle.
Ramires has filled this role beyond the expectations of anyone. His effort is never questioned, as he does not back down from challenges and seemingly runs on endless energy. Fatigue does not fit anywhere in his description.
Much of Ramires' success may be attributed to the new tactics employed by Villas-Boas. The free-roaming mantra he has given the Brazilian has allowed him to be more himself. He technically does not really even play in Essien's role as a holding midfielder. He generally is deployed much higher, allowing him to join the attack with more frequency.
But Villas-Boas is only able to this because he understands that Ramires is a work-horse who will track back every time. In that sense, he is still a replacement for Essien.
While Jose Mourniho was a defensive manager, he would have Essien play back and expected him to go forward.  Villas-Boas, with the attack in mind, has Ramires play forward and expects his innate tendencies to bring him back. Different sides of the same coin, if you will.
It is unknown if Ramires' career will ever eclipse what Essien has done.
In that limited playing time, he has two league titles and three FA Cups, he was named the team's player of the year and has been to a Champions League final. But, as with Harvard, Essien's greatness for now and the future is judged on that past. We expect him to be great because he has always been so.
When Ramires was asked to fill that box-to-box role, no one really knew how he would handle it. He was alright last season, but could he really fulfill the giant expectations placed on him? Just like the "other" school, the mystery of what it could give to me was like asking on what the fans, the club and Ramires would do with the situation.
His hard work has paid off, and he has established for the time being that it may not be Harvard, but it still works.
It will be a warm feeling when Essien finally returns to Chelsea in January. The cheers roaring from Stamford Bridge will make your hair stand on end as goose bumps crawl across your arms.
But nothing will compare to the roar that could happen during the game. Just imagine Ramires on the field with Essien and in this system—both now in roles that suit them more comfortably than ever before!
They both advance the ball off one another, just puncturing whatever poor midfielder is in their way. Perhaps it ends with Essien running onto a 25-yard strike that Ramires has teed up for him. Or Essien beats a few defenders before he lays it off to Ramires, who comes sprinting through the heart of the opposition to put it away.
It has been more than 300 years since London last had an earthquake—most seismologists say they're due. Who knew the cause would be 40,000 fans jumping in simultaneous jubilation at their first sight of what could be one of the best midfield tandems in all of the game?