2012 NFL Mock Draft: Projecting Full NFL Draft Order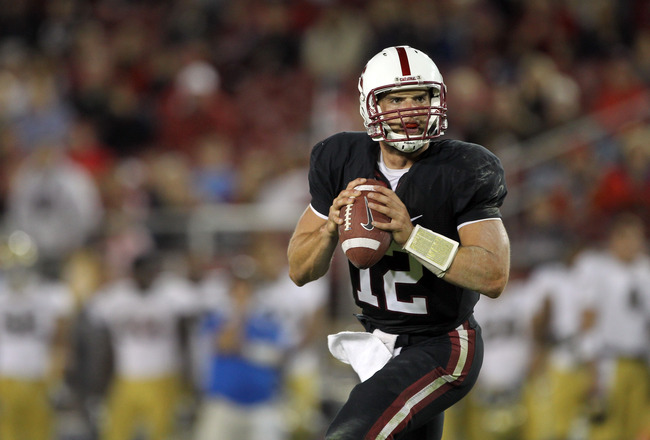 Ezra Shaw/Getty Images
Despite not even being halfway through the 2011 NFL season, it's never too early to talk about the draft.
The college football season is a little bit closer to being halfway through, and with prospects being scouted each week, there's no denying that the draft is in the back of everyone's minds.
So, let's bring it to the front and get the discussions started.
Here is a complete first-round mock of the 2012 NFL Draft.
1. Miami Dolphins: Andrew Luck, QB (Stanford)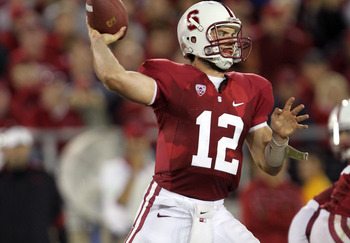 Ezra Shaw/Getty Images
Despite being ranked No. 15 in passing offense, the Miami Dolphins are desperately in need of a franchise QB.
Chad Henne is out for the year, and Matt Moore is only filling the void until Stanford's Andrew Luck enters the draft.
Also, don't be surprised if Miami has a new head coach to go along with their new QB.
Total revamping and a fresh start is needed in South Florida.
2. Indianapolis Colts: Landry Jones, QB (Oklahoma)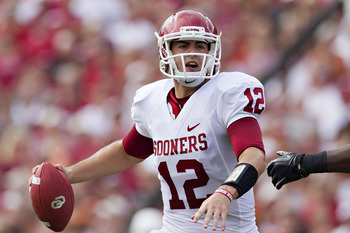 Wesley Hitt/Getty Images
With Peyton Manning's future in question, the Indianapolis Colts are currently riding on the right arm of backup QB Curtis Painter.
That said, the defense is giving everything they've got each week, but coming up short.
Drafting Oklahoma's Landry Jones will be a great fit as the Sooners' pro-style offense will transition well into the Colts' system.
Also, even if Manning returns for 2012, having Jones as his protege for a year or two will allow the Indy offense to hit the ground running whenever Manning decides to hang it up.
3. St. Louis Rams: Justin Blackmon, WR (Oklahoma State)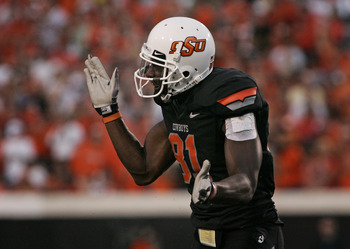 Brett Deering/Getty Images
The St. Louis Rams are clearly in need of a big, play-making WR.
QB Sam Bradford is the future under center, and RB Steven Jackson is still a solid Brahma bull.
Therefore, having a stud wideout in Justin Blackmon from Oklahoma State will most certainly suffice.
He won the Fred Biletnikoff Award as a sophomore, and he's arguably better than anyone on the Rams right now, anyway.
Come time for kickoff in 2012, St. Louis will have definitely improved on their No. 28 pass offense rank.
4. Denver Broncos: Quinton Coples, DE (North Carolina)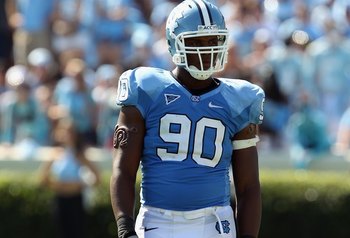 Streeter Lecka/Getty Images
After drafting Von Miller from Texas A&M last year, it's clear the Denver Broncos have improved defensively.
However, adding another dominant player to their front seven in UNC's Quinton Coples (10 sacks in 2010) will significantly help.
In turn, that will take pressure off the LBs, which can improve their pass defense as well as letting safety Rahim Moore get comfortable in the secondary.
5. Arizona Cardinals: Trent Richardson, RB (Alabama)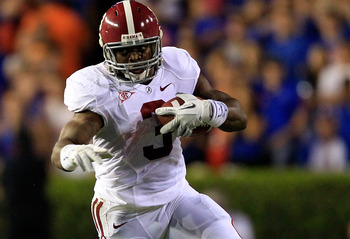 Sam Greenwood/Getty Images
Despite having a weak pass defense at the moment, the Arizona Cardinals will come around on their dark side sooner than later.
The real issue is their rushing offense, which even though is averaging just over 100 yards per game, is not threatening enough to make them multidimensional.
RB Trent Richardson from Alabama will immediately make them better, because since drafting Beanie Wells out of Ohio State in 2009, he has significantly underperformed.
However, adding Richardson will give the Cards a solid two-back tandem and allow them to be more fluid offensively.
6. Jacksonville Jaguars: Alshon Jeffery, WR (South Carolina)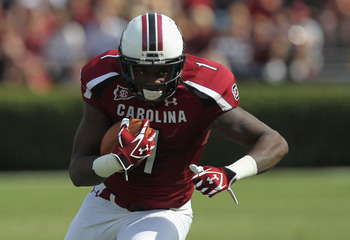 Streeter Lecka/Getty Images
South Carolina WR Alshon Jeffery is slated to be the No. 2 WR taken in the 2012 NFL Draft.
The scariest part about Jeffery, however, is that Stephen Garcia is his QB, and yet Jeffery still dominates.
Well, look no further than the Jacksonville Jaguars, who are desperate for a WR to improve their No. 32-ranked passing offense.
It's clear that rookie QB Blaine Gabbert is the long-term solution, but he needs more weapons than Mike Thomas and Marcedes Lewis.
Also, Jeffery will allow their already solid rushing attack to be better, and Maurice Jones-Drew will approve.
7. Minnesota Vikings: Dre Kirkpatrick, CB (Alabama)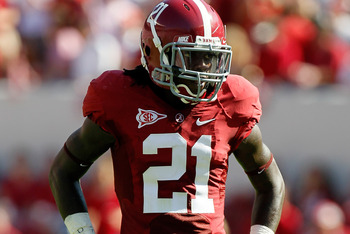 Kevin C. Cox/Getty Images
Although the Vikings need help with the passing offense, that will come as long as RB Adrian Peterson keeps plowing through defenses.
Also, with two of the best WRs already taken, opting to improve their No. 25-ranked pass D is actually more important.
With the NFC North having dominant passing offenses in Green Bay and Detroit, the only shot for Minnesota to contend is to slow them down.
Enter Alabama's Dre Kirkpatrick, who doesn't get a lot of picks because QBs neglect to throw his way, which then will allow Vikings DE Jared Allen more time as well as boost the secondary's confidence.
8. Carolina Panthers: Alameda Ta'amu, DT (Washington)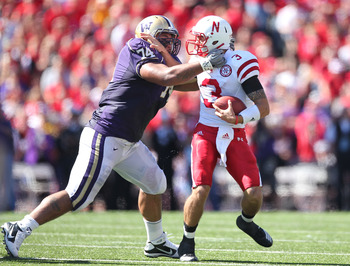 Otto Greule Jr/Getty Images
The Panthers right now are missing that one piece to the puzzle that can earn them a few more wins—rush defense.
It hurt losing LB Jon Beason, and having the No. 28-ranked rush defense is by far their weakest link.
Well, allow Washington's Alameda Ta'amu to help out, as he's one of the best run stuffers in college football.
Carolina really could use anyone to help in the middle at this point, and Alameda is as good as any DT in the country, but he's unfortunately going under the radar as the Huskies are overlooked by Stanford, Oregon, and USC of the Pac-12.
9. Cleveland Browns: Jared Crick, DE (Nebraska)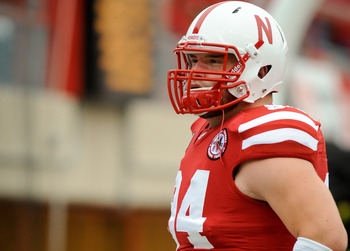 Eric Francis/Getty Images
As evidenced by Ndamukong Suh (former Cornhusker) of the Detroit Lions, Nebraska defensive linemen are arguably the best in college football.
Now add in the Cleveland Browns need to stop anyone who runs the ball (rush defense rank No. 26), and drafting Jared Crick is a win-win.
The Browns' secondary is already solid with CB Joe Haden leading the way, and with Phil Taylor and Jabaal Sheard also on the defensive line, Crick will only make them better sooner..
10. Kansas City Chiefs: Michael Floyd, WR (Notre Dame)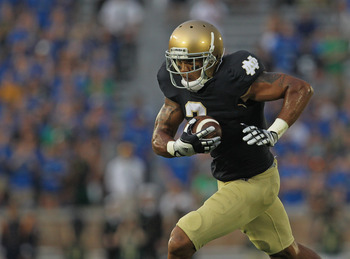 Jonathan Daniel/Getty Images
To go with current stud WR Dwayne Bowe, the Kansas City Chiefs should draft Notre Dame's Michael Floyd.
Floyd has set numerous Notre Dame receiving records, and is arguably just as good as Alshon Jeffery and Justin Blackmon, not to mention his starting QB is a sophomore named Tommy Rees.
As for K.C., suffering injuries to their two best players in RB Jamaal Charles and safety Eric Berry was devastating, but improving the passing offense should be first priority in the draft.
Steve Breaston is a solid slot machine, but they're still without a threatening No. 2 opposite Bowe.
If Floyd gets taken by the Chiefs, K.C. will increase their No. 30-ranked passing offense and get back into the playoff mix once healthy in 2012.
11. Philadelphia Eagles: Manti Te'o, LB (Notre Dame)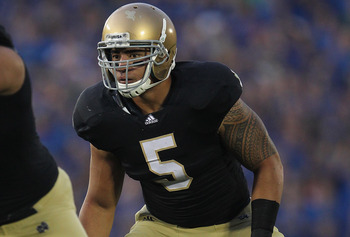 Jonathan Daniel/Getty Images
This is the weakest area of the underachieving Philadelphia Eagles—the front seven.
Only DE Trent Cole poses a threat to any offensive line, and although rookie LB Casey Matthews has potential, he's nothing compared to the level of Notre Dame's Manti Te'o.
For starters, Te'o could have been a first-rounder last year had he been eligible, and with his ability to stop the run, read screens and draws, as well as sink underneath the crossing routes, he'll improve Philly from the get-go.
In addition, that'll allow the secondary to play more man coverage, which should be their specialty since Nnamdi Asomugha, Asante Samuel, and Dominique Rodgers-Cromartie are their DBs.
12. Seattle Seahawks: Matt Kalil, OT (USC)
Jeff Golden/Getty Images
The Seahawks offense ranks No. 26 in passing and No. 28 in rushing, so it's safe to say that anything on that side of the ball will help.
The offensive line is the most important unit to any football team, because running the ball and protecting the QB, as well as controlling the clock all start with blocking.
And with head coach Pete Carroll having been at USC, what better way to improve the offense than with Trojan OT Matt Kalil.
Kalil is the current best OL prospect and is potentially a top 5 pick, and with the previous teams not needing a complete offensive revamp like Seattle, Kalil fits right in with the Seahawks.
13. New York Jets: Brandon Thompson, DT (Clemson)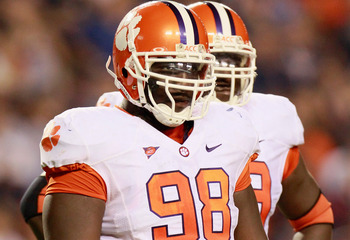 Kevin C. Cox/Getty Images
Even though the Jets have a great pass defense, and with QB Mark Sanchez slightly improving, the rush defense is killing them.
Currently New York ranks No. 27 in rush yards allowed, and the need of a stud DT is evident.
Right now the Clemson Tigers are 6-0 and ranked No. 8 after starting the season unranked, and their defense has been improving with each game.
Much of that can be attributed to DT Brandon Thompson (20 tackles in six games), so if Rex Ryan wants his defense to get back on track, addressing the trenches must be done.
14. Chicago Bears: Alfonzo Dennard, CB (Nebraska)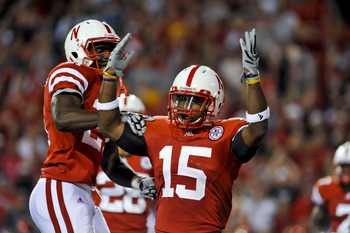 Eric Francis/Getty Images
After having a solid defense in 2010, the Chicago Bears have basically pulled a 180-degree turn.
The defense ranks No. 30 against the pass and No. 25 against the rush, and offenses are simply just having their way with the Monsters of the Midway.
The loss of safety Danieal Manning hurt, and although the acquisition of safety Brandon Meriweather has sort of helped, adding Nebraska CB Alfonzo Dennard will certainly improve the secondary.
Chicago's front seven simply needs help behind them, and bringing in a lockdown DB to help give the pass rush a bit more time will do wonders, especially against pass-heavy offenses in the NFC North.
15. Cleveland Browns (From Falcons): Vontaze Burfict, LB (Arizona State)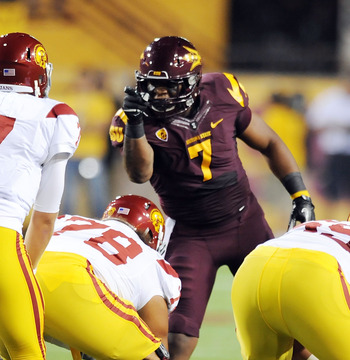 Norm Hall/Getty Images
The Browns need attitude in their front seven, and the LBs are looking the like weakest link as the pass defense is solid.
Rookie defensive lineman Phil Taylor and Jabaal Sheard obviously need to develop, but the addition of Arizona State's Vontaze Burfict will be perfect.
Just based on the picture alone you know he wants to wreak havoc on any opposing offense, and that would complement the solid play of CB Joe Haden to a T.
Not to mention, Burfict is quick to stopping the run and is also a solid pass rusher.
16. Tennessee Titans: Cordy Glenn, OG (Georgia)
Al Messerschmidt/Getty Images
It was obvious that RB Chris Johnson was going to slow down after he held out during training camp.
Even though he went for over 100 against Cleveland, the Pittsburgh Steelers were a different monster and shut him down.
Well, bringing in an offensive lineman such as Cordy Glenn from Georgia will help the interior line.
Tennessee has solid tackles in Michael Roos and David Stewart, so creating the inner rush lanes for Johnson to utilize his skills are necessary.
Glenn will help there, as well as for depth purposes.
17. Dallas Cowboys: Jonathan Martin, OT (Stanford)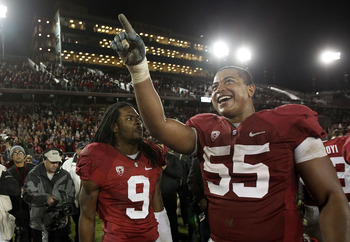 Ezra Shaw/Getty Images
The loss of offensive lineman Marc Colombo and Flozell Adams wasn't the best of things as the Cowboys rushing offense appears to be their Achilles' heel.
They currently rank No. 25 in rush offense, and although the passing offense is solid, QB Tony Romo still needs a lot more pass protection.
Therefore, Stanford's Jonathan Martin will suffice because much of Andrew Luck's success can be attributed to a solid offensive line.
And the more Romo has in Dallas the better, because his receiving weapons are too good to not have any time to get open.
18. Tampa Bay Buccaneers: Janoris Jenkins, CB (Northern Alabama)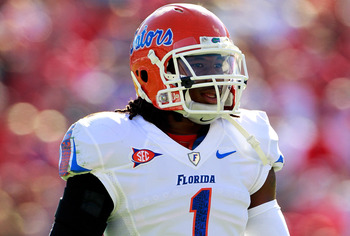 Sam Greenwood/Getty Images
Janoris Jenkins will be a great addition to the young Tampa Bay Bucs because their pass defense is lacking.
Last year they went with Adrian Clayborne to help the front seven, and they also have Gerald McCoy.
Also, they're going to need someone to step in for Ronde Barber whenever he retires, so having a few potential and talented players will work.
Worst-case scenario is that Jenkins plays more as a nickel/dime back.
19. New York Giants: Riley Reiff, OT (Iowa)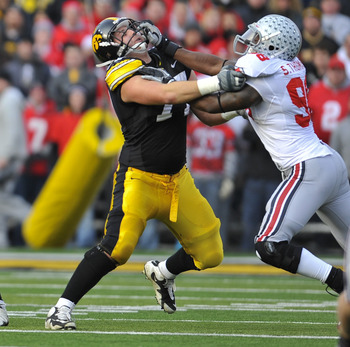 David Purdy/Getty Images
It's hard to find a completely weak spot on the Giants, but if there is one it's the offensive line as they rank No. 27 in rushing offense.
And although the pass offense is No. 9, defenses know it's coming in crunch time like the Seahawks did, and that's why New York fell at home.
They also need depth and more youth, because Eli does come under pressure a bit more than normal and the health of the WRs is in question.
Therefore, more pass protection and run-blocking is needed, which is where Iowa's Riley Reiff comes in.
Because as we all know, the Big Ten likes to run the ball and so do the New York Giants.
20. Pittsburgh Steelers: Cliff Harris, CB (Oregon)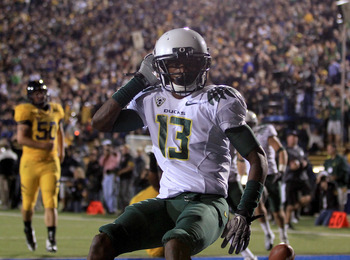 Ezra Shaw/Getty Images
Other than safety Troy Polamalu, the Pittsburgh Steelers are in need of another solid DB and it wouldn't hurt to have a great return specialist.
Welcome Cliff Harris from Oregon to Pittsburgh, where you'll make an immediate impact on one of the NFL's best defenses.
He's also a ball hog like Polamalu, so in some respect that will allow Troy to play anywhere near the box more and help stop the run.
Harris could be Polamalu's protege, and also being a great return man only makes him a fit with Pittsburgh that much more.
21. Cincinnati Bengals: David DeCastro, OG (Stanford)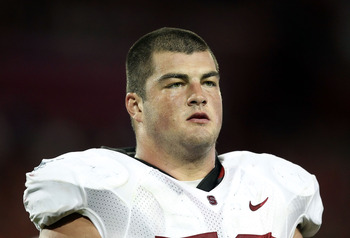 Christian Petersen/Getty Images
With QB Andy Dalton under center, WR A.J. Green and TE Jermaine Gresham, the Cincinnati Bengals are quietly becoming a very effective offense.
RB Cedric Benson is decent, but he could be doing a lot better if he had some more consistent blocking.
Stanford's David DeCastro blocks for Andrew Luck and Stepfan Taylor, and the Cardinal have a dominating offense.
The Bengals have a top 10 defense, and improving their ground game will only make them that much more dangerous in the AFC.
When going up against solid defenses, having a multidimensional offense is key, thus, having a great interior offensive line is key.
22. Oakland Raiders: Bruce Irvin, DE/OLB (West Virginia)
The Oakland Raiders have a decent secondary and a solid LB core, but their defensive line needs to improve.
As a whole, the Silver and Black rank No. 28 in pass defense and No. 22 in rush defense, so bringing in a versatile athlete like West Virginia's Bruce Irvin will be great.
He's got great size, is quick, knows how to use his hands and has great awareness.
But playing in the Big East he'll go overlooked, so Oakland could get a steal pick here with Irvin late in the first round.
23. Washington Redskins: Nick Toon, WR (Wisconsin)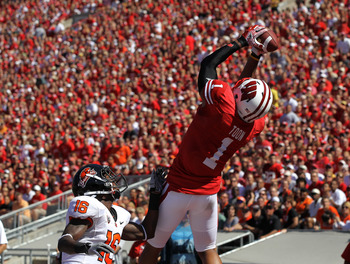 Jonathan Daniel/Getty Images
The Redskins have a solid defense across the board, and their rushing offense ranks No. 8.
However, the passing offense only ranks No. 19, and with Santana Moss as Rex Grossman's most dangerous target, another WR is needed.
Wisconsin's Nick Toon has excellent size, can leap with anyone and has a great top gear.
Also, since he plays for the Badgers, he knows how to run block about as well as, if not better than, any WR in the college ranks.
He'll be great for Mike Shanahan's offense, and has a lot of potential to be their best offensive weapon in 2012.
24. San Francisco 49ers: Jayron Hosley, DB (Virginia Tech)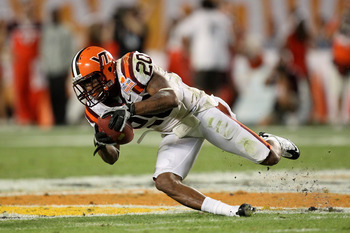 Streeter Lecka/Getty Images
If there's any weakness on the 49ers, it's their pass defense.
There, they rank No. 23 even with safety Donte Whitner lurking in the secondary.
Virginia Tech's Jayron Hosley picked off nine passes in 2010, and has three thus far in 2011.
And with the Rams, Seahawks and Cardinals having pass-first offenses despite their lack of success, the 49ers could run away with the NFC West if they improve in stopping the pass.
That's not a bad idea since the Saints, Falcons, Packers, Lions and Panthers all have excellent passing offenses as well.
So, when it comes playoff time, having a DB such as Hosley to give San Fran a more complete defense will only help them late in the season.
25. Houston Texans: Josh Chapman, DT (Alabama)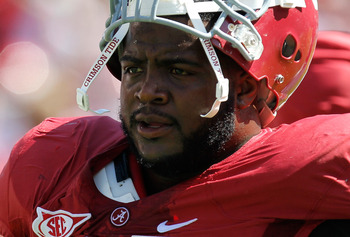 Kevin C. Cox/Getty Images
Other than their significant injuries (Andre Johnson and Mario Williams) the Houston Texans are still a very solid football team.
That said, if there's one area of need it's in rush defense.
And preferably in the middle, because DEs and LBs J.J. Watt, Brooks Reed, and Brian Cushing are all great, and when Williams gets back in 2012 they'll be solid once again.
Adding Alabama's Josh Chapman would be enormous, as the Crimson Tide currently have the No. 1-ranked defense.
Anyone from this defense would be a great addition to any team, and Chapman would make an immediate impact on a rising franchise.
26. San Diego Chargers: Jerel Worthy, DT (Michigan State)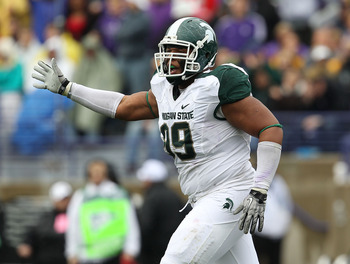 Jonathan Daniel/Getty Images
Much like the Houston Texans, the San Diego Chargers need a DT to improve their defense.
Right now the Chargers rank No. 18 in rush defense, and it's their weakest area. But with the top three DTs off the board, Michigan State's Jerel Worthy would be next in line.
He's not a bad pick late in the first round, and is really the Spartans' only solid rush defender.
He attracts double-teams quite often, and at the pro level there's nothing wrong with that as he'd be freeing up the Bolts' LBs.
That also significantly helps San Diego, as fellow AFC West rivals Oakland and Kansas City are expected to have great running games in 2012.
27. Baltimore Ravens: Coryell Judie, CB (Texas A&M)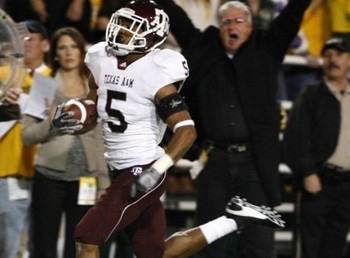 Once again the Baltimore Ravens have one of the top defenses in pro football, but sooner or later LB Ray Lewis has to retire, and although he's only 33, safety Ed Reed's body is older than that.
Therefore, Baltimore should begin to add more youth to the defense with Texas A&M's Coryell Judie to go along with Jimmy Smith.
He's a DB who knows how to gain yards after getting a pick, and is also a solid kickoff returner.
Each of these areas will make the Ravens that much better, and in turn, whenever the current stars like Reed and Lewis retire, the youngsters can hit the ground running and keep the Baltimore defense rolling for the long-term.
28. Buffalo Bills: Cam Johnson, DE (Virginia)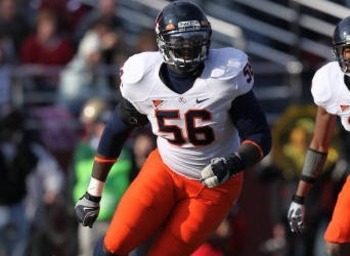 Thanks to one of the league's best offenses, the Buffalo Bills are 4-1.
However, their defense ranks No. 26 against the pass and No. 29 against the run.
So drafting any defensive player at this point will definitely help, especially if they want to continue keeping pace with the New England Patriots.
After drafting Marcell Dareus last year, Virginia's Cam Jordan (54 tackles, 6.5 sacks in 2010) will be a great complement opposite Dareus.
Buffalo has a solid core of LBs, and although the DBs need help, expect the Bills to address the secondary in the later rounds.
29. Detroit Lions: Kelechi Osemele, OG (Iowa State)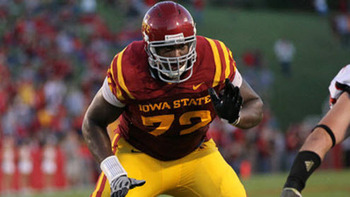 With an exciting offense, the Detroit Lions really need to improve on the ground.
It hurt when rookie RB Mikel Leshoure went down, but that hasn't stopped Jahvid Best from playing well.
The Lions' offensive line is solid at pass-blocking, but run-blocking needs to improve.
Iowa State's Kelechi Osemele is the best lineman for the Cyclones, who average 141 rush yards per game.
He'll most likely be used in short yardage and red-zone situations at first for his run-blocking ability, but expect Osemele to become a full-time starter by midseason of his rookie year, thus making The Motor City offense that much more dangerous and dynamic.
30. New England Patriots (From Saints): Markelle Martin, FS (Oklahoma State)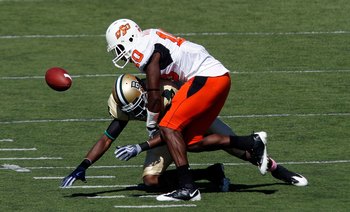 Ronald Martinez/Getty Images
Bill Belichick's defense, although improving, still needs to make some serious strides if they want to slow anyone down.
Not having safety Brandon Meriweather hurts, so Oklahoma State's Markelle Martin will be needed in the 2012 draft. In 2010, he had three picks and 55 tackles
This year, Martin is once again leading the way, and despite not having any picks, Oklahoma State's defense has been gradually improving as well as stepping up in clutch situations (Texas A&M for example).
And if there's anyone who knows how to get the best out of his players, it's Bill Belichick, and Martin will do wonders for a very weak pass defense.
31. New England Patriots: Zach Brown, OLB (North Carolina)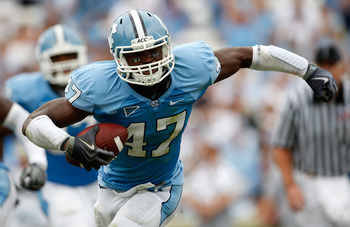 Streeter Lecka/Getty Images
After getting the No. 30-overall pick from the Saints, the Pats' stay with defense and this time go to North Carolina's Zach Brown.
Last season he had 72 tackles and three picks, but this season Brown has switched gears and has 2.5 sacks in six games.
And other than improving the pass defense, New England could most definitely use a pass rusher.
In turn, that will take a lot of pressure off the young secondary, as well as allowing the rest of the LBs to drop underneath the curls and hooks.
Also it would force offenses to run, which is where the Pats' defense is at its best.
32. Green Bay Packers: Melvin Ingram, DE (South Carolina)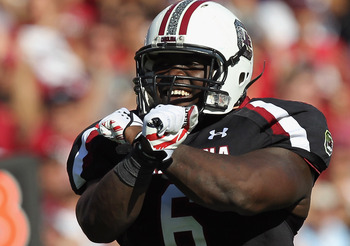 Streeter Lecka/Getty Images
With B.J. Raji in the middle of the trenches and LB Clay Matthews coming off the edge, Green Bay needs a playmaker opposite of Matthews in the front seven.
Look no further than South Carolina's Melvin Ingram, who has picked off two passes, compiled 5.5 sacks, and scored three TDs just this season for the Gamecocks.
The man knows how to find the ball and possesses great awareness to go with an excellent amount of effort.
Having Ingram making plays in the trenches with Matthews on the other end, and the depth of the Packers secondary, Green Bay would become an even more complete defense with this play-making DE.
Be sure to check out John on Bleacher Report.
And, you can follow him on Twitter @ Sportswriter27.
Keep Reading