Quarterback Gold: How Ryan Fitzpatrick Has Started the Trend of "Special" QBs
October 10, 2011
Rick Stewart/Getty Images
Ryan Fitzpatrick is the only current quarterback in the National Football League who graduated from an Ivy League School.
He played for Harvard University from 2001-2004 and was drafted in the seventh round by the St. Louis Rams. Fitzpatrick stumbled around the Rams and Cincinnati Bengals organizations until he signed with the Buffalo Bills in 2009.
After leading the Bills to a 4-12 finish last year, it appears that he is a contributing factor in this year's surprise team. Fitzpatrick has led the Bills to a 4-1 record, good for first place in the ultra-competitive AFC East.
The question is—how does a former Ivy-leaguer lead a team to an impressive start in a young season?
The reason why Fitzpatrick is doing so well is because he is a very smart quarterback—not only on the field, but off it too, as evidenced by the fact that he is a Harvard alumnus 
Fitzpatrick has defied both his and the Bills critics alike with his smart play-calling and his ability to make an offense click that consists of late-round draft picks, undrafted free agents and one former indoor football player.
His connections with top targets Stevie Johnson, David Nelson, Fred Jackson and lone superstar C.J. Spiller have resulted in explosive plays from scrimmage—it almost seems as if he's two steps ahead of every defense he faces.
Could this be the beginning of a trend of "special" quarterbacks? 
Fitzpatrick is not only the first "special" quarterback of the recent past—he is the model of success. Teams have started to look for quarterbacks who possess an additional skill that complements their athletic ability, thus the label.
Two examples of such skills or traits include: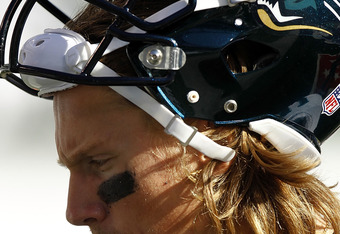 Jeff Zelevansky/Getty Images
A Photographic Memory
Not many people have a photographic memory, but those who do tend to succeed in their work. Blaine Gabbert is a smart quarterback who fits into this category.
During the scouting period before the draft, coaches for teams asked him to write down the offense that he learned at Missouri. Gabbert's memory launched him up the draft board, and he was taken 10th overall by Jacksonville.
As of Week 5, he has yet to record a win. Nonetheless, he is a good example of the"special" quarterback.
A High Intelligence
This goes for Fitzpatrick, but there are a few quarterbacks who also make the high intelligence list.
Greg McElroy, backup for the New York Jets, is believed to have scored the second-highest Wonderlic score of any quarterback, with a 43.
Chad Pennington, a former Rhodes Scholar, led the Jets and Dolphins to the playoffs a total of four times in alternating seasons.
Trent Edwards is a Raiders backup who graduated from Stanford, and there many other smart quarterbacks who preceded these guys. 
While the list of quarterbacks with special attributes is small, there is a definite chance that more will come in. Andrew Luck, for instance, is Stanford's current starter, and the presumptive No. 1 pick in the draft. Luck's intelligence is quite impressive, and it is the general consensus that he should adapt to the NFL quite effectively.
There are more like Luck, who could help lead the growing revolution of special quarterbacks, and maybe someday, every team will have a special quarterback on their roster.