San Francisco 49ers: Week 5 Report Card: Grading Every Position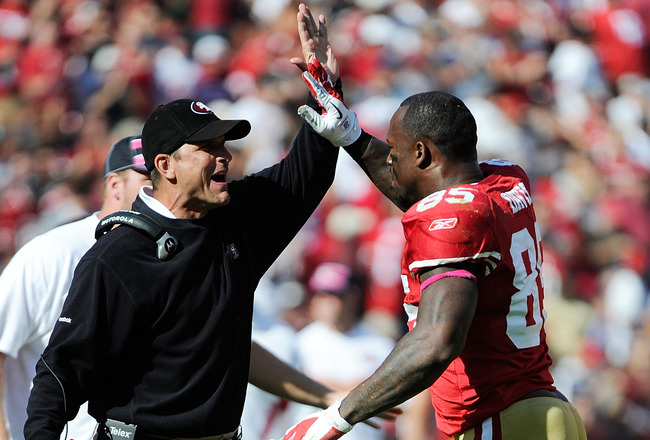 Jim Harbaugh congratulates Vernon Davis after a touchdown
Thearon W. Henderson/Getty Images
The San Francisco 49ers defied all logic on Sunday with a lopsided 48-3 victory over the Tampa Bay Buccaneers. Heading into the game, the conventional wisdom called for a tough, hard-fought, low-scoring contest.
Throw conventional wisdom out the window, as the 49ers romped to an easy win.
San Francisco also avenged a 21-0 loss to these same Buccaneers just last year. The 49ers now stand with a record of 4-1, two games ahead of second-place Seattle, who upset the New York Giants this week.
Heading into this game, I was extremely worried that the 49ers would have trouble with the physical and athletic Buccaneers. As it turned out, I had nothing to worry about, as the 49ers outplayed Tampa Bay in every phase of the game.
Let's take a closer look at each of position groups for the 49ers and see how they graded.
Quarterbacks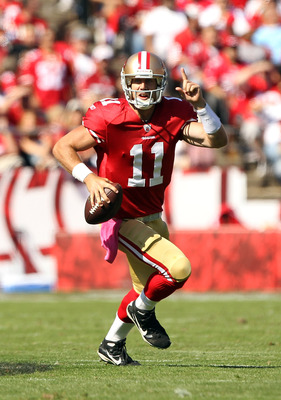 Alex Smith scrambles to buy time for a pass completion
Ezra Shaw/Getty Images
Alex Smith played another very strong game for the 49ers.
He has improved tremendously, under the tutelage of Jim Harbaugh. Smith managed the game well, threw effectively and led the 49ers to their fourth win in five games.
Smith completed 11 of 19 passes for 170 yards. He found Vernon Davis for two touchdowns and fellow tight end, Delanie Walker for another.
Smith's passer rating of 127.2 was an outstanding measure of his effectiveness.
Smith was very efficient, and although he completed only 11 passes, he got five receivers at least two receptions.
I was also extremely impressed with Smith's ball security. He did not throw an interception for the fourth game out of five and now has seven touchdowns and only one interception this year.
Rookie Colin Kaepernick got in for mop-up duty in the fourth quarter. He completed all three of his pass attempts for 35 yards.
Quarterbacks' Grade: A
Running Backs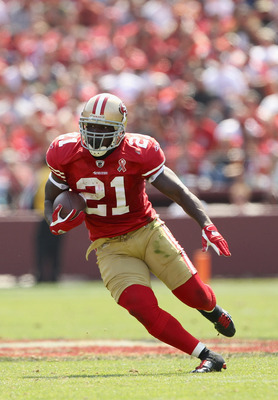 For the second straight week, Frank Gore had over 100 yards
Ezra Shaw/Getty Images
The San Francisco 49ers had their running game in top form.
For the second consecutive week, Frank Gore rushed for more than 100 yards.
Gore had 125 yards on 20 carries, a 6.3 average and one touchdown. He also caught two passes for another 18 yards. A lost fumble was the only blemish on Gore's day.
Head coach Jim Harbaugh has successfully incorporated rookie Kendall Hunter into the flow of the game.
He and Frank Gore give the 49ers an excellent tandem, reminiscent of LaDanian Tomlinson and Darren Sproles, formerly of the Chargers.
Hunter has breakaway potential every time he touches the ball, and Harbaugh has put him in good positions to utilize his speed and big play ability. Hunter had nine carries for 65 yards and showed off his speed with an exciting 44-yard run.
Seldom-used Anthony Dixon scored a fourth-quarter touchdown, and fullback Bruce Miller did a great job blocking.
Running Backs' Grade: A- (The only thing that kept this from being an A was Gore's lost fumble)
Wide Receivers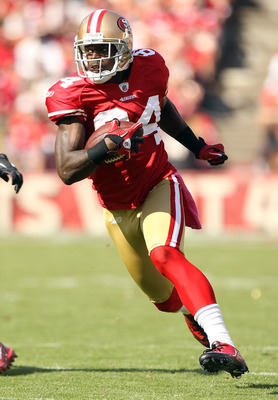 Josh Morgan's broken ankle is a severe blow to the 49ers
Ezra Shaw/Getty Images
The San Francisco 49ers have now lost their second wide receiver to injury, as Joshua Morgan went down with a broken ankle late in the game.
Morgan had a strong game, with five catches for 75 yards.
Morgan is likely lost for the season, and the Niners can only hope that Braylon Edwards can return from his knee injury soon.
Even with Morgan, the 49ers receiving corps was not one of better ones in the league. Without Morgan and Edwards, the Niners have the weakest wide receiving group in the NFL.
Michael Crabtree's foot held up again, but his health status is far from solid. Crabtree had two receptions for 36 yards and must now step up his game to fill the void caused by the absence of Morgan and Edwards.
Ted Ginn Jr., who is a better return man than a receiver, did not have a catch, but he did run for a 24-yard gain on an end-around.
Wide Receivers' Grade: B+
Tight Ends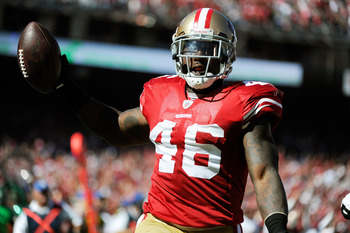 Dalanie Walker has emerged as a force in San Francisco
Thearon W. Henderson/Getty Images
The San Francisco 49ers have two excellent tight ends in Vernon Davis and Delanie Walker.
Head coach Jim Harbaugh is a master at finding ways to utilize his weapons, putting them in optimal positions to succeed. In Davis and Walker, he has two outstanding weapons.
Davis and Walker are both big, fast pass catchers who can do damage after the catch. Davis is also a devastating blocker in the running game.
Against the Buccaneers, Davis caught three passes for 39 yards and two touchdowns. Walker chipped in with 2 receptions for 37 yards and one touchdown. The tight end position was the recipient of all three touchdown passes by Alex Smith.
Tight Ends' Grade: A
Offensive Line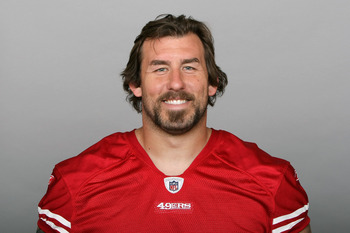 Adam Snyder has replaced Chilo Rachal at right guard
Handout/Getty Images
I have been highly critical of the 49ers' offensive line—but today, I am happy to give credit where credit is due.
The 49ers' offensive line played their best game of the season, and it resulted in a 48-3 victory.
Right guard Adam Snyder replaced Chilo Rachal two weeks ago, and it is no coincidence that Frank Gore has rushed for over 100 yards in each of the last two games.
The 49ers have rushed for 213 yards, and a big reason is the improved play of the offensive line.
The line seems to be jelling and improving as the season progresses. The pass protection was also excellent against Tampa Bay, easily the best it has been all season.
Offensive Line Grade: A
Defensive Line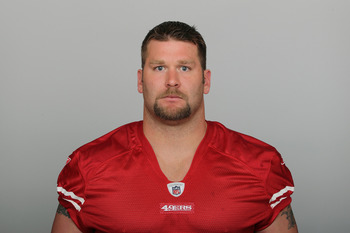 49er defensive end Justin Smith is having a Pro Bowl year
Handout/Getty Images
The San Francisco 49ers' defensive line was missing starting nose tackle Isaac Sopoaga due to a staph infection.
The line did not miss a beat, as Justin Smith, Ray McDonald and Ricky Jean-Francois controlled the line of scrimmage.
Their strong play held LeGarrette Blount to just 34 yards on 10 carries. In all, Tampa Bay rushed for only 86 yards on 23 carries.
The 49ers' defensive line also applied good pressure on Bucs quarterback Josh Freeman. The Niners collected three sacks, including one from defensive end Justin Smith.
Defensive Line Grade: A
Linebackers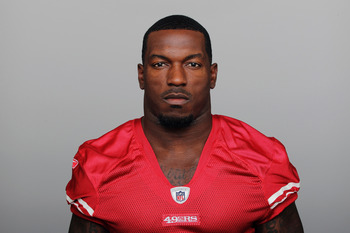 Patrick Willis leads the 49er defense
Handout/Getty Images
The San Francisco 49ers received excellent play from their linebackers in their 48-3 win over Tampa Bay.
They, along with the defensive line, were responsible for holding the Bucs to only 86 yards rushing.
Patrick Willis led the 49ers with 10 tackles, two assists and a fumble recovery. He was aided by Navorro Bowman's five tackles and one assist and Parys Haralson's four tackles.
Rookie Aldon Smith is also making his presence felt. He is emerging as an explosive pass-rusher off the edge, as he contributed to two sacks.
Linebackers' Grade: A
Defensive Backs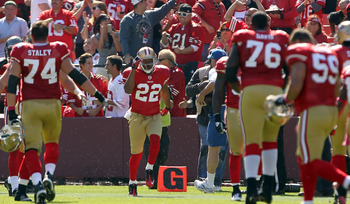 Carlos Rogers is greeted by teammates after his TD
Ezra Shaw/Getty Images
The San Francisco 49ers' defensive backfield has been much maligned this season.
I, for one, have been very critical of the poor play of the 49ers secondary throughout the season.
However, this past Sunday's game against Tampa Bay was another story. The 49ers' defensive backfield was excellent.
Carlos Rogers got a key interception in the second quarter and returned it for a touchdown, which gave the 49ers a 14-3 lead. Chris Culliver also had an interception, which led to another 49ers touchdown.
Dashon Goldson had his best game of the season. He was active in pass coverage and also drilled receiver Mike Williams on a pass play, which resulted in a fumble recovered by Patrick Willis.
The 49ers held the Buccaneers to 18-of-35 passing and 194 yards. This was by far the best game of the year for the 49ers' defensive backfield.
Defensive Backs' Grade: A
Special Teams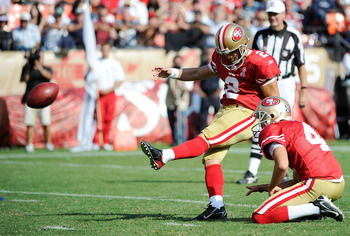 David Akers drills a field goal for the Niners
Thearon W. Henderson/Getty Images
The San Francisco 49ers have had good special teams play throughout the season.
Free-agent acquisition David Akers has been solid, and he kicked two more field goals against Tampa Bay.
Punter Andy Lee has also been good this year. Against the Bucs, because of the 49ers' offensive success, Lee only had one punt, traveling 38 yards.
The 49ers did a good job in the return game, as Kendall Hunter returned one kickoff for 22 yards. Ted Ginn Jr. returned three punts for 51 yards. The 49ers' coverage teams were solid, also.
Special Teams' Grade: A-
Coaching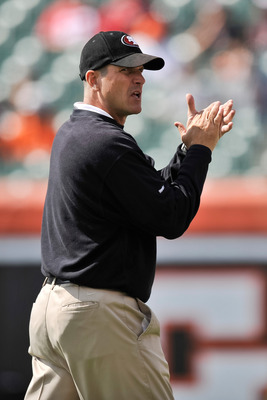 Jim Harbaugh is resurrecting a turn around for the 49ers
Jamie Sabau/Getty Images
Jim Harbaugh has got the 49ers believing and has the team on a definite upswing.
In addition, he has transformed quarterback Alex Smith from an error-prone, inaccurate passer to one who has been very productive and efficient.
I believe Harbaugh is excellent at knowing the strengths and weaknesses of his personnel.
He is able to put together a game plan to put his players in positions where they can best utilize their strengths and minimize their weaknesses.
A testament to Harbaugh and offensive coordinator Greg Roman is the fact that defensive coordinator Vic Fangio has the 49er defense playing well and growing together, as a unit.
Against the Buccaneers, the 49ers were well prepared and ready to play.
Coaching Grade: A
Overall Grade
Alex Smith is having his best year as a 49er
Jed Jacobsohn/Getty Images
The San Francisco 49ers routed the Tampa Bay Buccaneers 48-3.
They currently stand a surprising 4-1, with a two-game lead in the NFC West.
The offense, defense and special teams all played well. I could find no glaring weaknesses to this past Sunday's game—only positives.
Overall Grade: A
The 49ers now head to Detroit to face the Lions.
This will be a tough road contest, as the Lions are undefeated, pending their Monday night game against the Bears. With the 49ers playing well and growing under the tutelage of Jim Harbaugh and his staff, anything can happen.
Keep Reading

San Francisco 49ers: Like this team?