Green Bay Packers Revive to 5-0 After Leery Start Against Atlanta Falcons
October 10, 2011
Kevin C. Cox/Getty Images
The first 17 minutes of the Week 5 Sunday night football game against the Atlanta Falcons was nothing short of a discouraging sucker punch in Green Bay's gut. I physically felt ill.
The debuting 6:45 of the game was donated kindly by the Packers to allow the Atlanta Falcons to flutter their way in a patient fashion to their wide open end zone. I'm pretty sure that the network edited out the rose petals and red carpet that Peprah, Woodson and Bishop laid out for that Falcons' touchdown.
When Green Bay finally got the ball in their first drive of the game, Aaron Rodgers had an incomplete pass deep right to Jordy Nelson. Atlanta Falcons' Brent Grimes had an amazing display of defensive talent void of flags when he so eloquently knocked it down. Mike McCarthy certainly wasn't happy to see that, and neither was I. That guy officially makes me nervous now. Our next disappointing play of the quarter was a Ryan Grant fumble, recovered by Atlanta's Vance Walker. Where's the stickum Grant?
The Atlanta Falcons were able to keep possession for the remaining 5:24. Ouch. At the opening of the second quarter they toyed with the Packers for the next 2:31 seconds until Michael Turner ran in the Falcons' second touchdown. Way to kick the returning Superbowl Champions when they're down. Just so you know how devastating this is, the Packers have not trailed by 14 points since Brett Favre's return as a Viking against his former teammates.
That's where I realized that I must have missed the press release that Green Bay's Packers were being replaced with a JV High School team for the night.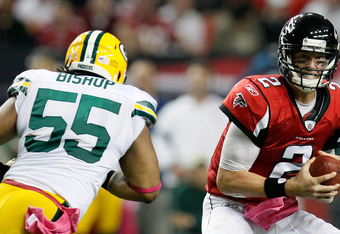 Kevin C. Cox/Getty Images
To be honest, once my "Oh my God" despair set in, I didn't have much hope until Starks ran for three gains in the second half followed by Greg Jenning's 39-yard reception up to the 4-yard line.
Two sacks later (Witherspoon and Sidbury) and a field goal by a player who is becoming my favorite player for his consistency, Mason Crosby, Green Bay was finally able to put some points on the board and revive an obviously disturbed Aaron Rodgers.
In what could have been a game changing motivator, a sudden 47-yard play by Atlanta's Harry Douglas was taken away by a holding penalty by Tyson Clabo. It encouraged me anyways...
After Green Bay got possession back, they had 15 yards here, 1 yard there and 7 yards here before a penalty on their own Josh Sitton was thrown for offensive holding. The two minute warning was called, and Green Bay's Crosby kicked for another good field goal to bring it to an eight point game at 6-14, Falcons.
Third quarter commenced, and Crosby soon came through for me again kicking a 56-yard field goal, tying for the longest field goal in Green Bay history.
At 7:40 in the third quarter I suddenly realized Green Bay was going to win. Presumptuous? No. He had "that look." When you watch enough football you know what I'm talking about, that do-or-die, this is mine and you can't take it away from me look.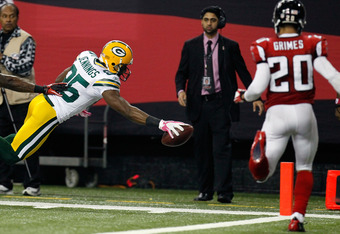 Kevin C. Cox/Getty Images
And then it suddenly happened; the momentum changed.
Rodgers passed deep right to WR James Jones for a 70-yard touchdown. Unfortunately, the two point conversion attempt they went for to Finley was knocked down, but Crosby's field goal was good after that, bringing it to a one point lead game for the Packers. I now felt somewhat bad for writing my JV comment earlier, but not enough to edit it out. I told myself I would compromise my integrity and refuse to take out anything I wrote then, even my win prediction by a look (I hope I'm right.).
Enter Greg Jennings.
First play of the fourth Rodgers threw a 29-yard pass after an Oscar-style play fake. Jennings soared through the air, slamming the ball down in front of him for a dramatic touchdown (kick is good). Yep. I saw it in the look.
What I did not like were the two incomplete passes by Rodgers that happened next. Earlier I wrote that a 47-yard play was taken away from Atlanta's Douglas which was possibly a game changing motivator. The Falcons looked a little too pleased when Jermichael Finley wasn't able to keep control on a pass and tackle.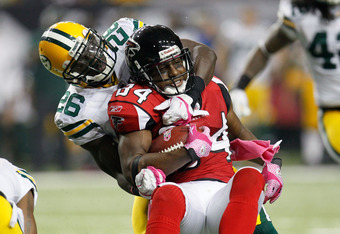 Kevin C. Cox/Getty Images
Green Bay then gave up 15 yards on a penalty, pushing the Falcons forward. They responded by advancing 4 yards, 23 yards, 3 yards, then 8 before Quarterback Matt Ryan was sacked for a loss of 11.
Charlie Peprah decided this was a good time to make his mark in the game. Ryan intended to pass deep middle to Tony Gonzales, but it didn't happen. Interception in the most vital quarter, check, thank you Peprah.
After the turnover, Rodgers opened up the play by being sacked. Where are his guards and tackles? If they don't step up someone is going to, oh I don't know, write about it? Dom Capers get your defense together, we have an MVP elite QB to protect.
Green Bay possession and close to field goal range, this is where we are at the two minute warning. I think Crosby may come soon to clinch a win for the Pack. If not, a touchdown and a two point conversion could take this game into overtime.
Enter Crosby. We all think alike don't we? The kick is good at 30 yards, and Crosby's reputation as an athlete increases even more so in my mind. Two weeks in a row now he is the highest scoring individual player on the team. I like this guy—he has yet to fail Green Bay this year.
As if an 11 point lead with one minute remaining was not good enough, Green Bay's Jarrett Bush decided to put the final nail in the coffin with a sudden interception and 35-yard return.
The Green Bay Packers finished the game as the only 5-0 team. Not only this, but Rodgers utilized 12 of his offensive line, tying for a franchise record for team involvement.  Monday Night Football's game with the Chicago Bears versing the Detroit Lions will be intense as we all watch to see if the Lions will also be able to brag about this amazing feat.