Packers vs. Falcons: 7 Things We Learned from Green Bay's 25-14 Win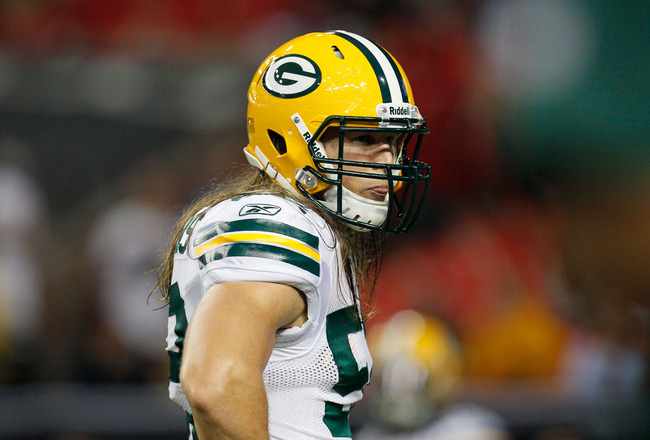 Kevin C. Cox/Getty Images
The Green Bay Packers stole away a victory against the Atlanta Falcons. They were able to overcome an early two-touchdown deficit to get a huge win on the road.
It wasn't pretty, but coming away still undefeated after a tough road game is great news for this Green Bay team.
Here are seven things that we learned from Green Bay's 25-14 win.
The Defense Is Moving in the Right Direction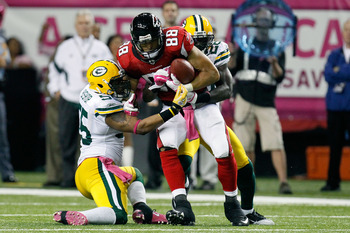 Kevin C. Cox/Getty Images
After giving up two touchdowns on the first two possessions of the game, it looked like this was going to be a blowout by the Atlanta Falcons.
However, the Packers stepped up their game and kept the Falcons out of the end zone the rest of the way. They caused two key late-game turnovers and they made stops when they had too.
The secondary played extremely well and didn't give up any big plays down the field. Their run defense also kept Michael Turner in check holding him to only 56 rushing yards.
This is a unit that seems to finally be moving in the right direction.
Losing Chad Clifton Is Not Good for Aaron Rodgers' Health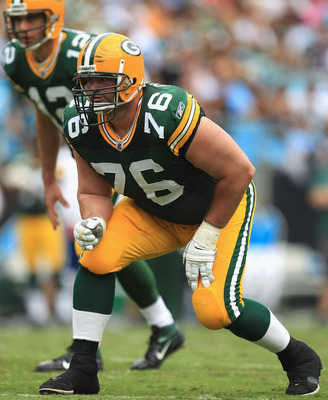 Streeter Lecka/Getty Images
First the Green Bay Packers lost Bryan Bulaga and now an injury to Chad Clifton in the second quarter leaves them without either of their starting offensive tackles.
You could instantly see the effect of the loss of Clifton as Aaron Rodgers was sacked two times to stall a promising drive. Even though Derek Sherrod and Marshall Newhouse played much better as the game went on, they are still no Bulaga and Clifton.
If Clifton's injury is serious, Rodgers might consider taking out a life insurance policy.
Randall Cobb Needs To Stop Taking so Many Chances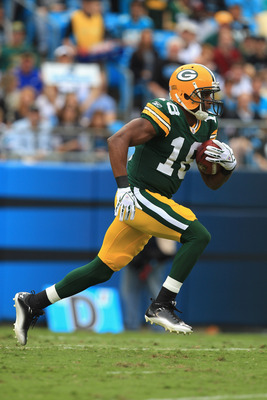 Streeter Lecka/Getty Images
Look, I'm just as excited about Randall Cobb as any other person in the world.
However, Cobb needs to settle down and stop taking so many chances when returning punts and kicks. He returned both first half kicks from deep in the end zone and wasn't able to get past the 20-yard line on either return. His first punt return was also stopped for very little gain.
There is no doubt that Cobb is one of the most exciting young players in the NFL, but he needs to start making better decisions when returning kicks and punts.
The Offense Can Be Stopped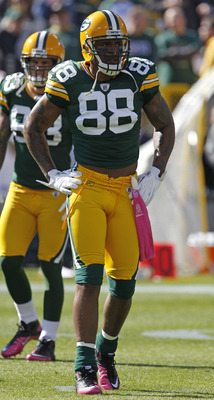 Matt Ludtke/Getty Images
It looks like there are two ways that the high powered offense of the Green Bay Packers can be stopped.
The first way is by them stopping themselves. Whether it is dropping passes or running the ball too often, the Packers definitely had their struggles against the Atlanta Falcons.
The other way to stop the Packers' offense is to keep them off the field as much as possible by pounding the ball on the ground. Atlanta had some good success running the ball with Michael Turner and that kept Aaron Rodgers off the field for a good portion of the game.
This is still the best offense in the league, but we definitely saw some weaknesses for the first time this season.
Aaron Rodgers Proved That He Is Calm under Pressure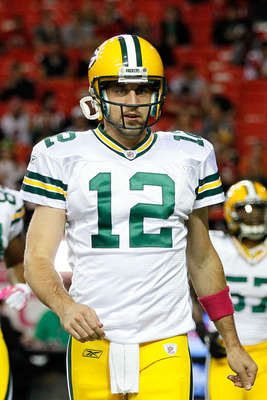 Kevin C. Cox/Getty Images
Just imagine being down 14-0 in an extremely hostile environment. That could be a rather difficult situation to be in.
Even with the Green Bay Packers down 14-6 at halftime, Aaron Rodgers never became unhinged. He kept calm and continued to put his team into scoring position until they finally put the game away.
There are very few situations that will be as difficult as what Rodgers faced tonight, so it was very reassuring to see him keep his cool.
James Jones Is Becoming Relevant Again
Streeter Lecka/Getty Images
After seeing very few targets in the first weeks of the season, James Jones is finally becoming a relevant target again.
He had the most receptions (five) and receiving yards (140) for the Green Bay Packers and his third quarter touchdown was the turning point of the game.
Many people were wondering where James fit in on this offense and now we see that he is still a very important option for the Packers.
Undefeated Season Is Still a Possibility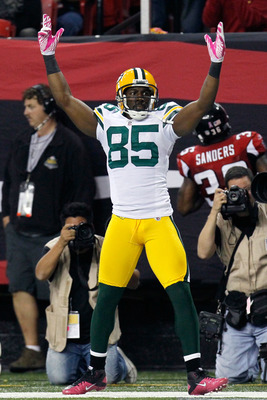 Kevin C. Cox/Getty Images
With this victory, the Green Bay Packers have stretched their winning streak to 11 games if you date back to last season and the playoffs.
This game on the road against the Atlanta Falcons was one game that many had circled as a true test of how good Green Bay truly is. Well, after a tough and hard fought victory, the Packers are really good and easily the best team in the NFL.
With only a few more truly difficult games left on the schedule, an undefeated season is still a real possibility for this team.
Keep Reading

Green Bay Packers: Like this team?