Cleveland Browns: Does Pat Shurmur Have It out for Peyton Hillis?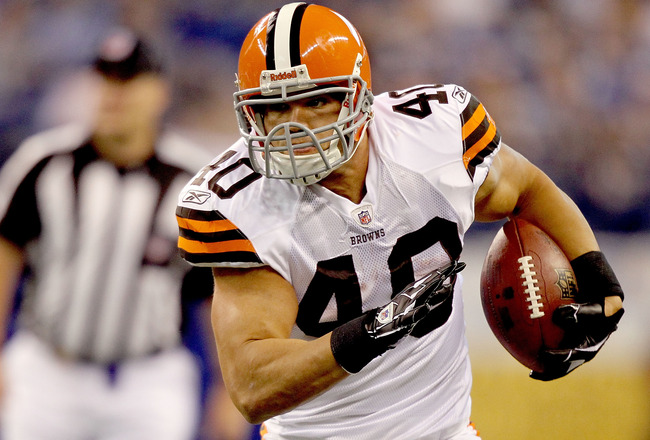 Matthew Stockman/Getty Images
No, Cleveland Browns head coach Pat Shurmur does not have it out for running back Peyton Hillis. A situation that does not warrant much discussion has turned into a huge mess due to mixed messages and a poor game plan. But here is how the situation really went down.
Hillis' Illness
Peyton Hillis did not play against the Dolphins because he was sick. There was no other reason for him missing the game. He was simply too sick to play. It was a decision made by Hillis, the team trainers and Pat Shurmur when Hillis got to the stadium that morning. A combination of strep throat and flu-like symptoms led to Hillis losing around 10 pounds and being extremely weak. He would have done very little to help the team in the state he was in.
Pat Shurmur started the rumor mill about Hillis with a statement that he made in the post-game press conference. He seemed to misspeak when he told reporters that it was his understanding that Hillis was too sick to play. That made it seem like he had doubts that Hillis was really that sick. That was not the case at all. Shurmur was involved in the decision to not play Hillis and simply misspoke.
Hillis' agent then made things worse later in the week when he said that he advised Hillis to not play in the game. In a move that was designed to take some heat off Hillis, his agent only fanned the flames with his comments.
There were also whispers that the running back's unresolved contract status entered into his decision to sit out against Miami, but missing the Dolphins game had everything to do with health, and nothing to do with contract negotiations.
The Next Game
The week after, Hillis was used sparingly in the loss against the Tennessee Titans. This only made the rumors of Hillis' real reason for not playing against Miami worse. Fans thought that Shurmur was punishing Hillis for not sucking it up and playing. The fact that the Browns center Alex Mack played the whole game with appendicitis only called Hillis' toughness even more into question.
Do you think Pat Shurmur has it out for Peyton Hillis?
The real reason Hillis was used somewhat less was because of Shurmur's game plan and the fact that the Titans got out to a fairly big lead. Quarterback Colt McCoy ended up throwing over 60 passes, so there really were not many carries to go around.
Shurmur's Past
Pat Shurmur knows how to utilize a power running back in the West Coast offense. In Shurmur's two years as the St. Louis Rams offensive coordinator, Rams running back Steven Jackson had back-to-back years of over 1,000 yards rushing. That was in the same offensive system that the Browns are using and was with a running back with a style similar to Hillis. Hillis can obviously fit in Shurmur's scheme.
Where It Goes From Here
Cleveland Browns' fans should not be worried that Peyton Hillis will lose significant playing time and leave the team at the end of the season. Under Shurmur, Hillis is averaging 23 touches per game. Compare that to last year's average of 21 touches per game and you can see that there is nothing to worry about.
Also, Hillis averaged 17 carries per game last season, while this year's average is at 20 carries per game thus far. Peyton Hillis is the feature running back of the Cleveland Browns and will be for the foreseeable future.
One missed game due to illness and one game with a light workload does not equal Hillis being unhappy with the Browns or head coach Pat Shurmur. Shurmur most definitely does not have it out for Peyton Hillis.
This article is
What is the duplicate article?
Why is this article offensive?
Where is this article plagiarized from?
Why is this article poorly edited?

Cleveland Browns: Like this team?