Mark Sanchez Proves He Is Not New York Jets' Franchise QB in New England Flop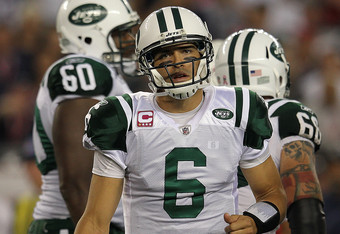 Jim Rogash/Getty Images
The New York Jets are in complete free-fall.
Forget that the Jets actually ran the ball fairly well against the New England Patriots, as Shonn Greene decided to show up and rush for 83 yards and a touchdown. Forget that the Jets actually pressured and sacked Tom Brady four times. Forget the fact that the offensive line was noticeably better than their Week 4 performance in Baltimore.
It just doesn't matter, because facts are facts with the 2-3 Jets, and they have earned its record in every way possible. The Jets had their chances against the Patriots. They were down three points twice, at 10-7 and 17-14, and down six points late in the game, 27-21, yet the Jets' once fearless defense had no answer for Tom Brady, who picked apart the Jets secondary for 321 yards, and running back Ben Jarvis Green-Ellis, who ran for 127 yards and two touchdowns in the Pats' 30-21 victory.
Still, as poorly as the Jets defense played, giving up 446 total yards to New England, even that is not as glaring as statistic as these numbers:
70 yards passing through three quarters.
166 yards passing for the entire game.
255 yards of total offense.
Eight three-and-outs against a defense that forced only eight three-and-out possessions all season!!
Yes, the big reason the Jets were defeated in Foxborough had a lot to do with the Jets offense. Stunner.
Is Mark Sanchez a "franchise" NFL quarterback?
It has become habitual this season to watch the Jets offense languish in mediocrity, and after Sunday it is getting harder and harder to pin all the blame on the offensive line and Shonn Greene. Yes folks, the blame is really on Mark Sanchez and offensive coordinator Brian Schottenheimer.
These two men, by themselves, have found ways to lose games for Gang Green during this difficult three-game road trip. The Jets offense has lacked the fizzle, pizazz and power that many thought they would have when they opened camp with a talented corps of Santonio Holmes, Plaxico Burress, Derrick Mason, LaDainian Tomlinson and Dustin Keller. These guys have been invisible all season.
A report came out late during the week that three nameless receivers (you can plug in Mason, Burress and Holmes if you want) were critical of the play-calling from Schottenheimer. Mason was even quoted as saying last week that there were "cracks" that needed to be sealed if this team was to succeed this season.
Fact is this is a Jets team that has relied more on the pass than the ground-and-pound so far this season. Only this week against New England did the Jets focus primarily on running the ball—25 runs to 26 pass plays, to be exact.
Schottenheimer is responsible for the play-calling, and at times he has been too aggressive when the Jets could have in fact tried to run the football, and at other times, too conservative. This has been the problem with Schotty ever since he took over as OC in 2006. Keep in mind, coaches can only do so much, it's up to players to make plays.
The biggest problem with this team is really with the guy under center: Mark Sanchez.
Jim Rogash/Getty Images
Against the 32nd-ranked Patriots defense, Sanchez came up small. Those 70 measly yards were his. The pathetic 166 yards were also his.
This has been a horrible year for the guy once termed the "Sanchise" by rabid Jets fans after New York selected him with the fifth pick in the 2009 NFL draft. Yet here he is, in his third year as an NFL starting quarterback, 42 games into his career and the guy looks like he doesn't have a clue.
A quarterback in his third year is supposed to take that next step, and Sanchez has yet to take that next step; instead, Sanchez's performance looks more like an extension of the previous two seasons.
He is consistently timid in his reads and throws to his talented receiving corps. Against a toothless Patriots secondary Sanchez had only four completions to Santonio Holmes and three completions to Braylon Edwards. While some will try to defend Sanchez with the fact that some passes were dropped by these same receivers, Sanchez was so inaccurate in the first half, that even the Jets announcers on ESPN radio made note of it during the game. Hell, the Jets didn't even have a first down until midway through the second quarter!!
Thus is the pattern for Sanchez this year. As I went over in my last article, Sanchez's efforts against Dallas, Jacksonville, Oakland and Baltimore were abysmal. At times he played like a guy who didn't know how to run an offense for three quarters, before becoming the veteran QB the Jets expect. He threw two picks to a bad Jaguars secondary, was knocked around the block by the Raiders (who rarely show much of a pass rush), and against the Ravens—ummm—well, you know.
Jim Rogash/Getty Images
Many have noted that Sanchez looks like a guy who has regressed more than progressed in his third season, and because of his poor play, the Jets HAD to go back to ground-and-pound against the Patriots with the fear that they were asking too much of Sanchez.
This doesn't sound like a franchise quarterback to me.
Thus has been the quagmire for this Jets franchise ever since Joe Willie Namath left this team for the LA Rams. The Jets have never really had that franchise quarterback; they have thought that they did many times over, only to be disappointed.
Jets fans know the names: Richard Todd, Ken O'Brien, Neil O'Donell, Glenn Foley, Vinny Testaverde, Chad Pennington. Those are just a few notable names of the many quarterbacks who lined up under center for Gang Green over the years. These guys weren't bad, they had their great days—and they had their truly awful days. They won games for the Jets, but by no means were they franchise QBs who would win, and win consistently, and strike terror into the hearts of their opponents.
What's a franchise quarterback? Do the names Dan Marino, John Elway Joe Montana and Troy Aikman come to mind from yesteryear? Yes. Do the names Tom Brady, Peyton Manning, Brett Favre and Aaron Rodgers come to mind? Yes. As so do names like Matt Ryan, Phillip Rivers, Drew Brees and Ben Roethlisberger. Even rookie Cam Newton looks like a keeper right now for the Carolina Panthers.
What these guys all have in common, Sanchez does not—the ability to wreck opponents. These guys give defensive coordinators nightmares because of their ability to completely take a game over with their powerful and accurate arm, and game management skills.
Jim Rogash/Getty Images
Peyton Manning of course is the best example. With all due respect to former Colts OC Tom Moore, Manning was like the offensive coordinator and superstar quarterback all wrapped in one for the Colts. Look at what they are without him.
Rodgers is also that way too. Even when he is not playing well, Rodgers has that uncanny ability to make one or two passes that get the Packers back into a football game, the way he did against Atlanta on Sunday night.
In short, the franchise quarterback is the X-Factor...the guy that stirs the pot.
This is not to criticize Sanchez's desire and heart. Nobody worked harder during the lockout, and it was Sanchez who organized team activities during that crazy time in the NFL as a way to keep the team together. As a person, he is a true leader—and no one should question it.
However, Sanchez has yet to show the ability to take his game to the next level despite his 4-2 playoff record. Sanchez has been the benefactor of a great defense that was ranked first and third in the NFL in the last two seasons. He was also the benefactor of a great running attack and terrific receiving weapons that consistently bailed him out last season.
He has never been looked at as the "guy that will kill us if we don't pressure him," by his opponents, and even his own coaches have been afraid to let him have full control of the offense. Many have suggested that the Jets let Sanchez have more input into the offense, as well as run the no-huddle earlier in the game; but if Sanchez could indeed show he can do that in practice, don't ya think the Jets would have allowed him to do it on game day?
Sanchez looks more and more like a guy who is destined to join the long line of mediocre quarterbacks in Jets history—a guy who will win some, lose many. And at the end of the day Jets fans will turn on the TV to watch other games on Sunday, only to see the next franchise quarterback carve up a defense and wonder, "why can't we draft a guy like that?"
This article is
What is the duplicate article?
Why is this article offensive?
Where is this article plagiarized from?
Why is this article poorly edited?

New York Jets: Like this team?