Jordan Jefferson, Jarrett Lee Reluctant Stars in LSU's Quarterback Soap Opera
October 9, 2011
Chris Graythen/Getty Images
You would not think that the No. 1 ranked team in the country, with wins over nationally-ranked powers such as Oregon, West Virginia, Florida and Mississippi State, would have glaring issues that is the talk of water cooler-banter legend.
In this media savvy world of up-to-the-minute text, twittering and promotion of mindless gossip, we are now privy to the curious and ever-evolving saga of one Jordan Jefferson, LSU quarterback.
Jefferson, a two-year starter at quarterback, has been both vilified and adored by a fickle yet very passionate LSU fan-base. Both Jefferson and current starter Jarrett Lee have switched roles more times than anyone can count. So what makes this season any different?  
Is there a quarterback controversy in Baton Rouge?  
It sure seems like some would like to fan those flames. Lee has been the starter from Game 1, and he was pressed into service by the unfortunate impending legal proceedings involving Jefferson and his activities at a bar appropriately named Shady's.
Lee has performed admirably, especially given the voracity of competition and the scrutiny and doubt cast his way from pretty much anyone that has ESPN or read a newspaper. His significant improvement week to week has been very apparent; in fact, he now looks the part—that of an SEC quarterback on a team that could win the National Championship.
Keep in mind that Jefferson beat out Lee the last two seasons for the top spot. However, at this point, does Les Miles go from what the past suggests, or do you look at the first five games of the season where your team is undefeated and the No. 1 team in the nation?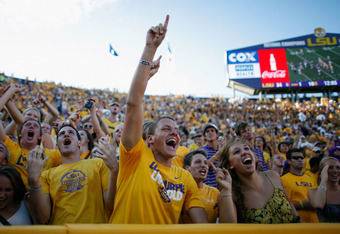 Chris Graythen/Getty Images
You probably do what coach Miles is doing and try to find a way to incorporate both guys into the team and your system; to go with whichever guy gives you the best chance to be successful at that time.
Is this the best course of action? Is this normal for most teams across the country? 
Nope, not even close. But can it be an effective part of the LSU arsenal? And are the Tigers better with two experienced quarterbacks as opposed to one?
Truth be told, it is a delicate situation. But only the coaching staff and the team know what both guys bring to the table, and my guess is LSU wants them both.
Growing through adversity is something all of us do; the difference with these two young men is that  they are doing it on ESPN at 22 years of age.
Still, here they both stand on October 9 as teammates on the No. 1 team in the land. I would suggest quite a few teams would like to have the same "problem" that Les Miles and the Tigers have right now.