Jackie Battle, Jonathan Dwyer and 4 Buyer Beware Fantasy Players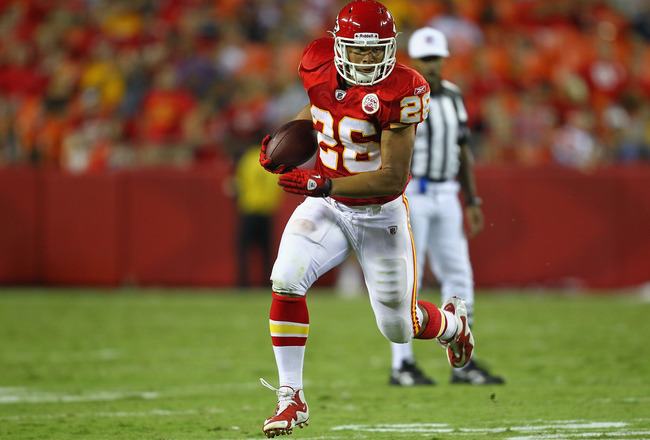 Jackie Battle, Chiefs
Dilip Vishwanat/Getty Images
Kansas City's Jackie Battle had 119 yards rushing Sunday against the Colts.
The Steelers' Jonathan Dwyer raced for 76 yards on his first carry of the day for Pittsburgh against Tennessee.
Even so, these are not players who have much history of performing at a high level, and the smart fantasy owner will consider carefully before picking up any of these one-week wonders.
Here's a list of players we think the phrase "buyer beware'' aptly describes.
Chiefs' Running Back Not Yet Battle Tested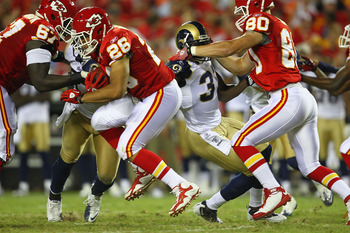 Jackie Battle had 119 yards for the Chiefs Sunday.
Dilip Vishwanat/Getty Images
Most of what you need to know about the Chiefs' Jackie Battle is that his 19 carries Sunday against Indianapolis was his single-game best. His best season total came last year, when he had 20 carries.
He's a career backup, and while he took advantage of added playing time Sunday to explode for 119 yards, it also matters that he was running against a Colts team that hasn't won a game and seems to be out of sorts on both offense and defense.
Dwyer Enjoys Career Game for Steelers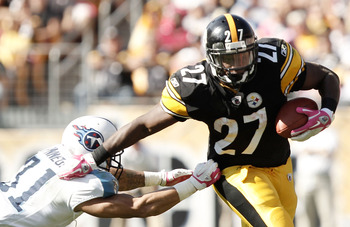 Jonathan Dwyer had 107 yards on the ground for the Steelers
Jared Wickerham/Getty Images
The Steelers came into Sunday's game against Tennessee knowing they didn't want to use the injured Rashard Mendenhall to carry the ball unless absolutely necessary.
That meant that Jonathan Dwyer went from third on the depth chart to second. And when he broke free in the second quarter to go for 76 yards on his only carry of the half, he opened some eyes.
And with Isaac Redman struggling for yardage, Dwyer got more carries in the second half to finish with a career-best 107 yards.
As impressive as that was, it seems likely that he's not going to be a great fantasy pick, because Mendenhall will probably be back for the next game and Dwyer could be back at third-string status.
Whitehurst a Super Sub for Seahawks Again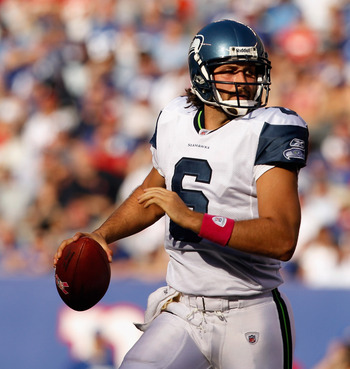 Charlie Whitehurst came off bench to lead Seahawks' win
Mike Stobe/Getty Images
When Tarvaris Jackson went down with the Seahawks clinging to a 16-14 lead over the New York Giants on the road, Seattle had to turn to Whitehurst, the man Jackson supplanted when the Seahawks brought him in during the off-season.
Whitehurst, who stepped up last year in Week 17 to guide the Seahawks into the playoffs as the NFC West champs, was up to the task. He hit on 11 of 19 passes for 149 yards and one touchdown, and he didn't turn the ball over.
He directed Seattle to a couple of field goals before connecting with Doug Baldwin on a 27-yard pass, but it was a 94-yard interception return by Brandon Browner that sealed the deal.
If Jackson, who suffered a right shoulder injury early in the third quarter and didn't return, is healthy enough to play the next time out, however, he probably will, which would make Whitehurst a dicey addition to any fantasy roster.
Is It Cruz-Control Time for Giants?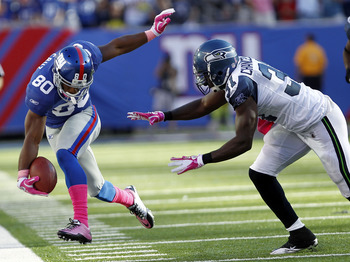 Victor Cruz had his dancing shoes on for Giants Sunday.
Jeff Zelevansky/Getty Images
Nothing that Victor Cruz did in his first four games of the season suggested he was ready for a breakout game.
That game came Sunday, however, with Cruz catching eight passes for 161 yards and one touchdown in a 36-25 loss to Seattle.
The question fantasy owners have to address now is the same one facing New York Giants coach Tom Coughlin -- was Sunday typical of what can be expected from Cruz, or is he more the type who had 11 catches total in his first four games?
Keep Reading