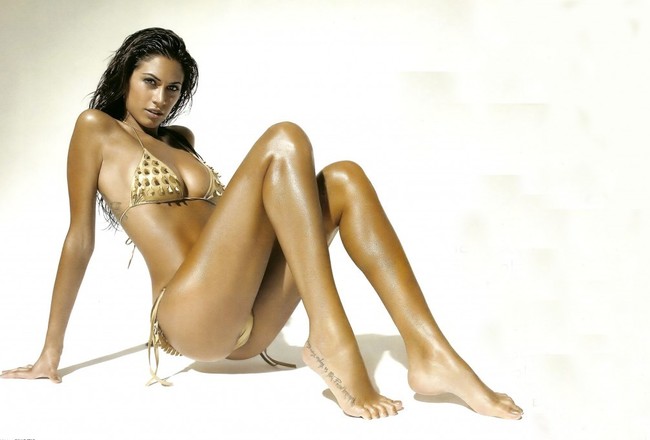 A WAG is another name for a beautiful girlfriend or wife of a male athlete. They are measured by the amount of sexiness they bring to the table. It is not uncommon for us to judge these women, as I have done more times than you can count.
When ranking beautiful WAGs, the one thing we all must take into account is not only their high level of beauty but also the amount of success, fame, and power they possess.
This is my first WAG power rankings of the 2011 sports year. Enjoy!
30. Lara Alvarez: Sergio Ramos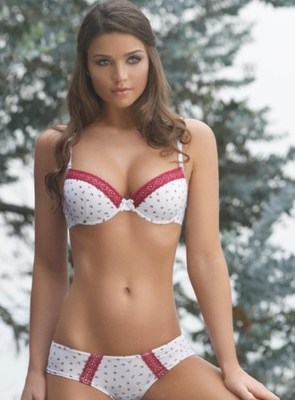 Let me start off by stating a fact: Professional soccer players have the best lives.
I use to think it was NFL players, but after much research, I can easily see that the women flock towards the soccer players as Lara Alvarez has done too.
She is a Spanish TV reporter and is currently dating Real Madrid great Sergio Ramos, making her an instant rival to Sara Carbonero, a fellow TV reporter dating a soccer player.
29. Kelly Hall: Matthew Stafford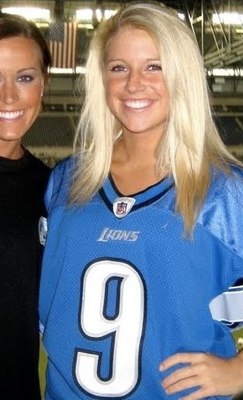 Matthew Stafford should make an honest woman out of Kelly Hall sometime in the near future now that he is on the top of his game.
The two of them have been together since he was back at the University of Georgia where she was the head cheerleader.
If he decides not to marry her, no problem. There are always other options out there for her to explore. I can see the line forming already.
28. Melissa Molinaro: Reggie Bush
When you are trying to prove to your ex that you are finally over her, what is the one thing you should never do?
Date a woman that is considered a body double of Kim Kardashian.
Melissa Molinaro is currently dating Reggie Bush, a man that is obviously living in the past. After he was traded to the Miami Dolphins this past summer, he finds himself involved with a woman that should be called Kim's twin sister.
Dude, come on man!
27. Victoria Beckham: David Beckham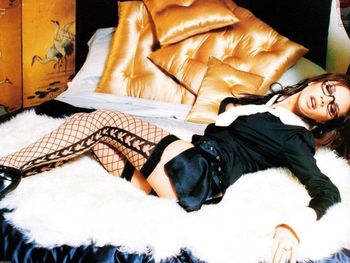 Aside from having the most famous professional soccer player as her husband, David Beckham, Victoria Beckham has held her own for years.
She is constantly on the front of many fashion trends and is as beautiful as ever.
How do I know about fashion? It is easy when Vicky, as I like to call her, is modeling. I can look at her all day and night.
26. Jessica Simpson: Eric Johnson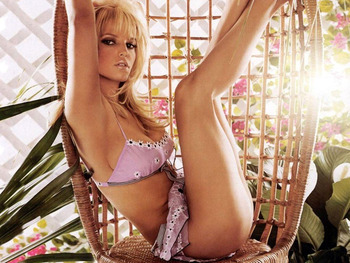 Being married to a professional anything can be stressful on a WAG, but what if she is a famous professional singer too?
Jessica Simpson has already tried to be involved with a professional athlete when she was dating Tony Romo a few years back. Since then she has found her true love in her husband Eric Johnson, a former NFL tight end.
At least she is married to someone who is no longer playing so she can not be blamed for any more losses.
25. Carrie Underwood: Mike Fisher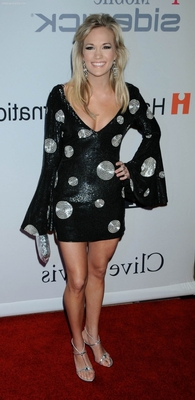 Speaking of singing, Carrie Underwood is drenched in success. Ever since she won American Idol 50 years ago, she has been winning Grammy after Grammy.
She is not doing a bad job selling her albums either, having gone platinum 12 times.
Her husband, Mike Fisher of the Nashville Predators, can only claim to be buying his time until he retires so he can enjoy living with a ridiculously wealthy country music star. I am sure no one would blame him either.
24. Brooke Sorenson: Laynce Nix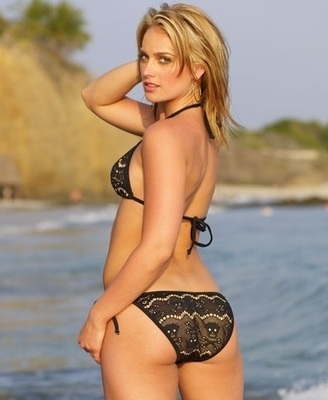 Who is Laynce Nix?
He is a MLB outfielder for the Washington Nationals but has played for several other teams including the Texas Rangers, which is probably how he met the former Dallas Cowboys cheerleader Brooke Sorenson.
For all those up and coming athletes, all you need to know is that being a professional athlete is greater than not being one. Just ask Brooke.
23. Candace Crawford: Tony Romo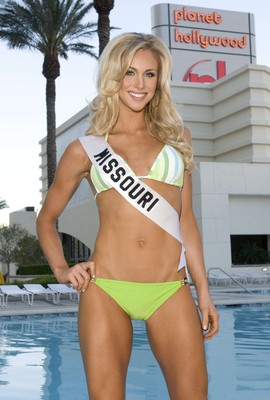 First things first. Tony Romo has a beautiful former beauty contestant as his wife, this is a fact. However, he is still Tony Romo and that can only lead to one thing.
Begin Tony Romo jokes in 3, 2, 1...
Tony Romo tried texting his wife about the loss against Detroit, but the text was picked off and returned for a touchdown.
22. October Gonzalez: Tony Gonzalez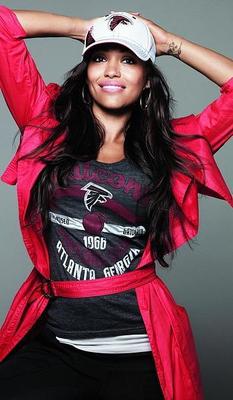 October is my favorite month and If it was not already, it should be yours now.
October Gonzalez, a wonderful first name I might add, is married to legendary NFL Tight End Tony Gonzalez. She is an avid animal rights activist. If you don't believe me than go check out her PETA ads where she wears nothing but a smile.
21. Patrizia Ruiz: Miguel Angel Moya Rumbo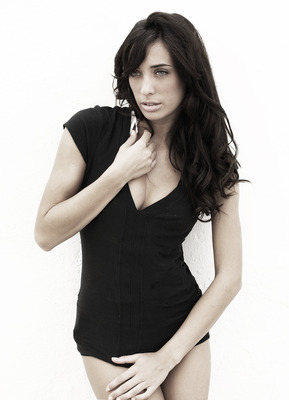 When you look at a WAG, what do you see? Do you see a woman married to a male athlete, spending all her time shopping and partying like the Housewives of Atlanta?
This might be true for most but not Patrizia Ruiz. She has a degree in Aeronautical Engineering and speaks five languages including Italian.
That is impressive for anybody, not just for a WAG. Maybe that is why Miguel Angel Moya Rumbo, Valenica goalkeeper, decided to call her his own.
20. Kristin Cavallari: Jay Cutler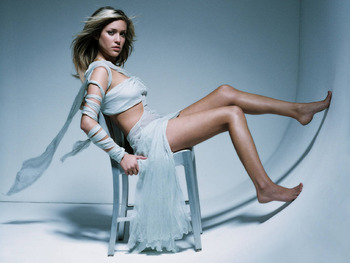 After recently being voted off of Dancing with the Stars, a shock to those of us who watch the show, Kristin Cavallari appears to be back on with her man, Chicago Bears quarterback Jay Cutler.
The rumors were flying around about the two of them getting back together but when he showed up in support of her DWTS appearance, those rumors were confirmed.
19. Kacie Mcdonnel: Christian Ponder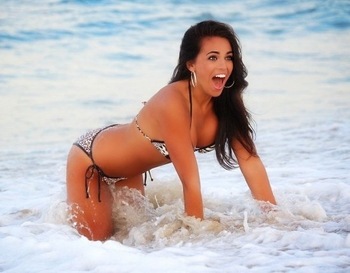 Christian Ponder, former starting quarterback from Florida State, was the 12th overall pick of the 2011 NFL draft by the Minnesota Vikings.
That is great for him but no one seems to care much about him; we would rather talk about his new girlfriend, Kacie McDonnel.
There will come a time when his name alone will make others pay attention, but that time is not right now.
18. Kim Kardashian: Kris Humphries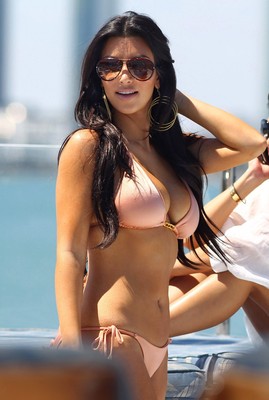 There are only a few people in the world that are more hated than Kim Kardashian, and half of them are from Jersey Shore.
It is not that I hate her, I do not at all, but I find it hard to talk about someone that holds as many skills as an unemployed plumber. At least they know how to clean up crap.
17. Diana Roberts: Brian Roberts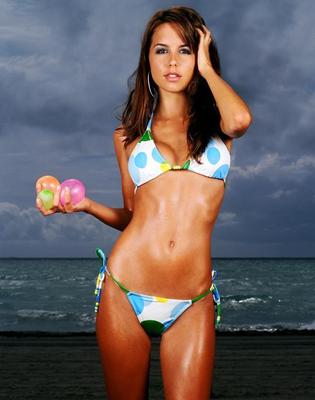 Baltimore Orioles second baseman Brian Roberts is a lucky man. Not only does he get to play in the MLB but he is also married to Diana Roberts and her super long legs.
She was a former Miss FHM in 2006 and even made a brief appearance as a briefcase model on the hit television show Deal or No Deal.
I always wondered if those models on that game show were real people.
16. Elisabeth Reyes: Alexis Ruano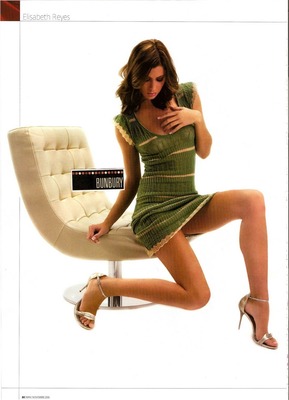 When you win the title of Miss Spain in 2006, what else do you have to do to prove your hottness? Nothing.
Elisabeth Reyes is currently dating Valencia's Alexis Ruano, known to his teammates as a very lucky man.
15. Danielle Lloyd: Jamie O'Hara
Who says people can not change? Danielle Llyod is living proof that anyone can change.
She used to be the party girl, always showing up in the tabloids drunk or on the sidewalks passed out.
Nowadays, she is a mother of two and is happy spending time with her fiancee Jamie O'Hara. Her biggest storyline these days is when she tweets about driving around in her new Ferrari.
14. Jamie Lee Darley: Sacha Kjestan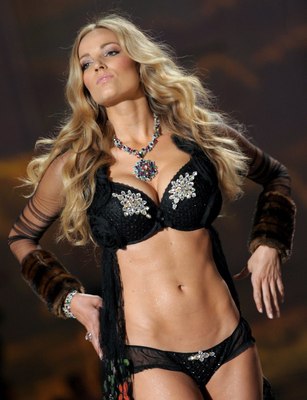 In Brussels, Belgium, US soccer international Sacha Kljestan has an apartment. In it, he has a television, deep fryer, garden patio and bedroom.
When you are engaged to a beautiful Victoria's Secret Angel, Jamie Lee Darley, you do not need much else in life.
13. Kendra: Hank Baskett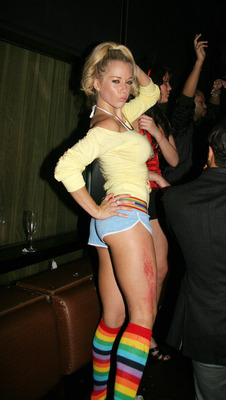 Kendra has loads of options to choose from, so why did she decide to settle with NFL reject Hank Baskett?
Love.
He loves her and she loves the NFL. At the time of their marriage, he was playing in the NFL, it was a perfect match.
12. Imogen Thomas: Ryan Giggs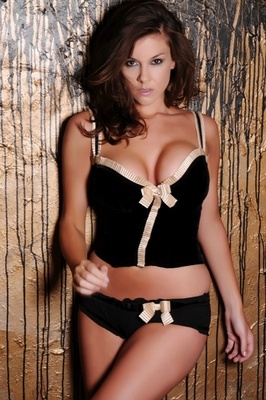 Ryan Giggs, what where you thinking?
I understand that Imogen Thomas is beautiful and busty, this is a fact. But if you are such a big name soccer star, why would you cheat on your wife and kids with a woman that most of the world already knows?
It is one thing to do it Tiger Woods-style but with a famous woman such as Thomas? That was never a good idea Mr. Giggs.
11. Brooklyn Decker: Andy Roddick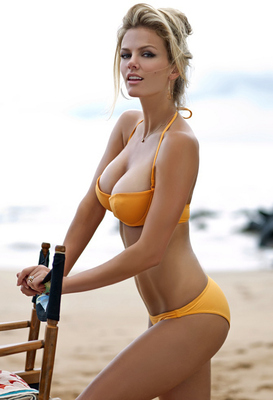 There is not a bigger baby in tennis than Andy Roddick. He whines and complains like a child being sent to his room.
There are just some times you need to hold back and keep your mouth shut; he has no idea what I am talking about.
The good news for him is that he goes home every night to Brooklyn Decker. Fair? Not at all.
10. Shakira: Gerard Pique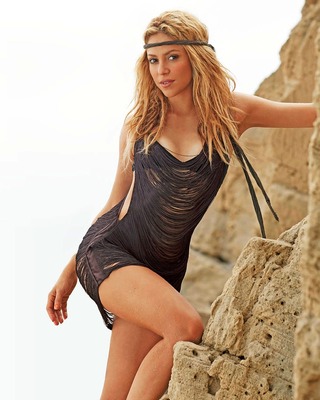 It is about time someone spoke about Shakira in the WAG world.
She has been a WAG for most of this year after claiming, on Twitter, that she is dating FC Barcelona soccer star Gerard Pique.
Does this mean we get to see her shake her bon bon all the time? Yes it does.
9. Soledad Fandino: Gonzalo Higuain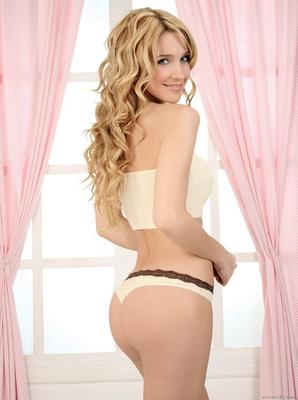 The country of Argentina has never looked better.
Soledad Fandino is already known in her home country as a fashion model and actress. In fact, she has won a few awards for her roles on a few different television shows.
She has a body that would make most men cry and a smile that already has women wishing they had never been born. Her beauty is the reason we love her, and that is all good for us.
8. Izabel Goulart: Diniyar Bilyaletdinov
If you think Izabel Goulart is difficult to say, just wait until you see her boyfriend's name.
The Brazilian model is currently attached to Diniyar Bilyaletdinov, a Russian soccer player and Wheel of Fortune vowel lifeline.
The former Victoria's Secret Angel appeared in Sports Illustrated's swimsuit issue this past year as well as being named one of FHM's 100 Hottest Women in the World.
7. Maria Sharapova: Sasha Vujacic
It is rare to see a female professional athlete on a list of WAGs, let alone a great tennis player like Maria Sharapova.
Although she is better known to the rest of the world than her fiancee, New Jersey Nets player Sasha Vujacic, she is still a WAG in our eyes.
Hopefully she can stick around and give me reasons to continue to include her in my WAG lists. I would be very grateful. As will my eye sight.
6. Abbey Clancy: Peter Crouch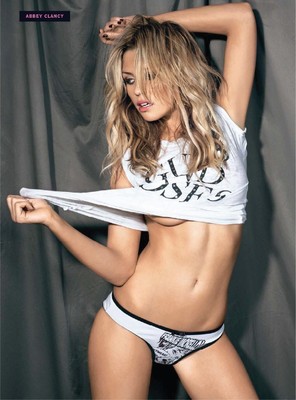 Ever since giving birth earlier this year, Abbey Clancy has been keeping a low profile and staying away from the spotlight, until recently, when topless photos of her have begun to surface.
Abbey is claiming that she did not give those photos to anyone, and that they were stolen from her phone along with many others. She also thinks she knows who the thief is.
Regardless of how this ends, it cannot be any worse than when a peeping Tom snagged a few topless photos of her on the beach.
When will the spying end?
5. Evangelina Anderson: Martin Demichelis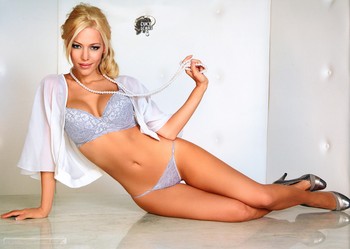 Although Martin Demichelis, Malaga defender, is married to a beautiful woman and former Playmate Evangelina Anderson, that does not mean that life is peachy. She has a dark jealous side.
"Any maid I allow into my house must know how to clean, how to iron, and be grossly ugly. There are pretty and ugly maids in this world. Women with footballers must always hire ugly," she once stated.
I guess she knows the life well enough to understand how men think. A but much? Yes, but she is worth it.
4. Irina Shayk: Cristiano Ronaldo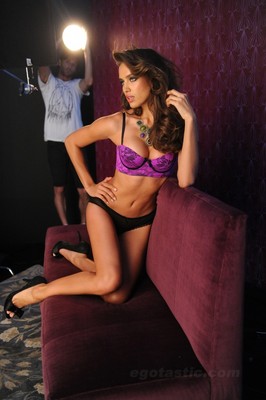 Cristiano Ronaldo has had more girlfriends than E-Harmony. What would it have to take to see him finally settle down?
Irina Shayk is that woman. She is so beautiful, she has managed to keep him under control longer than any other woman in his past.
She is a different kind of fine if you ask me.
3. Adriana Lima: Marko Jaric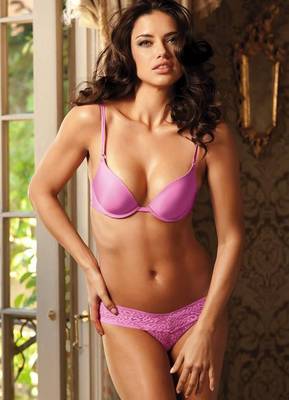 This entire list is filled with the most beautiful WAGs of the 2011 sports year, so adding Adriana Lima was almost a certainty.
She is married to Marko Jaric, a former NBA player, who is currently writing a book titled, "No one should ever underestimate me again, my wife is a Victoria's Secret model. Ha!"
Okay, so he is not writing a book, but if he did, that would be the title.
2. Gisele: Tom Brady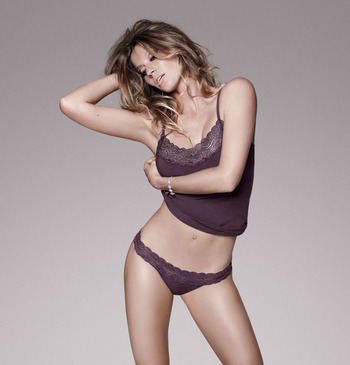 Gisele is the world's hottest female supermodel, so naturally she should marry the one guy that every man in the world wishes he could be: Tom Brady.
She has done more things in the past three years than most people will do in their entire life. She has made the cover of countless magazines, worked the runway for Victoria's Secret, and is admired by every man in this room.
Now she can add being named the hottest WAG of 2011 to her list of accomplishments.
1. Melissa Satta: Mateo Ferrari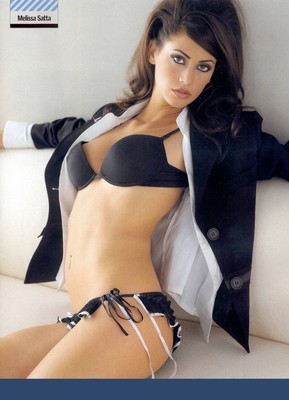 If this is the first time you have seen Melissa Satta, then you are missing out. The beautiful golden-bodied goddess is currently involved with Mateo Ferrari, an Italian soccer star.
According to many different publications, Melissa Satta is the hottest female in the world.
I concur.
Keep Reading