UCLA Football: 5 Talking Points from Bruins Win over Washington State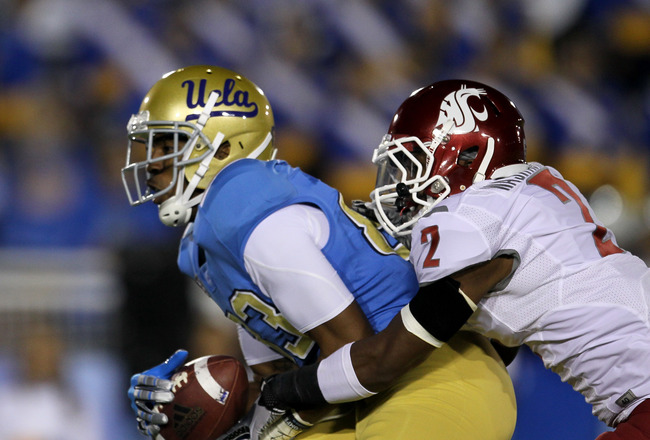 Stephen Dunn/Getty Images
UCLA 28, Washington State 25.
UCLA got just what they needed Saturday night: a win over a quality opponent. Down eight with 12:25 to play, the Bruins rallied with big plays in big situations to eek out the three-point win.
There were many heroes in blue and gold last night.
Take wide receiver Shaq Evans, who snagged the go-ahead touchdown grab (his only reception of the game) before collapsing hurt in the end zone.
Consider unheralded Tyler Gonzalez, who had only been practicing with the team for three weeks since leaving his job as UCLA Soccer's team manager. He buried two extra points like a seasoned veteran.
Or look to the injury-plagued secondary, where corner Andrew Abbot plies his trade. It was the junior who picked off Marshall Lobbestael to seal the win.
But of all the stars that emerged for UCLA Saturday, none shone brighter than the redeemed Kevin Prince.
After throwing three picks in the first quarter of his last start against Texas, the embattled QB stepped in magnificently when Richard Brehaut went down. He efficiently commanded the offense to their second-highest point total in 2011.
There is plenty to comment on after an exciting night in Pasadena, so let's get to it. Here are five talking points from the win over WSU.
UCLA's Red-Zone Defense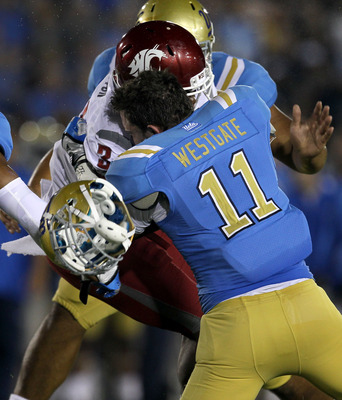 Stephen Dunn/Getty Images
Without question, this was the difference in the game.
Washington State repeatedly drove their way inside the Bruin 20, only to settle for field goals time after time. Much credit needs to go to UCLA's defense inside the red-zone, which kept the game close.
Imagine what halftime would have looked like if WSU had been as good outside the 20s as they had between them. Instead of kicking three field goals for a 9-7 halftime lead, the Cougars would go into the intermission up 21-7 with the game well in hand.
This was a defense playing without three of it's stars in the secondary. Tony Dye, Sheldon Price and Alex Mascarenas were all unable to take the field, yet UCLA held Lobbestael to 2-for-7 inside the red zone, surrendering only one touchdown pass. Lobbestael's passing streak of 300 yards or more came to an end at the Rose Bowl, with the Lobster only netting 235 against a defense he was supposed to pick apart.
The Bruins front seven also should be proud of their performance. After a few plays, it became clear that WSU wanted to establish the running game to further open up the pass. They wanted to come out a balanced team rather than the pass-heavy team UCLA expected, and it showed. Of their first 20 plays, exactly half were runs.
Playing without Glenn Love and with Sean Westgate's hand in a cast, the Bruins linebackers stood tough when Washington State tried to play power football in the red-zone, never giving up a rushing TD. They only allowed 154 yards on 40 carries for the game.
While their performance between the 20s surely needs work, Rick Neuheisel can be pleased with his defense locking down when it counted. Even the biggest play of the game—Abbot's pick deep in the fourth—was a defensive one.
For once, we can come away from a Bruins game with more positives than negatives on the defensive side of the ball.
Richard Brehaut Out, Kevin Prince in
Stephen Dunn/Getty Images
In the ever-revolving door that is the UCLA quarterback position, Kevin Prince returned to the field after Richard Brehaut went down with a shot at redemption.
He was booed (slightly unfairly) as he trotted onto the field, but a quick 41-yard bomb to Nelson Rosario silenced to the boo birds and brought out the cheers. It wouldn't be the last time the two hooked up for a big gain.
Welcome back, Kevin.
The oft-injured junior, who played with confidence as fragile as his body against Texas, made us remember why he consistently beat out Brehaut for the job in the offseason. Excluding the lazy pick he threw on the verge of halftime, Prince went 8-for-13 for 173 yards and two touchdowns.
Down 22-14 late, Prince orchestrated a quick four-play, 63-yard drive to bring the Bruins within two after expending only 1:33 off the clock. They would miss the two-point conversion, but Prince had found his groove.
The very next Bruin drive after WSU made it 25-20, Prince found Rosario again over the middle for a 58-yard gainer. UCLA cashed in three plays later, with Prince spotting Shaq Evans on a slant route for the go-ahead score. This time the Bruins converted for two, with Prince finding Rosario in the back of the end zone.
While he played well and arguably out-dueled the vaunted Lobbestael, there are still questions to be asked going forward. For instance, how long will Prince be able to stay healthy inside the pistol offense? He no longer has the safety net of Brehaut waiting in the wings as preliminary evaluations put him out indefinitely. Would Nick Crissman see action, or would Neuheisel burn the redshirt on Brett Hundley?
QB runs are a significant part of the pistol offense, which means that Prince will be subjected to hits that quarterbacks in other systems can avoid. It could just as easily been Prince sustaining that leg injury and Brehaut stepping in to throw well. Wait, didn't that already happen this year against Houston?
Prince had a good game, but can he stay healthy enough for more?
Tyler Gonzalez Can Kick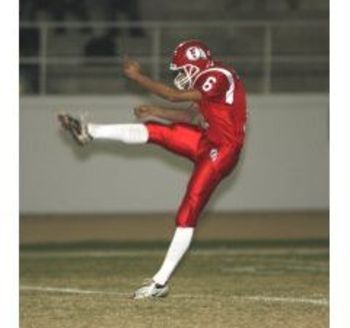 The last time Tyler Gonzalez kicked in a football game was almost four years ago in high school, but you wouldn't know it watching him against the Cougars.
In what was going to be a close game, the Bruins could ill-afford to leave easy points on the field like they did against Stanford, and in that respect, Gonzalez did well. His first PAT was dead-center, and his second was just as true.
UCLA only needed two extra-points converted (they tried for two on their last two touchdowns), so it was a light night for the kicker. Rick Neuheisel made it clear that the short chip shots will be handled by Gonzalez for now, with Locke to kick anything over 40 yards.
It remains to be seen if the new man can make them from 30 yards in a hostile environment, but for now, the Bruins have their kicker. Hopefully this will lend Bruin fans some measure of relaxation during extra-point tries.
No Fauria? No Problem
Stephen Dunn/Getty Images
The much-ballyhooed tight end did not make a catch against Washington State, yet his impact on the Bruin's passing game did not go unnoticed.
Washington State clearly did their homework on Fauria and doubled him often whenever he went out over the middle. By doing this, they inadvertently opened up someone else.
While Nelson Rosario put up the biggest numbers (3 receptions for 120 yards), seven different Bruin receivers made at least one catch.
Fauria's use as a decoy helped free up other receivers over the middle, and he was key in absorbing the attention from other targets in the red zone.
While I would have liked to see him thrown to, it is difficult not to see his value as a decoy. If teams are going to focus on him that much, it can only benefit UCLA with their whole host of other talented receivers.
Randall Carroll has breakaway speed, and Josh Smith is finally living up to his calls for more playing time, so in the long run, the Bruins shouldn't be too hurt by Fauria's lack of numbers.
UCLA Back to .500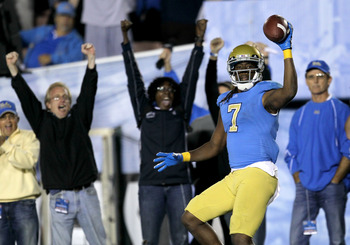 Stephen Dunn/Getty Images
Ultimately, it's the result that matters. For UCLA, it was a step in the right direction as they chase a bowl birth. At 3-3, they need to find three more wins to make that dream a reality.
Where will the wins come from?
They have a bye this week, but next up is a trip to Tuscon, where another pass-first team waits. While Arizona is 1-5 and winless in the conference, they have faced an absolutely brutal opening schedule with Stanford, Oregon and USC in consecutive weeks. At home, the Wildcats could surprise the Bruins, but the oddsmakers are sure to favor UCLA.
A win over Arizona would put UCLA at 4-3 with five games left. The games against Cal and Colorado at the Rose Bowl look winnable, so six wins are not out of the question. For the more optimistic, the Bruins could even steal one on the road at Utah or USC. Even the home game against Arizona State doesn't seem impossible.
The schedule opens up for UCLA after a bye-week, which, barring practice injuries, should improve the team. We'll see if the Bruins can take advantage.
Keep Reading

UCLA Football: Like this team?