College Football Rankings Week 7: Is Alabama Better Than LSU?
October 9, 2011
Chris Graythen/Getty Images
Fast forward your DVRs. 
Alabama and LSU are headed to the Super Bowl of college football.  The showdown in T-Town slated for Nov. 5 is looming.
In between the few votes that separate them in all polls, there's a giant question mark.  Who's the better team?
Is the Crimson Tide as powerful as the thundering herd they are aptly named for or are the Tigers of LSU the more commanding team on paper?
Borrowing a quote from Forrest Gump, so far, they're "like peas and carrots."
Saturday night in Tuscaloosa showed a Bama team that shut out (34-0) an improved Vanderbilt Commodore defense…improved, that is, until the game started. 
A.J. McCarron had a career high, passing for 237 yards and four touchdowns.  Trent Richardson rushed for 107 yards and a touchdown.  It was his fifth straight 100-yard game.  But all said, this game was not the stellar performance the Tide had against its previous opponent, the Florida Gators.
While fans were clamoring for more of the NFL spirited Tide from the weekend before, down in the bayou, LSU was pounding Florida (41-11).  The Gators—a team looking to a new coaching staff for answers to a punishing past two weeks—escaped a shutout but head into the perilous Plains of Auburn this weekend. 
So now, both teams are 6-0 and apart from that striking similarity, they've both played and beaten Florida. Stacking the stats of both teams versus the Gators, the numbers are close.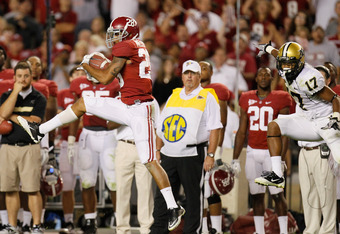 Kevin C. Cox/Getty Images
Bama had 21 first downs against the Gators, versus LSU's 20.  The LSU Tigers passed for 215 yards (versus the Gators) compared to Bama's 207.  On penalties, LSU totaled nine for a loss of 65 yards, versus Bama's three for 29 yards.  Time of possession was about 10 minutes apart in LSU's favor. 
Perhaps the most astounding difference in the two teams' performances against the Gators are these: LSU was playing a bruised Gators' team boosted by the Tigers' intimidating home crowd, against a third-string Gator quarterback.  Bama's win against the Gators occurred in a hostile road setting with a more experienced Gators' quarterback in the first half.
In short, Bama and LSU are running neck-and-neck like Kentucky Derby horses heading to the finish line.  There are two games to be played and then a bye week for Bama and LSU before their meeting.  The more dominant team in this hyped up duo will no doubt be compared up and down, right and left until they meet on the grid-iron battlefield of Bryant Denny field.  
Grading the glitz, LSU stands out like a high priced jewel. They are slick, surprising and flashy. Grading the talent, defense and overall polish of this Bama team, the Tide has the current edge. But it's still a little early to predict which team is the best.  So with that said, let us refer back to the wisdom of the Forrest Gump script: "Life is like a box of chocolates, you never know what you're gonna get."