NFL Predictions Week 5: LeSean McCoy and 2 Other RBs Who Will Run Wild
October 9, 2011
Jared Wickerham/Getty Images
The running back position—the most dependent position in football. Having a good running back changes so many aspects of a team.
Take Arian Foster and the Houston Texans. When Foster was out for Houston's game in New Orleans, the Texans were 1-of-5 in the red zone. When Foster came back next week, the Texans went up to 1-of-2. Of course, that's a small sample size, but having a good running back playing just helps teams in more ways than realized than just running the ball.
With that in mind, here are a couple of running backs bound to have good days.
LeSean McCoy
Where to start with this matchup? How about the fact that he has a 5.5 yards-per-catch average right now? Or that he's average 90 yards a game on the ground? That's not even mentioning his ability to catch the ball out of the backfield.
What really has to make his fantasy owners salivate, though, is the Bills' 25th-ranked rushing defense. A good running back versus a poor run defense? Especially one that is giving up 129.5 yards a game? I'd be excited if I were McCoy.
This season is going really well for Run DMC. He currently has a cool 6.2 YPC average. He's averaging over 115 yards a game.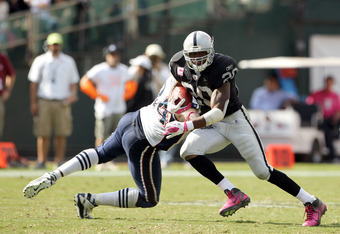 Ezra Shaw/Getty Images
On top of that, he's also average a touchdown a game either through the air, or on the ground. Those are great stats for a great back. However, what makes today a good day for him, is the Houston run defense. Sure, they may be ranked 18th in the league, but Shaun Cody is rated as one of the worst nose tackle in the league. Unless you see monster games from Brian Cushing and/or Demeco Ryans, expect McFadden to have his way with this defense.
Arian Foster
Now to flip over to the other team. Foster has been having another good season so far, except for his "anti-awesomeness" hamstring. He's played in two games, and has 188 yards in both games and had only 10 touches in one game.
He just ran for 155 yards against the Steelers, even running when the Steelers knew the Texans were going to run after Andre Johnson went down. With a healed hamstring, Foster should get back to 2010 levels, and boy does he have the perfect opportunity to do so.
The Raiders run defense is ranked 28th in the league, giving up 136 yards a game. However, they've given up the league worst 5.9 YPC average to opposing running backs. As well, they have given up the worst first down percentage on the ground and have given up eight 20-plus-yard runs. Expect the Oakland-Houston game to be a physical run first game.