NFL Picks Week 5: Quick Picks for All Week 5 Games
October 9, 2011
Matt Ludtke/Getty Images
As I've always said, predicting NFL games is like trying to predict the stock market. Sure, you can take a few observations about each team and lead yourself to believe 99 times out of 100 that this team is going to win. However, what if that one time the other team wins is today?
It's still good/fun to predict the games anyway. If you get good at it, you can start figuring out some of the more subtle nuances that may be harder to see at first. So here are some quick picks with the coming week's games.
New Orleans Saints (3-1) @ Carolina Panthers (1-3)
Panthers may not be good on paper, but they have been keeping it close. Their first division game is the best time to come out and win, but I think New Orleans wins this one by two scores in a shootout.
Philadelphia Eagles (1-3) @ Buffalo Bills (3-1)
One of the harder games to predict this week. The Bills seem to be worse than their record says, while the Eagles should be better than their record says. Still, Buffalo's offense has been the reason to win, and I don't see their defense showing up.  
Seattle Seahawks (1-3) @ New York Giants (3-1)
Giants.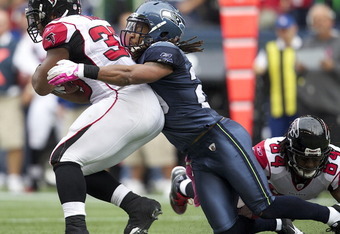 Stephen Brashear/Getty Images
Cincinnati Bengals (2-2) @ Jacksonville Jaguars (1-3)
The Jaguars are backed into a corner this week and need a win. The Bengals just came off a nice win over Buffalo. I got Jacksonville in a close game...assuming they don't forget about MJD again. 
Tennessee Titans (3-1) @ Pittsburgh Steelers (2-2)
Maybe the Titans have a chance, but an angry Steelers team at home is not something any team wants to face. 
Oakland Raiders (2-2) @ Houston Texans (3-1)
Texans are the more complete team here.
Arizona Cardinals (1-3) @ Minnesota Vikings (0-4)
Arizona is bad this year, but Minnesota is worse. However, Vikings are at home so Cardinals should win? I have no idea with this game.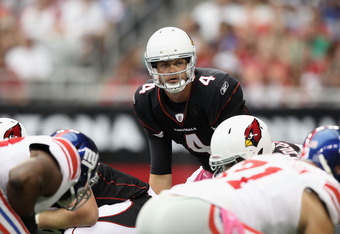 Christian Petersen/Getty Images
Tampa Bay Buccaneers (3-1) @ San Francisco 49ers (3-1)
Bucs weren't all that impressive against the Colts at home last Monday while the 49ers are a Romo-staying-on-the-sidelines away from 4-0 record. I like the 49ers' strengths matching up well.
New York Jets (2-2) @ New England Patriots(3-1)
Brady or Sanchez? That's like a kid with a magnifying glass versus an ant. 
San Diego Chargers (3-1) @ Denver Broncos (1-3)
Broncos. Why? The Chargers shoot themselves in the foot a lot. That's going to hurt against a divisional opponent.  
Green Bay Packers (4-0) @ Atlanta Falcons (2-2)
Packers are likely to go 16-0 if Rodgers keeps playing like this.
Chicago Bears (2-2) @ Detroit Lions (4-0)
Lions in an emotional Monday-night victory.