2011 MLB Playoffs Playoffs: A Sneak Peak at Brewers/Cardinals Pitching Match Up
October 9, 2011
Jared Wickerham/Getty Images
Before we get started we should probably begin with one of those disclaimers you see in commercials. I release these for entertainment purposes only. First of all, anyone that bets significant money on baseball deserves what they get. The sport is more unpredictable and usually not a good long range investment.
That being said, the biggest problem with using match up data is usually the small sample size. However, since these teams played each other nearly twenty times, there should be some things we can go on. For our purposes, we will focus on the aggregate and not on individual hitters. Again, think small sample size.
Zack Greinke— .280 (157 AB) 4 HR allowed, 32 strikeouts, 9 walks
John Axford—.143 (42 AB) 0 HR allowed, 12 strikeouts, 7 walks
Zach Braddock—.375 (8 AB) 0 HR, 1 strikeout, 1 walk
Marco Estrada—.417 (24 AB) 0 HR, 6 strikeouts, 1 walk
Latroy Hawkins—.326 (92 AB) 3 HR allowed, 14 strikeouts, 6 walks
Kameron Loe—.125 (72 AB) 1 HR allowed, 16 strikeouts, 5 walks
Francisco Rodriguez—.237 (76 AB) 1 HR allowed, 18 strikeouts, 3 walks
Takashi Saito—.269 (67 AB) 2 HR allowed, 19 strikeouts, 5 walks
Brewers Overview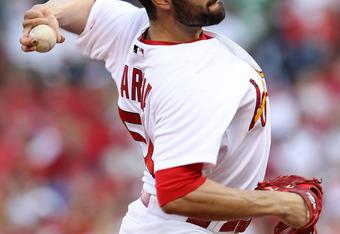 Jamie Squire/Getty Images
The Brewers ran away with the NL Central this season, but they played the Cardinals to a draw in 18 contests. What's funny is that while the Brewers were great late, they struggled more with the Cardinals late in the season. This could be a bad sign. I usually don't put a lot of stock in reliever data because of the smaller sample sizes (Zach Braddock only eight AB for instance). However, when you look at it collectively you don't have a lot of confidence.
Cardinals
Jaime Garcia -- .239 (155 AB) 4 HR, 36 strikeouts, 13 walks
Mitchell Boggs -- .304 (56 AB) 1 HR, 12 strikeouts, 8 walks
Octavio Dotel -- .308 (76 AB) 2 HR, 27 strikeouts, 10 walks
Kyle McClellan-- .212 (104 AB) 2 HR, 13 strikeouts, 8 walks
Jason Motte-- .220 (59 AB) 0 HR, 14 strikeouts, 5 walks
Arthur Rhodes-- .167 (24 AB) 0 HR, 8 strikeouts, 4 walks
Marc Rzepczynski -- .238 (21 AB) 1 HR, 6 strikeouts, 4 walks
Fernando Salas -- .200 (30 AB) 2 HR, 6 strikeouts, 4 walks
Cardinals Overview
The Cardinals have fared better than the Brewers at least in this match up. Garcia has experienced more success than Greinke and the bullpen has more pitchers that have experienced success. Of course, a lot of it has to do with who is hot right and now and who's struggling. However, things look good from this standpoint.
Game 1 Prediction
On the one hand, the pitching match ups favor the Cardinals slightly in this game. On the other hand, the Brewers are 60-24 at home this season counting all three NLDS victories. That makes this a pick em' game for our purposes. I'm going to go with the Brewers on the strength of the home field advantage, but since the pitching match up favors the Cardinals slightly it could go the other way.