Big 12 Power Rankings Week 7: Oklahoma Sooners, Red River What, AP Poll Who?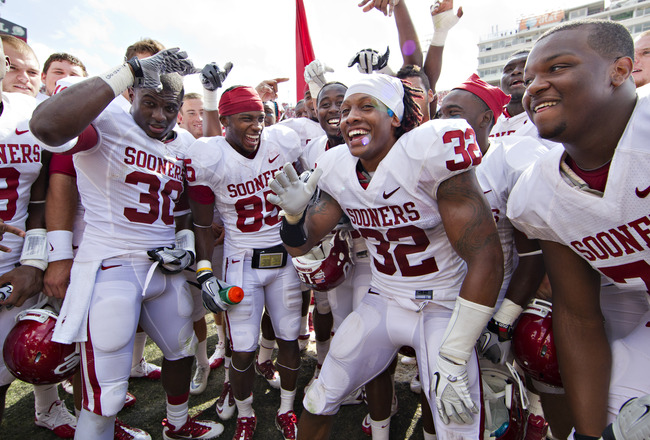 Wesley Hitt/Getty Images
Did the undefeated Oklahoma Sooners seek to stick it to the AP Poll's voters by stomping the Texas Longhorns in the Red Blood River after OU was dropped to No. 3? (after defeating Ball St. 62-6)
The Sooners defeated Ball State by 56 points on October 1st and lashed the Longhorns, 55-17, last Saturday at the Red River Rivalry.
The Sooners' territorial rival, Oklahoma State, posted an impressive mashing of Kansas—the worst defensive team in the FBS points per game statistic. Did the Sooners do enough to be the No. 1 team this week in my conference rankings?
The Big 12 had six teams in the AP and USA Today polls. What will my list look like this week? Join me and find out. The results just might surprise you. Survey says...
10. Kansas Jayhawks: Any Surprise KU Has the Worst Defense of All FBS Teams?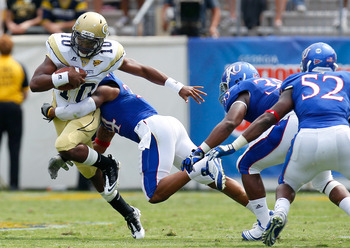 Kevin C. Cox/Getty Images
If you believe the points per game given up surveys, then yes, KU (2-3, 0-2 Big 12) is unsurprisingly the worst defensive team on the terrestrial globe.
It's like ET is playing defense for the Jayhawks and it's well known aliens cannot tackle.
9. Iowa State Cyclones: Blown Down by Baylor University's Defensive Storm
Doug Pensinger/Getty Images
Tackling a Cyclone (3-2, 0-2) can be a major problem unless you're a Big 12 team. The Cyclones haven't won the conference in who knows how long. I know how long, but I'll keep it to myself. Hint: Never.
Expect this trend to continue for the foreseeable future.
8. Texas Longhorns: Overrated
Harry How/Getty Images
Never has a more future-talented team been so overrated. The Texas Longhorns (4-1, 1-1) sport the No. 2-ranked running back in prep America from the 2010 senior class, but Malcolm Brown was held under wraps along with the rest of the UT roster.
The Longhorns took a Texas two-step backwards and became the laughingstock of the Red River Rivalry. Go to class student athletes, and get A's to make up for the F's—the proverbial flag pole—in the biggest game of the season so far. Don't worry, you'll be better as seniors or graduate student athletes.
7. Missouri Tigers: Playing Like Pussy Cats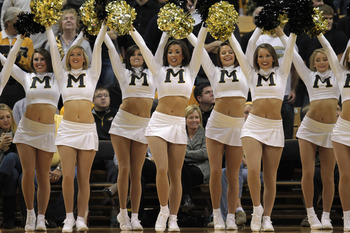 Jamie Squire/Getty Images
The meowing Mizzou Tigers (2-3, 0-2) graduated to suffering another pawing defeat against the Wildcats in Manhattan, Kansas.
The Tigers have been purring all season and had better get it together if they want to make a bowl game this year.
Don't get your dirty paws on the carpet or in the end zone too often Mizzou. Meow.
6. Texas Tech Red Raiders: Life in Lubbock
Ronald Martinez/Getty Images
The Red Raiders are the cat's meow in Lubbock, Texas where there is little else to do except go shirtless to football games in the fall.
The Raiders (4-1, 1-1) fell to Texas A&M last week, but they appear in the big picture to be bowl bound from the underrated Big 12.
This picture (left) by the way, is not a screen capture from Night of the Living Dead or from Raiders of the Lost Texas Technical University Students' T-Shirts.
5. Texas A&M Aggies: Big 12's Most Hated Future SEC Team?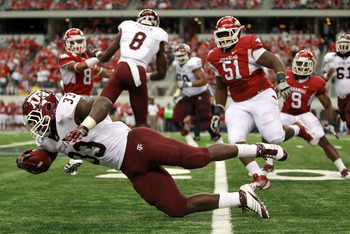 Ronald Martinez/Getty Images
Texas A&M experienced an ugly incident perpetrated by immature zombies who let their hatred of the Aggies loose in the form of feces spread on the team bus, according to a Tweet sent out by athletics director Bill Byrne.
The Aggie AD said that at least one of their buses was vandalized in Lubbock. If true, then this is more proof that A&M is the Big 12's most hated future SEC team. They're also the only future SEC team in the Big 12 at this point.
Despite their record (3-2, 1-1), they have played a very tough schedule and could easily be (4-1, 2-0). Don't shoot on or at the Aggies. Show class even though cow manure makes good fertilizer that they could use for their agricultural classes.
4. Baylor Bears: Becoming More Relevant Each Year in the Big Boy Big 12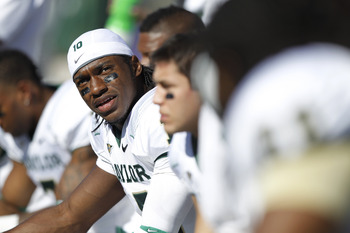 Joe Robbins/Getty Images
The classy Baylor U has been playing big boy ball while flying under the proverbial radar of death caused by teams moving to other conferences.
With the Bears (4-1, 1-1) becoming a college football power, prognostications of the conference's demise have been doubted in the last few weeks and rightly so. Big 12 fans can take heart in the fact that Colorado and Nebraska have struggled in their new conferences.
3. Kansas State Wildcats: 3-Way Tie for 1st Place in Current Big 12 Standings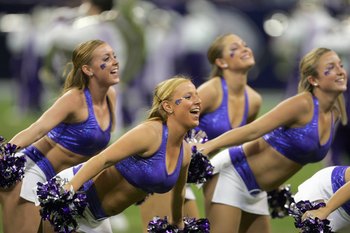 Stephen Dunn/Getty Images
Bill Snyder and his Wildcats are tied on top of the Big 12 with the Oklahomas—Sooners and Cowboys. The (5-0, 2-0) Cats spanked the Bears and the Tigers in the last two weeks.
They'll travel to the accused vandalizing town of Lubbock where there is little else to do except go shirtless to football games and spread excrement on Aggie buses—allegedly. The Wildcats get the Sooners in Manhattan on October 29th.
2. Oklahoma State Cowboys: Gundy's Team Gunning Up for No. 1 Sooners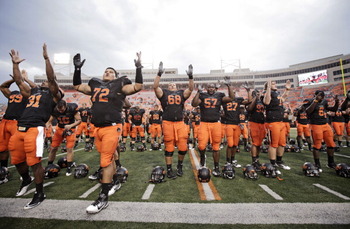 Brett Deering/Getty Images
Coach Mike Gundy's squad is averaging 51 points per game—No. 1 in the FBS. They are No. 2 in passing yards per contest.
If their defense continues to hold teams to 27 points per game—No. 72 in the FBS—then they'll keep winning games by an average of 24 points.
The Cowboys (5-0, 2-0) will take their guns to Texas next Saturday afternoon and try to further bury a Longhorns team after the Red River Massacre last Saturday.
1. Oklahoma Sooners: Hey AP Poll Voters, How Do You Like the Sooners Now?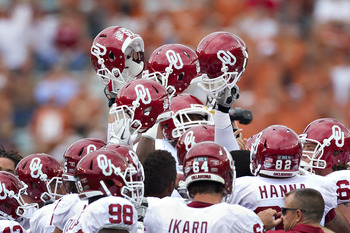 Wesley Hitt/Getty Images
The Sooners are the USA Today Coaches Poll No. 1-ranked team. I have no idea why the AP decided to bump OU down to No. 3 in favor of LSU and Alabama.
Take heart Oklahoma fans, the LSU Tigers and Alabama Crimson Tide have to knock one another off. If the Sooners keep winning then they're almost guaranteed a spot in the BCS National Championship.
I'm game for differing opinions on this opinionated show. Just don't get it twisted, I'm the host so I'm always right. At least, I am 50 percent of the time.
Catch me next time for another exciting edition of Bleacher Report's Lake Cruise's Big 12 Twists and Turns Report.
Contact Lake Cruise: Lakecruise@att.net
Keep Reading

Oklahoma Sooners Football: Like this team?