Long Live Al Davis: A Broncos Fan's Eulogy for the Man in Silver and Black
October 9, 2011
Justin Sullivan/Getty Images
Vive le roi! 
Long live the King!
Long live Al Davis and his "Commitment to Excellence."
Al Davis (1929-2011), owner of the Oakland Raiders, former Raiders coach and commissioner of the AFL, passed away today at the age of 82. 
Al Davis was a maverick as a coach, commissioner and owner.
He entered professional football as a scout for the Chargers and Raiders and later coached the Silver and Black.
He served as AFL Commissioner in 1966 and helped direct the AFL-NFL merger which paved the way for the professional football league we know and love today.
He hired Hall of Fame coach John Madden to lead the Los Angeles Raiders in 1969 and made Art Shell the NFL's first African-American head coach of the modern era 20 years later.
Davis was the architect of three NFL championship teams in Los Angeles and Oakland, and a renegade owner known for giving outlaw players second, third and fourth opportunities to revive their NFL careers.
I will always remember Davis for coining the phrases "Commitment to Excellence" and "Just win, baby."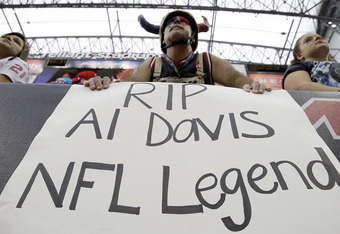 Thomas B. Shea/Getty Images
I will also remember him as a rival.
I've been a Denver Broncos fan since 1986 and a Raiders "hater" nearly as long. 
The first Raiders players I remember rooting against include Jay Schroeder, Marcus Allen, Bo Jackson, Wille Gault, Howie Long and Lyle Alzado.
I never disliked the Raiders' players, well, not all of them, but as a Denver fan my favorite team has always been the Broncos and whoever is playing the Raiders.  It comes with the territory.
Every Broncos vs. Raiders game during my formative years from the mid-80s until the mid-90s was must watch television.  It seemed that every game was decided by three points or less.
The first Denver Broncos game I ever attended was in Oakland in 2007.  JaMarcus Russell made his Raiders debut in the second half of that game, which the Raiders won, 34-20. 
I will always treasure the experience, but have since vowed to never attend another Raiders game in Oakland.  As a Broncos fan, I am concerned for my safety among the residents of the Black Hole.
The Raiders have not had a winning season since their most recent Super Bowl appearance in 2002, a 48-21 loss to the Tampa Bay Buccaneers and their 29-93 record (.295 winning percentage) is the worst in the NFL.
However, the Raiders posted their first non-losing record in eight years by going 8-8 in 2010, and I believe they are the most talented team in the AFC West this year.
It is a shame Al Davis won't live to see the Oakland Raiders achieve their first winning season since their last Super Bowl appearance, but he just may be the inspiration the team needs to make it back to the NFL playoffs.
As a Denver Broncos fan watching the Raiders mire in futility and controversy while making questionable personnel decisions for much of the past decade, I have often expressed my desire that Al Davis live forever as long as it ensured his team's mediocrity.
I never considered writing about his death until today.
Long live the memory of Al Davis, and may he rest in peace.