Al Davis Death: Oakland Raiders Owner Championed Diversity in the NFL
October 9, 2011
Justin Sullivan/Getty Images
"Commitment to Excellence." It was more than a trademarked slogan of the Oakland Raiders, it was the way the late Al Davis lived his life and ran his team. Nothing mattered more to the Raiders impresario than dominating his industry—on the field and off.
Many don't realize Davis's commitment to excellence was so profound, he blithely smashed through color and gender barriers to surround himself with the very best coaches and executives.
In 1963, Davis took over the Raiders as head coach and general manager of the Oakland Raiders. A young Fresno State grad named Tom Flores was his starting quarterback. Flores would play three years under Davis, culminating in a Pro Bowl appearance.
When Flores' playing days were over, Davis brought him back as an offensive assistant. Flores won a Super Bowl ring while under John Madden; when Madden moved on, Davis didn't hesitate to make Flores the first NFL head coach of Hispanic descent. The move paid off; Flores led the Raiders back to a Super Bowl victory in 1980.
After Flores moved on, and Davis had briefly given the whistle to some punk named Mike Shanahan, Davis hired the man he thought best for the job—Art Shell. Shell, like Flores, was a former Raider Pro Bowler who'd kick-started his coaching career in Oakland as an assistant. Like Flores, Shell wasted no time proving Davis right. In 1990, his sophomore year, Shell led the Raiders to a 12-4 record and garnered several Coach of the Year accolades.
Art Shell happens to be African-American—the first such NFL head coach of the modern era.
Fritz Pollard, Shell's only precursor, was banished from the NFL in 1926. It's difficult for me to remember, though I was already a rabid NFL fan at the age of eight, just how much different the NFL culture was in 1988. When the Vikings hired Leslie Frazier, did anyone even notice his race?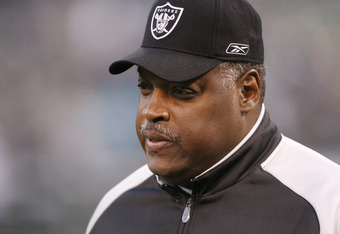 Robert B. Stanton/Getty Images
It's a credit to Al Davis, who led by example in hiring minorities. It's also a credit to the so-called "Rooney Rule," which mandates NFL teams must interview minority candidates for every head coach and front-office job.
In fact, with Davis passing away, shouldn't the Raiders begin interviewing candidates to replace him and his multiple front-office roles?
No, because of course Al Davis has a plan in place. The Raiders' CEO is a lawyer, former Raiders intern and lifelong Raiders fan. Davis immediately spotted talent with enormous upside, and promoted that intern like crazy.
With deep ties throughout the Raiders' organization and history, the former-intern earned Al Davis's trust and respect with her love of his franchise, her no-nonsense style and her persistent commitment to excellence.
That person is Amy Trask, the first female executive in the history of the NFL. I have no doubt she'll continue to do whatever it takes to "Just win, baby."