Toronto Maple Leafs vs. Ottawa Senators: Reaction from the Battle of Ontario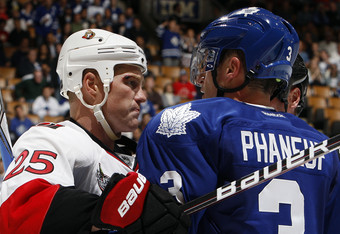 Abelimages/Getty Images
After a season-opening win against the Montreal Canadiens, the Toronto Leafs get the Battle of Ontario going tonight.
Looking at the way the Ottawa Senators played against the Detroit Red Wings Friday night, the Leafs could be in line for an offensive outburst. Senators goalie Craig Anderson will have to improve upon his season opening performance in order to prevent Ottawa from opening the season 0-2.
That being said, the Leafs need their offensive players to be their offensive leaders tonight. Having Matthew Lombardi scoring the first goal of the season was a nice story, and I'm not saying Lombardi isn't an offensive player, but he was playing on the fourth line. Dion Phaneuf getting his first goal early was also a bonus.
Players like Phil Kessel, Joffrey Lupul, Nikolai Kulemin and Mikhail Grabovski need to get their offensive games going. Meanwhile, John-Michael Liles and Jake Gardiner need to get the offensive game going from the blue line and not leave it all to Phaneuf.
The Leafs win 6-5. Kessel gets a hat trick. Lupul, Grabovski, and Colton Orr get the other three goals.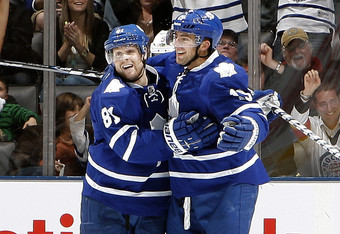 Well, it's not the way I would have envisioned it, but the Leafs have won the game 6-5. If anything is clear, the Leafs still need to learn to play a full three periods as they played great in the second and third periods against Montreal, and first and second periods tonight. As painful as the third period was tonight, the Leafs came out with the win and that is the important thing. They're now 2-0 and now have a week off to work on their game until their next game against Calgary next Saturday.
Well, I guess that's it for tonight. Hopefully the Leafs will be better next Saturday and be ready for a tough challenge against the Flames.
And as soon I finish getting the picture for the previous post, Phil Kessel makes 6-4 with his first hat trick as a Maple Leaf. Assists go to Lombardi and Schenn. This is getting old. Stephane Da Costa makes it 6-5 with one minute left in the game.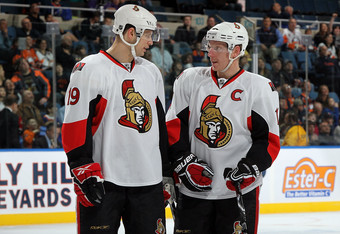 The Leafs penalty kill gets a big test as they have to kill a full two minute 5-on-3 penalty kill, and just as I finished typing "kill", Jason Spezza scores the first powerplay goal against the Leafs, and as soon as I finished typing "Leafs", as Daniel Alfredsson makes it 5-4. The Leafs are letting this game get away from them and must tighten up their defense.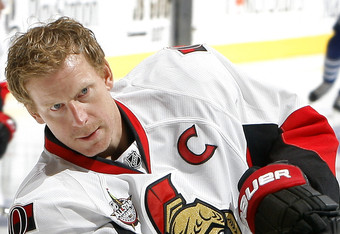 Daniel Alfredsson makes it 5-2 as he exits the penalty box. Assists go to Chris Phillips and Zack Smith. He absolutely froze Reimer.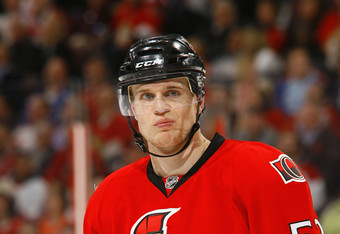 Colin Greening has ended James Reimer's shutout streak putting Ottawa on the board. Leafs answer right back as Colton Orr of all people makes it 5-1.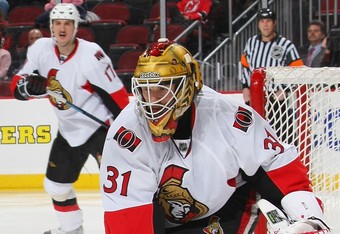 Third period has begun, Ottawa has yanked Craig Anderson and Alex Auld has stepped in.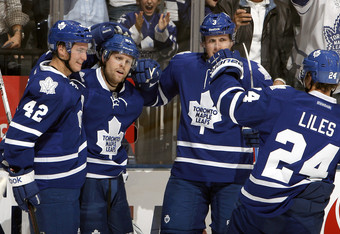 Two down, 38 to go. Phil Kessel makes it 4-0. Assists go to Bozak and Lupul. The second period ends that way. Toronto is playing the way it needs to, and if they play this way throughout the season, they will be in the playoff race.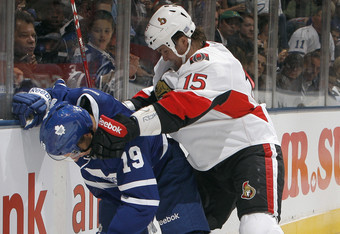 The Senators have gone after too many Leafs from behind. It's looking like the Senators are going to be a bunch of cheap shot artists this year.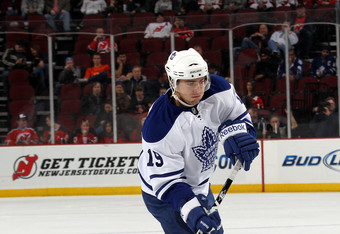 Joffrey Lupul makes it 3-0 Leafs. Liles and Kessel get the assists.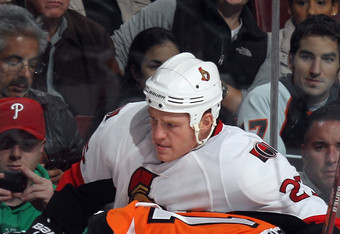 James Neil has been kicked out of the game for instigating. Leafs now have another four minute powerplay.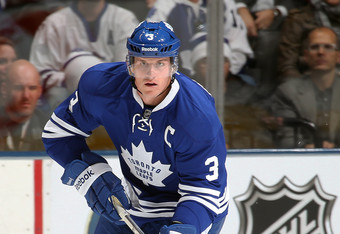 Dion Phaneuf plasters Stephane Da Costa. Wasn't a headshot, but with the way things are going, a fine might be heading Phaneuf's way.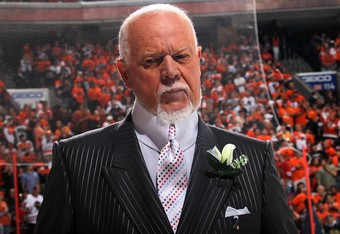 Don Cherry says that Brendan Shanahan has set the bar too high for suspensions. I'm not too sure if I agree, but there needs to be consistency with the suspensions.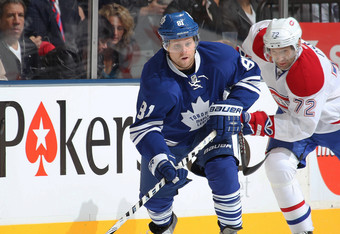 Phil Kessel starts his long trek to 40 as he gets his first goal of the season. Assists go to Lupul and Gunnarson. 2-0 Leafs.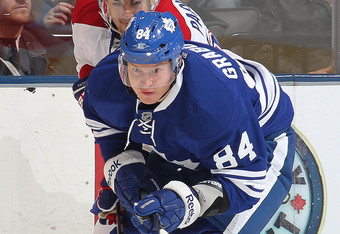 Mikhail Grabovski makes it 1-0 Leafs on the power play. Assists go to Kulemin and Phaneuf. Leafs still on powerplay.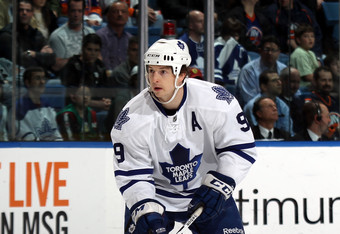 Leafs get a four minute powerplay as Jared Cowen gives Colby Armstrong a high stick.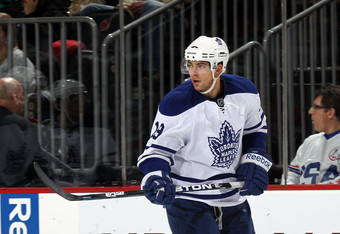 Joffrey Lupul misses on a breakaway as he exits the penalty box. That is the type of play the Leafs need to take advantage of.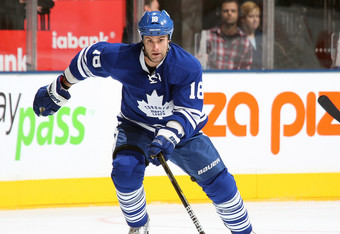 First fight of the game isn't much of a fight between Konopka and Mike Brown. Holy crap it was boring.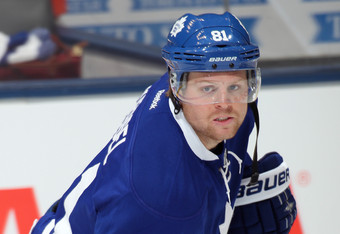 Seven minutes into the game, and we've seen some good offense from both teams. Phil Kessel fanned on an easy goal though.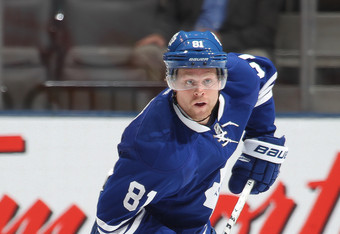 Puck drops and we're underway. The Leafs need to take advantage of Ottawa being tired from last night and have a quick start.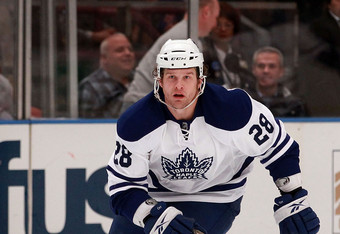 Colton Orr steps into the line-up tonight, taking Jay Rosehill's place. How soon before we see a fight between Orr and Zenon Konopka?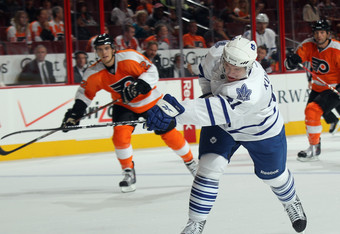 Only minutes to faceoff. Anyone have a prediction on which player scores first?
I'm going with Kulemin.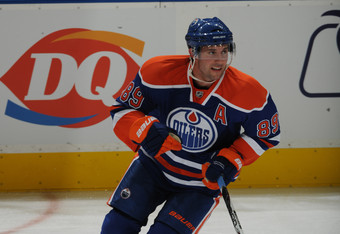 OK, not game-related, but I have to address a few Leaf rumours. With the Leafs recent acquisition of David Steckel, the Leafs are loaded with centers. Now, Damien Cox tweeted yesterday that the Leafs are interested in the Edmonton Oilers' Sam Gagner. Now I'm not denying that Gagner would be a great pickup, but do they need another center? Edmonton's greatest need is defensemen, so it's not like they would giving one up.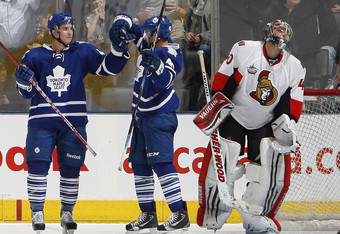 The Leafs split the season series 3-3 against Ottawa last season. Sorry Ottawa, but I'm predicting a sweep of the season series for the Leafs this year.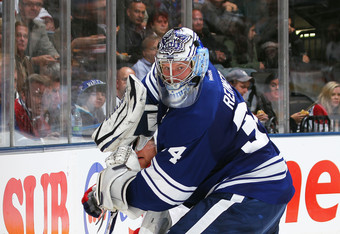 James Reimer starts in net for the Leafs again tonight after having a spectacular game against in Montreal. Against the Senators last season, Reimer had a record of 2-0-1, posting a shutout in the game he lost. Perhaps more bad news for the Senators.
This article is
What is the duplicate article?
Why is this article offensive?
Where is this article plagiarized from?
Why is this article poorly edited?

Toronto Maple Leafs: Like this team?