Liverpool FC: Picking Kenny Dalglish's Strongest XI This Season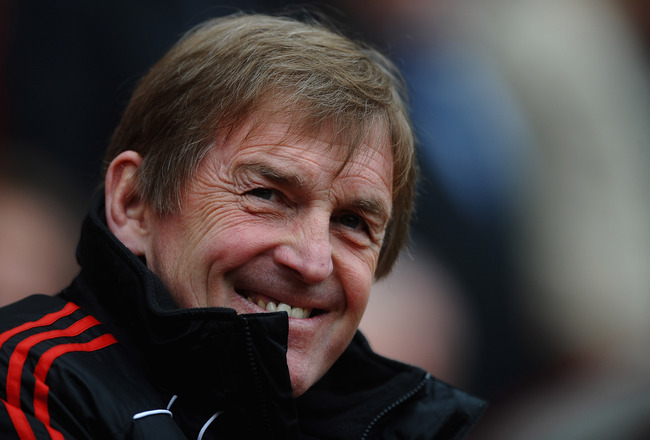 Kenny Dalglish has brought in loads of top-class players since his appointment in January.
Laurence Griffiths/Getty Images
Liverpool Football Club are a team on the rise. After being acquired by Fenway Sports Group last year, the Merseyside club have heavily invested in improving their squad. Since the January transfer window opened, Kenny Dalglish has spent well over £100 million bringing in top-quality players.
After failing to qualify for European competition last year, Liverpool look a much brighter side, and are considered top candidates to qualify for a Champions League spot. This is, in large part, thanks to the open spending policy of the new owners and Kenny Dalglish.
Since so many new players have been brought in, the squad list has grown, resulting in more players available to be picked. The following is a list of Kenny Dalglish's strongest starting XI.
Pepe Reina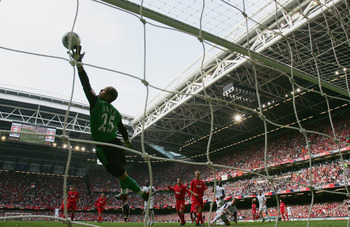 Reina helped Liverpool win the 2006 FA Cup by saving three of West Ham's four penalty kicks.
Ben Radford/Getty Images
Since his move from Villarreal in 2005, Reina has established himself as a regular Liverpool fixture. He has been heralded as one of the best keepers in the Premier League for multiple years now, and he continues to demonstrate the talent that Rafael Benitez saw in him.
Despite his impressive form for his club, Reina has still been unable to claim a regular spot in the Spanish national team. Iker Casillas, who is considered to be one of the greatest Spanish goalkeepers in history, has always maintained his place above the Liverpool keeper.
Although Reina is prone to the occasional blunder, he has been the savior for Liverpool many a time, and the Spaniard appears as though he still has a lot left to offer the Anfield club.
Daniel Agger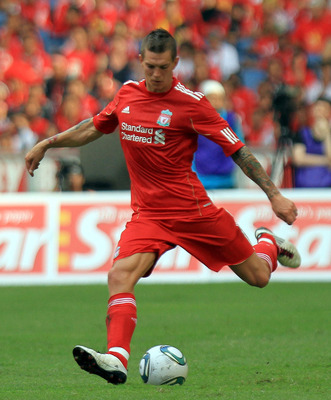 Despite constant injuries, Agger is one of Liverpool's best defenders.
Stanley Chou/Getty Images
Daniel Agger's unfortunate injuries have hindered his ability to prove what a capable player he is. Ever since his £5.8 million move from the Danish side, Brondby, in 2006, Agger has been plagued with extended stints in the physio's room.
Agger has yet to complete a single Premier League campaign in which he surpasses 23 appearances. However, when fit, the Dane is one of the class defenders in England.
He has an outstanding strength in the tackles he makes, and can read the game well. His powerful left foot makes him a threat in the attack, and if he ever manages to stay healthy, Agger may prove to be quite the revelation for the Merseyside club.
Jamie Carragher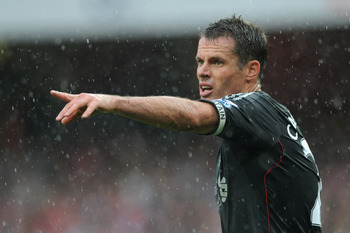 Jamie Carragher has been a staple at Liverpool, after coming through the academy at Anfield.
Michael Regan/Getty Images
There aren't enough words to describe what Jamie Carragher has brought to Liverpool. Despite having scored the second-most own-goals in the Premier League (behind Richard Dunne of Aston Villa), Carragher has been a rock in defense.
He has shown passion, ability and a leader's mentality that few others in England's top flight have demonstrated. These qualities alone make him qualified for the job as Liverpool skipper. Carragher has worn the armband in Steven Gerrard's absence, and has led by example.
Since coming through the Anfield Acadmey, Carragher has shown that he deserves to start on a top side in England. He is certainly one of Kenny Dalglish's most valuable assets.
Jose Enrique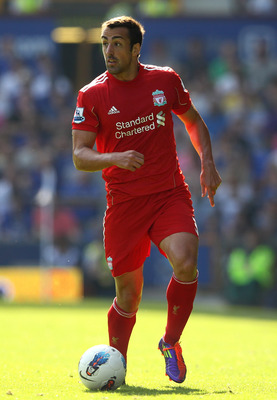 Jose Enrique has been a revelation since moving from Newcastle last summer.
Clive Brunskill/Getty Images
After being relegated and then promoted with Newcastle United, Jose Enrique decided that it was time for a change. In July of 2011, Enrique refused to sign a new contract with the Tyneside club, and was picked up by Liverpool.
This has turned out to be one of Liverpool's best moves, as the Spanish defender has been in fantastic form this season.
Enrique has a blistering pace that allows him to go forward and attack. His ability to track back makes him a valuable asset down the left, and his calmness when in possession of the ball is fantastic.
Although his attacking nature does sometimes result in him getting caught out in a poor position, for the most part, Enrique is a fantastic full-back.
Martin Kelly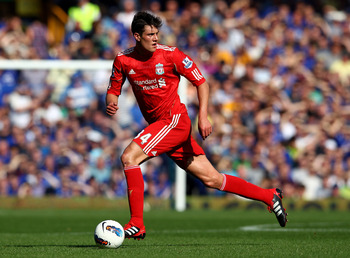 Martin Kelly is one Liverpool's best kept secrets.
Clive Brunskill/Getty Images
Martin Kelly is one of Liverpool's best-kept secrets. Although the English full-back does not enjoy a high profile, he is one of Anfield's most valuable players.
Kelly, who stands at 6'3" is an extremely versatile player. His ability to play anywhere along the back four, along with his tendency to make blistering attacking runs, makes him a must-have in the Liverpool team sheet.
His height makes him a valuable presence on both offensive and defensive set pieces. With Kelly in the team, Liverpool are able to play a much stronger attacking brand of football, which makes him an invaluable asset to Kenny Dalglish.
Charlie Adam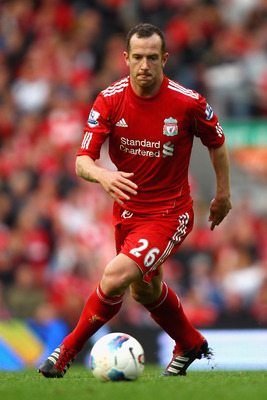 Charlie Adam has proved that he deserved to remain in the top flight with his performances so far.
Clive Brunskill/Getty Images
Charlie Adam took the Premier League by storm after his 12-goal season with Blackpool last year. His passing ability, coupled with his knack of finding the net, made the Scot one of the most attractive midfield prospects for teams in the market for such a player.
Adam secured his move to Liverpool this past summer, and has since been impressive for the Reds. So far, the former Blackpool skipper has contributed one goal and two assists to the Liverpool cause.
Adam, who has started all six league matches for Liverpool this season, may soon be sacrificed for Steven Gerrard, who is due to return from injury soon. However, at the moment, Adam continues to be one of Liverpool's best midfield options.
Stewart Downing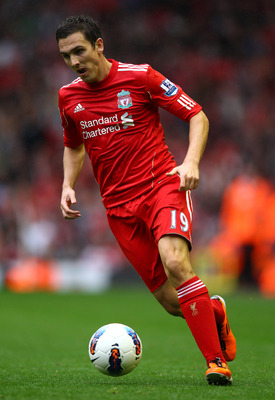 Downing has carried his impressive form at Aston Villa to this season's campaign as a Liverpool player.
Clive Brunskill/Getty Images
Since his move from Aston Villa in last summer's transfer window, Downing has made quite a name for himself in the Liverpool squad. Although he has yet to find the back of the net for his new club, Downing has proved to be a constant threat on the attack.
An excellent crosser of the ball, Downing may just be the English human equivalent to the ungodly Xavi. Proving to be a valuable asset to Fabio Capello as well, Downing's form for his country has been remarkable, as he's provided three assists in as many games for the Three Lions.
Downing still has to acclimate to his role in the Liverpool side, however once he does, he has the potential to be one of the Premier League's outstanding midfielders.
Jordan Henderson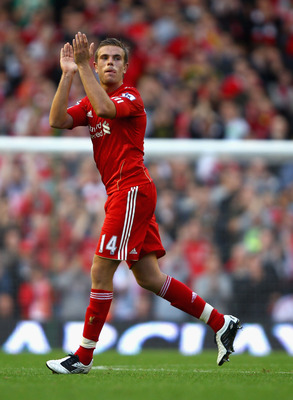 Jordan Henderson has displayed excellent attacking ability since his move from Sunderland.
Clive Brunskill/Getty Images
Jordan Henderson's rise in the football ranks climaxed last summer when he was brought to Anfield by Kenny Dalglish. The young Englishman, who made a name for himself at Sunderland, is not known for his goal-scoring ability, however his ability to distribute the ball is top-notch.
Henderson has scored once and gathered one assist for the Reds this season, and he will hope to continue his recent run of good form.
While injuries hindered his early development, Henderson has been on the rise for quite some time now, and he will hope to continue rising for Kenny Dalglish.
While the Liverpool tactician took somewhat of a risk on the unproven midfielder, Henderson appears to be able to deliver at the highest level and has made a name for himself so far this season.
Dirk Kuyt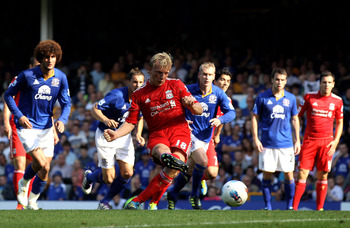 Dirk Kuyt has been a fan favorite at Liverpool. His consistent quality was vital throughout the recent seasons in which Liverpool struggled.
Clive Brunskill/Getty Images
Dirk Kuyt has been one of Liverpool's best players of the last few years. Kuyt was one of the few steadying forces during Liverpool's transition between managers, and the Dutch midfielder has been one of Anfield's most productive players.
Kuyt, who seems to have an unlimited reservoir of stamina, is fantastic at distributing the ball amongst his teammates. He also seems to come up with a goal when his club need him to most.
Kuyt is Liverpool's most proven attacking player and is an incredible talent, and Kenny Dalglish is lucky to have him at his disposal.
Andy Carroll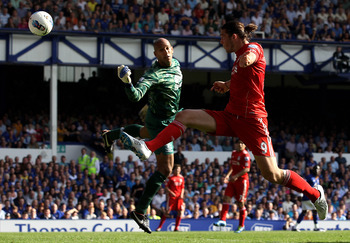 Carroll scored his first goal of the season in Liverpool's 2-0 win over Merseyside rivals Everton.
Clive Brunskill/Getty Images
Andy Carroll may be a controversial figure, however he recently scored his first goal of the season against Merseyside rivals Everton.
The English international made his £35 million transfer from Newcastle United last January, but was only able to make five appearances for the club due to injury. Finally fit, the Englishman is yet to find the form that produced 11 goals in 18 games for Newcastle last year.
Kenny Dalglish insists that the best is yet to come from Carroll, and it would appear that the Liverpool tactician is correct. While he's recently been under pressure, Carroll proved last year that he can score goals, and it would be surprising if he fails to do so as Liverpool progress through the season.
Luis Suarez
Luis Suarez has been worth every bit of his £22.8 million transfer fee.
Clive Brunskill/Getty Images
The most obvious inclusion, Luis Suarez has been Liverpool's best player in the calendar year. The Uruguayan international, who made the switch to the Reds from Ajax in January, has become one of the Premier League's most prolific strikers.
Suarez has scored eight Premier League goals in 18 games, while also providing three assists. His striking instincts lead him on runs that are able cut open the toughest defenses with ease.
His football intelligence is as high as they come, and his tendency to attack in different styles makes him one of the most feared strikers in England.
The striker has kept his impressive form going this season, and he remains a fantastic attacking option for Kenny Dalglish.
Keep Reading

Liverpool: Like this team?