LA Lakers: 10 Greatest Playmakers in Franchise History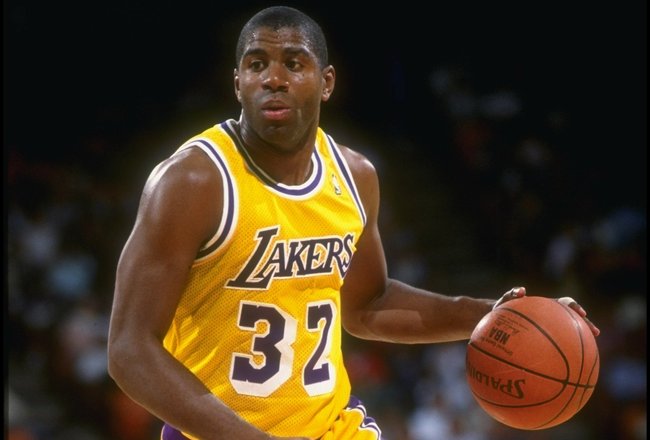 Stephen Dunn/Getty Images
The Los Angeles Lakers franchise is undoubtedly one of the most successful in NBA history.
However, having several victorious regular seasons and winning 16 NBA championships would certainly not have been possible had it not been for the franchise's great players.
A large majority of the Lakers' greatest players include a variety of playmakers.
But, what exactly is a playmaker?
We all have our own perceptions and definitions. However, I believe a playmaker is one who is successfully able to create plays and opportunities for teammates.
There aren't many players who are able to call themselves a "playmaker," but the Lakers franchise has had plenty in their history.
Who are the most distinguished among the group?
Find out in this list of the top 10 playmakers in Lakers history.
10. Gail Goodrich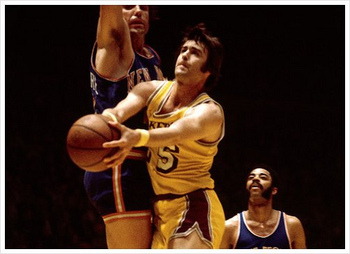 Gail "Stumpy" Goodrich was a fantastic scorer for the Los Angeles Lakers in the late 60s and throughout the 70s.
However, he was a great playmaker in addition—a facet of his game that many overlook.
Goodrich compiled 2,863 assists with the Lakers, averaging 4.1 APG.
9. Elgin Baylor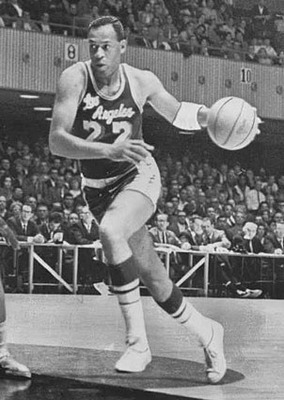 Elgin Baylor is often perceived as solely a dominant scorer and rebounder, but he was certainly a great passer as well.
He averaged 4.3 APG with the Los Angeles Lakers and totaled 3,650 assists in his career.
8. Derek Fisher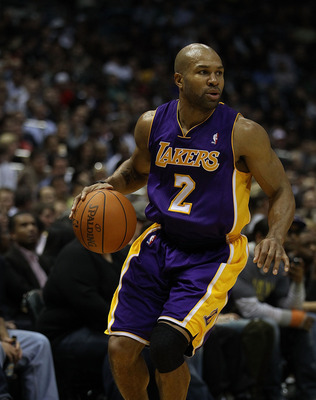 Jonathan Daniel/Getty Images
Although Derek Fisher's Laker career assists per game total is quite low at 3.0 APG, the fact that he has been the starting point guard on five NBA championship teams validates his place on the list.
In his career with the Lakers, Fisher has showed many his high basketball IQ, as he has led numerous successful teams in the intricate triangle offense.
7. Slater Martin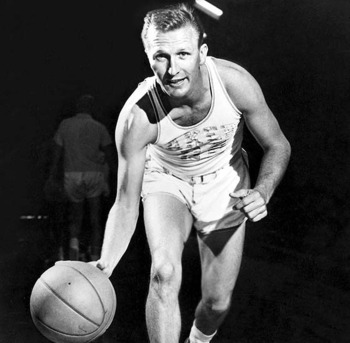 Although Slater Martin played for the Minneapolis Lakers in the 1950s, when the talent wasn't nearly as good as it is today, he shouldn't be overlooked as one of the greatest playmakers in Lakers history.
In his career with George Mikan and the dominant Lakers, Martin averaged 4.1 APG and a career high of 6.2 APG in the 1955-56 NBA season.
As the team's leading facilitator, the Minneapolis Lakers won four NBA titles.
6. Sedale Threatt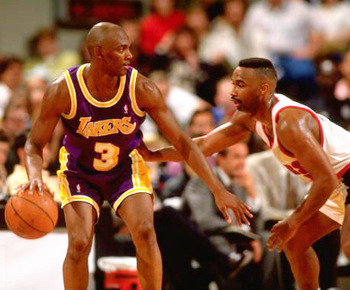 Sedale Threatt flourished as a guard for the Los Angeles Lakers in the early to mid 1990s.
While averaging career highs in points per game, Threatt also produced with his playmaking ability.
In his first season with the Lakers in 1991-92, Threatt averaged a career high 7.2 APG and finished his tenure with the Lakers with an average of 5.1 APG.
Unfortunately, he was released by the franchise in 1996.
5. Kobe Bryant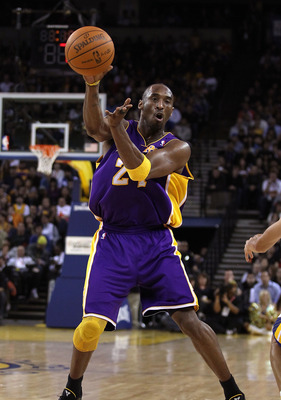 Ezra Shaw/Getty Images
Kobe Bryant, the Lakers legend of the present, is often overlooked for his playmaking ability.
While it's true that Bryant takes bad shots at times, he certainly isn't a ball hog like many make him out to be.
In fact, Bryant is third on the Lakers career assists list with 4,964 and counting. In addition, Bryant has averaged 4.7 APG, which is also one of the best in franchise history.
Today, Bryant continues to create for others with his smart basketball mind.
4. Jerry West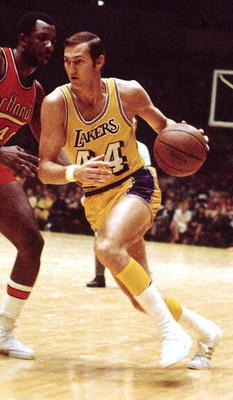 Not only was "The Logo" a great scorer for the Los Angeles Lakers, but he also had the ability to create for his teammates.
In his 14 year career with the Lakers, West averaged 6.7 APG, averaging close to 10 in the 1970-71 and 1971-72 NBA seasons.
The fact that West was a great passer and scorer only justifies his greatness as a multi-talented player.
3. Nick Van Exel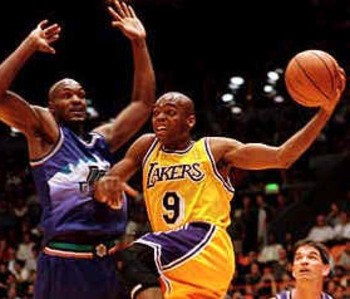 After years of success with Magic Johnson, Kareem Abdul-Jabbar, James Worthy and the Showtime Lakers, the Los Angeles Lakers were clearly in a rebuilding stage in the early 1990s.
However, point guard Nick Van Exel brought a much needed spark of energy to the Lakers with his fantastic playmaking abilities that were reminiscent of Magic Johnson and the Showtime era.
The second-round draft pick surprised many in his rookie season in 1993-94, as he averaged 5.8 APG.
The next season, Van Exel continued to display his creative passing ability as he averaged 8.3 APG.
In the end, Van Exel averaged 7.3 APG in his career with the Lakers before being traded to the Denver Nuggets for Tony Battie and Tyronn Lue.
2. Norm Nixon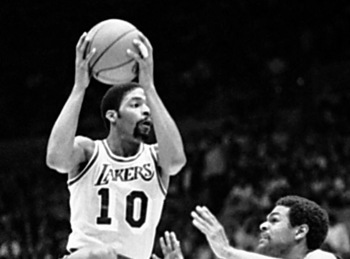 Sometimes known as the "original showtimer," Norm Nixon was the Lakers' starting point guard for six seasons in the late 70s and early 80s.
Before being replaced by future superstar Magic Johnson, Nixon was proved to be an excellent facilitator.
As a rookie, Nixon averaged 6.8 APG and was a part of the NBA All-Rookie team because of it.
He continued to improve each season and ended up averaging 7.9 APG in his career with the Lakers.
As the leading playmaker, Nixon was an integral part of the Lakers' 1980 and 1982 championship seasons.
1. Magic Johnson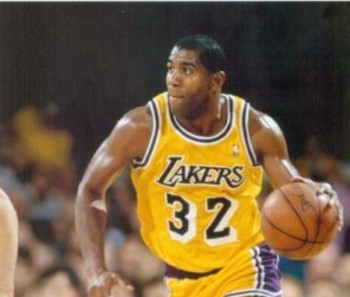 I think you already knew who number one was going to be, and Magic Johnson's placement as the greatest playmaker in Lakers history is completely justified.
In his 13 year career with the Los Angeles Lakers, Johnson became the embodiment of the ultimate playmaker.
He averaged double digit assists nine times, averaging 11.2 APG overall in his career, and a career high of 13.1 APG in the 1983-84 NBA season.
In addition, Johnson's career assist total of 10,141 is by far the most in Lakers history.
The three time NBA MVP did all of this while leading his Showtime team to five NBA titles.
What more can I say? The numbers don't lie.
Keep Reading

Los Angeles Lakers: Like this team?