BYU Football: Boise State Is the Rival of the Future
October 8, 2011
Boise State is currently beating up on Fresno State, in Fresno, 37-0 at the half.
In other news, the Broncos are going to be THE rival in BYU's future.
Yes, Yes, I know that BYU and Utah have been playing football since the 19th century according to Utah and the 1920's according to BYU. In years when the Cougars don't get blown away by 44 points at home, this game is a clash of heated emotions and bitter fans and all the other glorious things we get in a great rivalry.
Is BYU-Utah going to continue to be played? Doubtful.
The folks in Salt Lake City will need to find a way to puff their egos after a few years of four to five losses in conference play. Citing Pac-12 scheduling impossibilities to push the rivalry game with BYU away will be a nice feel-good remedy.
Or, maybe not.
Either way, the series with Boise State beginning next season and scheduled through 2023 is going to get rival-quality nasty almost immediately.
Admittedly, I am biased. Raised in Salt Lake City, my parents are from southern Idaho. My inside sources tell me the spuds are excited about this series. Actually, the word excited doesn't do justice to the feelings that will rise from fans on both sides of the state line. Just wait and see.
Boise State is leading the series 2-0. In 2003 the Broncos annihilated BYU at home 50-12. In Gary Crowton's final games as coach in 2004, BYU almost pulled a win but lost 28-27 on a missed field goal attempt on the smurf turf.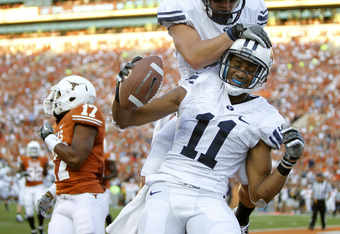 Erich Schlegel/Getty Images
 Last month Gene Bleymaier was fired as Boise State Athletic Director in the wake of sanctions placed on the school for NCAA violations. One of his last items of business was convincing Boise State's president to sign the dotted line on extending this series through 2023.
Ten of the scheduled games will take place in October which is helpful for BYU in creating an independent schedule.
The Idaho Statesman obtained an email from Blaymaier to President Kustra revealing the benefits for Boise in this matchup. Blaymaier wrote:
"This will be the most popular home-and-home series ever entered into by Boise State…This game will sell out every year and help us sell more season tickets annually. [The series] is actually more important to Boise State as it will be one of, if not the biggest game on our schedule every year…This series would develop into our best rivalry."
The Broncos excitement will be welcomed by the other Bronco. BYU coaches and players will be emotional in preparation for this game each year.
Boise State has well-earned clout by winning football games, something BYU strives for in its quest at independence. Consistent quality wins over quality opponents is a goal for BYU at this point, not a reality. Beating Boise State regularly would be a milestone achievement for the program.
The series extension also stirred speculation that both programs are prime candidates to be added to the Big 12. Rumors change hourly. Boise State was not mentioned in the pool of candidates until this series was announced.
 "There is no penalty if one of us moves to another conference that is either a BCS AQ league—existing or newly formed—that includes four schools currently in an AQ league." Blaymaier wrote in his email.
Rivals TCU, BYU and Boise State as a tri-fold addition to the Big 12 makes sense on so many levels with or without Missouri in the league.
Whether this matchup winds up in or out of league play, the Boise State Broncos will immediately become bitter rivals of BYU.
Bring it on, Broncos. Bronco and Co. will be ready.