WWE Predictions: Don't Be Surprised If Sheamus Isn't No. 1 Contender Until TLC
October 8, 2011
Hey guys, what's up?
Well, it's been a crazy three months since my last article, especially in the WWE. Numerous people have been hired and hired, the WWE Championship has changed hands about four times and Mark Henry has finally been recognized for his efforts in the company and is now the World Heavyweight Champion (something I never thought I would find myself writing).
Another thing that has happened over the course of the summer which forms part of the topic I am writing about is the man who goes by the nickname The Celtic Warrior, as well as others. 
The man I am talking about is Sheamus.
As you may know, Sheamus is the first-ever Irish-born WWE Champion (as Michael Cole likes to mention every time he wrestles a match). In fact, he has been WWE Champion twice during his time in the WWE. However, those two reigns came when he was being pushed as a monster heel on Monday Night Raw. 
Nowadays, you'll find Sheamus over on Friday Night SmackDown where he has been pushed as a monster face since the start of the summer. To some people's surprise, (not mine, I've always liked the guy) he has got over extremely well as a face with the crowd, and without a doubt he is now the No. 2 face on the blue brand.
Since his face turn he has been on an absolute tear, defeating almost everyone that has been put in front of him, with the exception of Mark Henry, who defeated him via count-out at SummerSlam. Recently, he has been involved with both Christian, who he beat at Hell In A Cell, and also Cody Rhodes, where he has been involved in the Intercontinental Championship picture.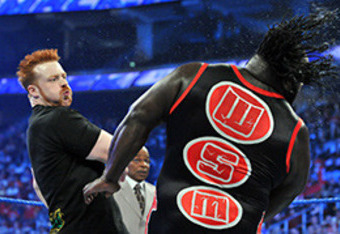 Even though he was unsuccessful in his matches with Rhodes (due to interference from Christian), he is still one of the main men on SmackDown. As well as being one of the main men on SmackDown, he has also been appearing as one of the main guys on Raw since the concept of the Raw Supershow was introduced a few weeks ago. 
Now that he has been established as one of the top four faces in the WWE (alongside John Cena, CM Punk and Randy Orton), it seemed inevitable that he would be in the World Heavyweight Championship picture after his victory against Christian on Sunday. However, with the events that occurred at the end of Monday night's Raw and the events of SmackDown this Friday, my way of thinking has been altered.
First of all, we will look at the events of Monday night. As most of you know, the majority of the WWE staff staged a walkout after a vote of no confidence against Chief Operating Officer Triple H. However, notably absent from the closing segment were the four top faces: Cena, Punk, Orton and Sheamus. Now, the reason they weren't out there is to probably prevent them from being jeered by the crowd as they are the biggest faces in the company.
However, in accordance with their characters, it has already been confirmed that Punk and Orton will be at Raw on Monday, which was confirmed via their Twitter accounts. Now it is assumed that both Cena and Sheamus will also be in attendance as normal. 
It appears that this storyline is bound for a traditional Survivor Series elimination match, which looks like it will be Team Triple H vs. Team Executive Vice President of Talent Relations Laurinaitis. Now it has been confirmed that both The Rock and John Cena are set to appear on the same team, and according to reports, someone like Stone Cold Steve Austin or The Undertaker will be a part of Triple H's team. 
Now this leaves either Sheamus or Randy Orton potentially being the fifth man of the team, unless they decide to make it six on each side, which would mean it is pretty certain that both guys will be on the team. It is also unlikely that both World Champions will appear in the match, as the company would probably feel the need to hold at least one championship match on the card. 
Moving on to Friday night's events now, where we witnessed the return of The Big Show, who returned after being out for about four months. Now we all know that Mark Henry was the man responsible for putting the Big Show out, and now he is the World Heavyweight Champion. Now, it seems pretty obvious that Show will want revenge and that will include taking Henry's championship, which of course Big Show demanded on Friday.
Now it hasn't been confirmed yet, but I would not be too shocked if it is announced that Henry will meet Big Show at Vengeance for the World Heavyweight Championship. Now I don't expect Big Show to win that match; however, I wouldn't be too surprised if Kane was to make his return after that match and then go on to challenge Henry for the Championship at Survivor Series.
This would mean that Sheamus would be out of the title picture until the pay-per-view after Survivor Series, which would be TLC in December. Sheamus will then be busy helping Triple H try and maintain control of the company, and Mark Henry will be dealing with the two guys he put on the shelf a few months ago.
At TLC, I feel that Sheamus will eventually get his World Heavyweight Championship match against Mark Henry and overcome the World's Strongest Man and leave both TLC and 2011 as the World Heavyweight Champion, which would be pretty awesome in my view.
What do you guys think will happen? Feel free to post your opinions in the comments section.
Follow me on Twitter: @DaruishG90.