Jaguars Fall to Bengals, 30-20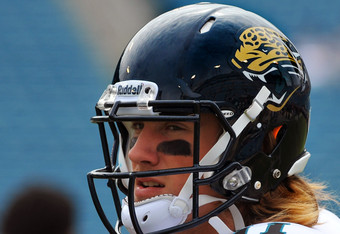 Al Messerschmidt/Getty Images
The Cincinnati Bengals improved to 3-2, and the Jacksonville Jaguars fell to 1-4, as the Bengals defeated the Jaguars 30-20.
Despite a fast start by the Jacksonville offense, who scored on their first drive, the Bengals converted numerous third downs to stay close in the first half.
Andy Dalton passed for 179 yards and two touchdowns, and Bernard Scott gave the Bengals the lead with 1:48 remaining on a three-yard touchdown run.
For Jacksonville, Blaine Gabbert finished with 193 yards passing on 15 of 28 attempts, including a 74-yard touchdown pass to Jason Hill.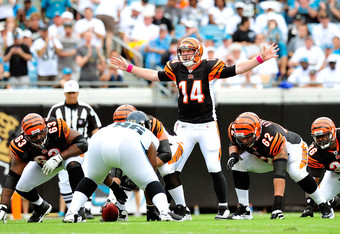 Jaguars get it back with seven seconds, and end up fumbling on their best attempt to emulate the Stanford band.
The Bengals pick up the fumble and scamper back for a touchdown.
That's the end of the game, and marks four straight losses for Jacksonville.
30-20, Bengals win.
Bengals improve to 3-2, and Jacksonville drops to 1-4.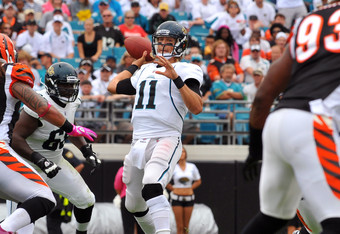 Brad Meester snaps the ball past Blaine Gabbert while he isn't looking. Ball rolls to the 19-yard line, and the Bengals recover.
1:13 left, and that was completely inexcusable.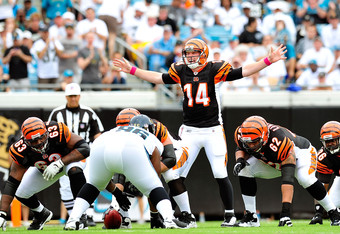 TOUCHDOWN BENGALS.
Bernard Scott runs it in, and it's 23-20, Bengals.
Jaguars have two timeouts remaining, and 1:56 on the clock.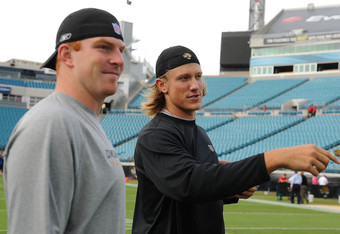 Two minute warning.
Bengals have it, third and goal on the three-yard line.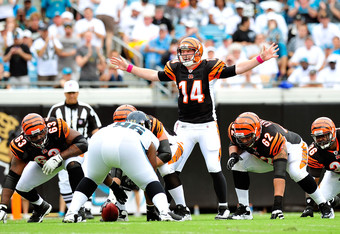 Bengals take a time-out. Third down and six, with 4:02 remaining in the fourth quarter.
Ball on Jaguars' 20-yard line.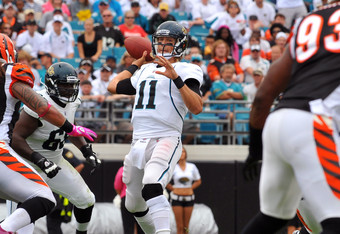 Shorts lets another punt bounce, and it's downed at the two-yard line.
Jaguars go three-and-out.
Matt Turk might be getting cut. Shanks a 22-yard punt, and the Bengals have it on the Jaguars 26-yard line.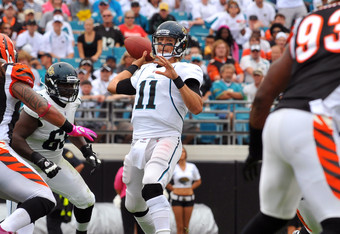 TOUCHDOWN JAGUARS!
74-yard BOMB from Blaine Gabbert to Jason Hill!
Bengals made a mistake in cover two, and Gabbert threw an absolute strike to Hill, who did the rest.
Scobee adds the extra point, and it's 20-16 Jaguars!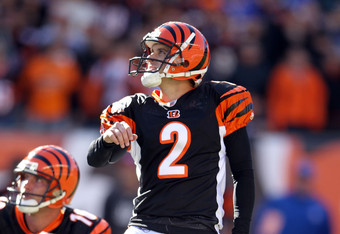 Mike Nugent nails a 47-yard field goal, and the Bengals lead 16-13.
Fantastic kick by Nugent with swirling wind.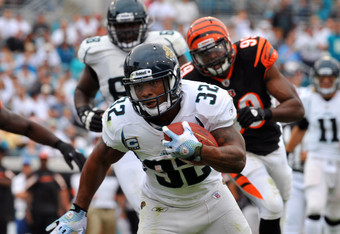 Jason Hill drops an easy catch, MJD is dropped for a loss, and Gabbert gets sacked without a chance to set-up.
Jaguars punt, and the Bengals score a big return. Have it at the Jaguars 38-yard line.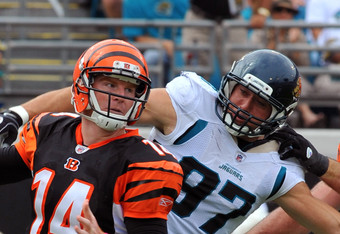 See-saw game of punts here, and the offenses have ground to a halt.
Jaguars come up big on third down, as John Chick bats down Dalton's pass.
Jags have it around their own 25-yard line, after an ineffective punt return by Cecil Shorts.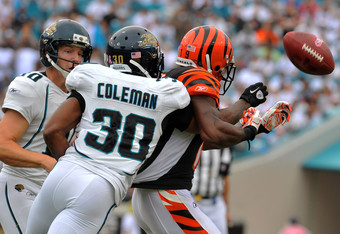 Jacksonville punts with 13 minutes remaining in the fourth quarter.
Bengals have it at their own 24-yard line, after another bad punt by Turk.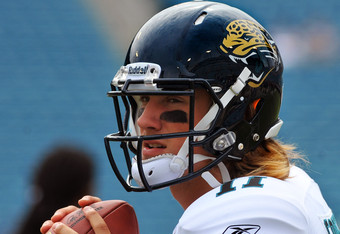 Jaguars have the ball again, and Gabbert does a fantastic job eluding pressure. Finds Jason Hill for a big gain.
Gabbert is 10-18 for 108 yards.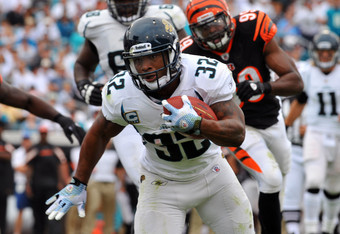 Gabbert gets sacked, as Eugene Monroe gets totally worked by Frostee Rucker. Then two short pass completions have the Jags punting.
Turk shanks a 32-yard punt and the Bengals have it at around the 38-yard line.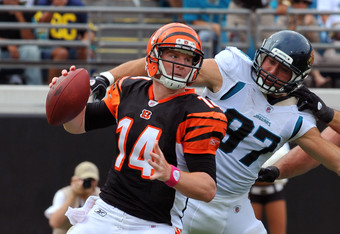 Jags give up another third down conversion, and A.J. Green is killing them.
Jeremy Mincey has three straight plays by nailing Benson in the backfield, then pressuring Dalton. Bengals finally have to punt, and the Jags have it on the 37-yard line.
Gabbert needs to get it going.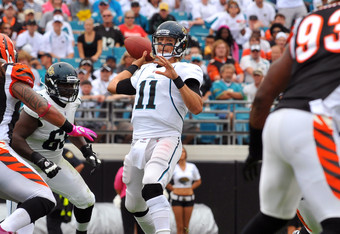 Jags go run, run and incompletion.
Play-calling lacked any imagination, and put Gabbert in a tough spot on third and eight.
Turk gets off a fantastic punt that rolls forward and goes out at the two-yard line. Bengals have it.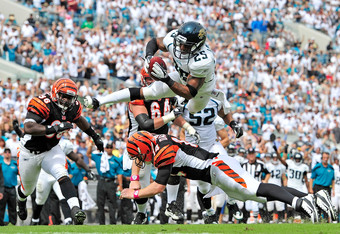 Jags hold the Bengals on third and 17, and will start from their own 38-yard line.
Bengals have it to start the second half, and convert yet another third down through the air.
They aren't getting much on the ground, but Dalton is starting to have his way against the Jags' corners.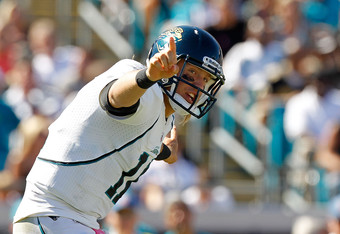 Jacksonville has moved the football well and played excellent defense for much of the first half.
However, failure to turn opportunities into touchdowns has kept the Bengals in it, and Dalton made them pay with his second third-down touchdown pass of the game.
Gabbert has cooled off after a fast start, and the Jaguars can't have him respond with the same second half he had last week.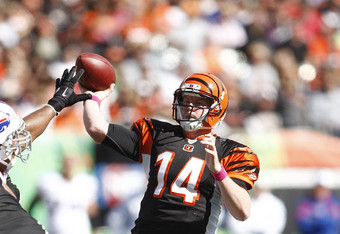 TOUCHDOWN CINCINNATI!
Andy Dalton hits Jermaine Gresham on third and four with 16 seconds remaining in the half.
The extra point hits the upright and MISSES!
13-13, tie ball game.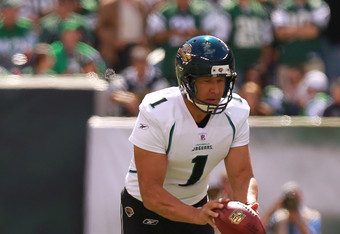 Jaguars go three-and-out, and punt.
Bengals will start from their own 48-yard line after a fantastic punt return.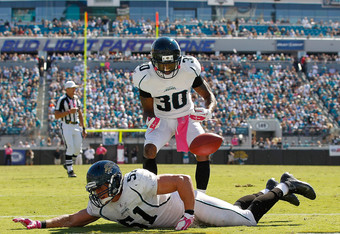 Jaguars defense holds Cincinnati to three-and-out, and the Jags have it, again near midfield.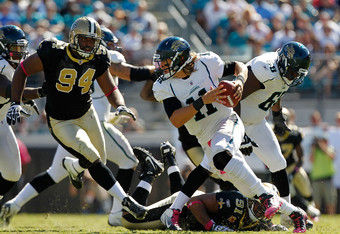 Jacksonville drives it to the Bengals two-yard line before again settling for a field goal.
Scobee's 20-yard field goal makes it 13-7 Jacksonville.
We're seeing the maturation of a young quarterback, and the positives and negatives that come with it.
After MJD is clearly down, but gets up to complete a 35-yard run to the two-yard line, Gabbert rushes the team to prevent a Bengals challenge.
He then promptly misses Lewis on an open touchdown pass.
Overall, Gabbert is playing very well, however. He is 7 of 11 for 83 yards, and MJD is approaching 100 yards.
Bengals start deep in their own territory after a special teams penalty.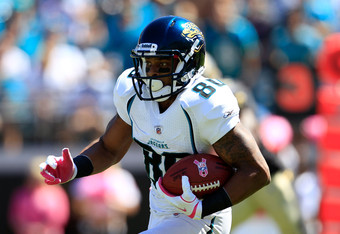 Blaine Gabbert is playing like a stud, ladies and gentlemen.
On third and four, Gabbert makes two defenders miss, keeps his eyes downfield and hits Mike Thomas for a 14-yard gain.
Jaguars now have it well within Bengals territory, inside the 40.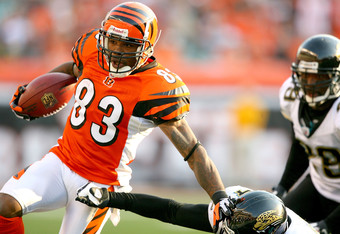 Jaguars defense is playing some inspired football now.
Jags stuff the run on first down, create a loss of five on second down, then Jared Chick sacks Dalton on his own five.
Cincinnati's punt is downed on the Bengals' 41-yard line. Jags are in business at their own 49, however, after a holding penalty.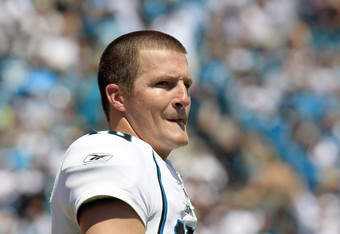 Marcedes Lewis drops a pass on first down, MJD runs for a loss of five, and Mike Thomas catches a pass on the one-yard line.
Josh Scobee boots through a 19-yard field goal, and the Jaguars lead 10-7.
Blaine Gabbert is 5 of 7.
This article is
What is the duplicate article?
Why is this article offensive?
Where is this article plagiarized from?
Why is this article poorly edited?

Jacksonville Jaguars: Like this team?