Cardinals' Pujols Talks Shadows, La Russa Talks Whining: And They're Both Right
October 8, 2011
Al Bello/Getty Images
Tony La Russa has long been called a whiner.
Heck, even I called him a whiner in my latest St. Louis Cardinals Bleacher Report article.
La Russa has complained about umpires, the media, his opponents, his own team, and certain animals that run on baseball fields from time to time.
Most of the time, his "whining" label is completely justified, while the actual subject of his complaint might be far-fetched.
His latest complaint, however, is right on the money. And "money" is the key word.
During a postgame interview after Tuesday's loss to the Philadelphia Phillies in Game 3 of the National League Division Series, stars Lance Berkman and Albert Pujols were asked the standard fare: Why do you think you lost? How was opposing pitcher Cole Hamels? How do the Cardinals plan to come back and win from here on out?
Berkman respectfully complimented Hamels on a wonderful pitching performance, innocently mentioning that shadows might have complicated matters for both teams' hitters.
Sensing a story, further questions were asked regarding shadows, odd start times, and one's ability to hit a baseball.
Like a suspect deep into his interrogation, Pujols provided a candid response late into the Q&A round: "If we were the New York Yankees, maybe we would have played an 8 P.M. game."
Ah ha! Bronx bitterness.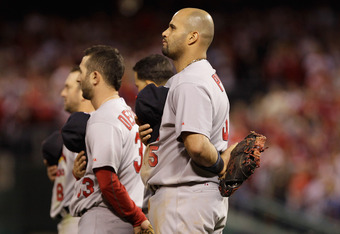 Rob Carr/Getty Images
"I just don't understand why we're playing a 4 o'clock game when the league knows we have tough shadows out there," wondered Pujols.
In the traditional storyline spin, that last-ditch effort to sell more newspapers, get more TV ratings and page views online, multiple members of the media connected dots between "St. Louis Cardinals" and "whining."
King Whiner (but don't tell him that) Tony La Russa took exception and denied any claim that players or coaches on his team are a group of "excuse-makers." He also blasted the media for even so much as hinting that his team might stoop to something so unthinkable as "whining."
To whine is to complain, generally when that complaint either lacks merit or the case is very weak.
By that standard, yes, La Russa tends to whine quite a bit.
He also tends to inspire his team, guide them to victory, and occasionally, through his incessant grumbling, get it right every once in awhile.
This is one of those times. La Russa's complaints are justified; his and Pujols' arguments are sound. Shoot enough hoops from the mezzanine and eventually one will draw iron.
This complaint doesn't just draw iron. It's a complete swish.
Pujols is right: if the Cardinals were the Yankees, they would be playing the night game. As great as the Cardinals and Phillies are, they simply cannot compete with New York's market. The same holds true for the Boston Red Sox, and any other of those big-name northeastern teams.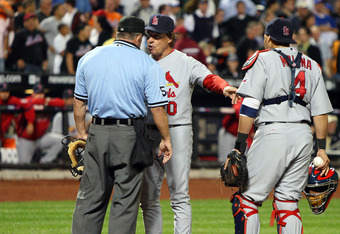 Jim McIsaac/Getty Images
La Russa is right: The media has unfairly accused the team as a whole of "whining." La Russa is the manager, La Russa and only La Russa is the designated whiner. Not Pujols, not Berkman, just Tony.
But again, this time, he is absolutely right.
ESPN hasn't been sarcastically referred to as the "Eastern Sports and Propaganda Network" for nothing.
If it sells, it gets priority. That is true for Boston, the Yanks, Patriots, and any other big market team.
Sorry, but sports are a business and at the end of the day, money is more important than "shadows" or "safety."
Pujols is entirely within his rights to complain about MLB's insensitivity to player safety.
In 1900, teams routinely played day games. Then again, in 1900, pitchers didn't throw 100-mph fastballs and wicked curveballs. There weren't strength and conditioning coaches around to bulk up even the most scrawny Dee Gordon relative. The game was more of a game and less of a business.
When lights became standard in the second half of the 21st Century, it was perfect timing. Lighting conditions could finally be improved just as pitchers got craftier, hitters got stronger, the game got much faster, and injury risk got higher. The night game was standard, and so was the disabled list.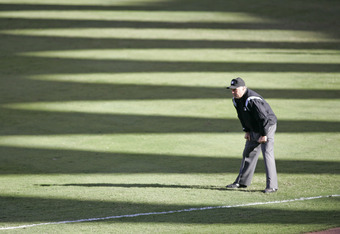 G. N. Lowrance/Getty Images
Those shadows that creep up on batters and pitchers between about four and six in the afternoon were eliminated by the standardization of the day game at one o'clock and the night game at seven o'clock.
The game continued to get faster, players continued to get stronger, and a stray fastball could now routinely send players, umpires, and fans to the hospital.
Add a tough shadow into the mix, and you have a player unprepared to get beaned in the noggin by a triple-digit heater. It is a legitimate safety issue and Pujols is right to discuss it.
And La Russa is right to defend Pujols for discussing it.
Unfortunately, those same people Pujols and La Russa are discussing the issues with are those same people who earn money from the St. Louis and New York markets.
That makes it all the easier to dismiss the Cards' concerns. It's all about math for those entertainment businesspersons: total New York money > total St. Louis money. By a long shot.
In TV-land, St. Louis can always buy another Pujols if the current version breaks because of a shadow-induced chin music disaster. And just imagine how much money that story would fetch the first network at the scene...
The television rights-holders who interview players and coaches almost nonstop are not the people to complain about game times with. TBS and FOX work with MLB to choose postseason game times. They don't want to hear it.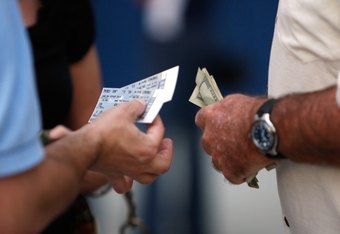 Jamie Squire/Getty Images
In all practicality, the rights-holders would probably prefer the Cardinals to have lost to the Phillies.
Philadelphia is a much bigger market than St. Louis.
Regardless, as the sports world gave its "so there!" to TBS, FOX, and MLB by sending the Tigers—not the Yankees—to the ALCS, and the Cardinals—not the Phillies—to the NLCS, Pujols and La Russa likely have less cause for concern.
Neither league will be fielding an Eastern Division team for the remainder of the 2011 MLB Postseason.
The problem with the Division Series is that some days require a quadruple-header as all eight teams are in action. That's what happened on Tuesday, and likely played a very big role in giving Philadelphia-St. Louis the awkward afternoon game.
The League Championship Series, on the other hand, has a maximum of two games on any given day, with only one game scheduled for a majority of those days.
Indeed, St. Louis will play only one, and potentially two, day games during the National League Championship Series.
And both of those games, by virtue of taking place in Milwaukee, will be played indoors.
So for Pujols, La Russa and the gang, you can put those shadow nightmares to sleep, for you are night warriors when playing outside from here on out.
Until next year's Division Series, that is.