Miami vs. Virginia Tech: Live Score, Highlights and Analysis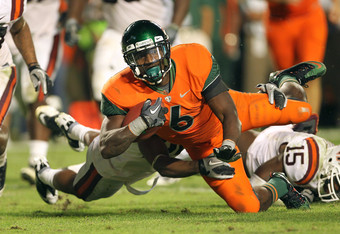 Mike Ehrmann/Getty Images

Virginia Tech 38, Miami 35 -- Final
The Miami Hurricanes will visit Blacksburg on Saturday afternoon to take on the Virginia Tech Hokies in a vital ACC Coastal matchup.
Both teams come in 0-1 in ACC play, and both are in must-win situations if they want to play in the ACC Championship in December.
Virginia Tech aims to run the football against a Miami defense that is ranked 105th in the country in rushing yards allowed. Junior phenom David Wilson will look to rack up another 100-yard game against the Hurricanes.
Miami hopes to win consecutive games for the first time in 2011 against a stingy Hokie defense. The Hurricanes plan on baiting Virginia Tech quarterback Logan Thomas into mistakes by stopping the run and forcing Thomas to beat them with his arm.
In a game with huge Orange Bowl implications, expect a hard-fought game that will come down to the wire between these ACC rivals.
Follow this live blog for instant analysis, video highlights and score updates throughout the game on Saturday. Game time is 3:30 ET on ABC or ESPN.
This game was supposed to be a defensive struggle.

Hardly.

Instead, Virginia Tech and Miami racked up a total of 992 yards in an offensive spectacle and an instant classic.

Both Virginia Tech and Miami threw punch after punch, tilting the momentum pendulum from sideline to sideline. And both teams had its chances to put the game away.

When it looked like the Hokies would pull away, the Canes utilized smash-mouth football to take control of the game.

Conversely, when it looked like Miami had sealed the win, unproven quarterback Logan Thomas guided his Hokie offense to the go-ahead score with under a minute remaining in the game.

The result is a dramatic win for the Hokies that keeps Tech in the ACC Coastal division race.

And for Miami, a devastating loss with many positives to build from going forward in the season.

Thanks for following the Miami vs Virginia Tech live blog and check back later for more on this exciting game.



I preface this by saying this game is still not over.

However, Virginia Tech's offense answered the call and has given the Hokies a three point lead with less than a minute to go in the game.

A gutsy keep by Logan Thomas on 4th and 1 ended with a touchdown and Lane Stadium is vibrating.

Jacory Harris and the Hurricanes have three timeouts and 56 seconds left to score.

Plenty of time.
Miami is running right over the Virginia Tech defense and you can hear a pin drop in Lane Stadium.

I mentioned that Lamar Miller needed to be more involved in the offense at halftime. He has, and the Canes have taken control with a four point lead late in the fourth quarter.
It cannot be overstated how important the unsportsmanlike conduct penalty on J.R. Collins was on the outcome of this game.

It kept a drive that was going nowhere alive for the Hurricanes.

Give credit to Miami. The Canes used trickery to score a touchdown and cut the margin down to three.




Did I say the tide was turned? Virginia Tech took all of one play to regain a 10 point advantage early in the fourth quarter.

Logan Thomas is now 20 of 22 passing for 276 yards and 3 touchdowns. Add a rushing touchdown and you have a great rebound for the young signal caller.
Miami has completely turned the tide on this game.

The Hurricanes are physically gashing the Hokies with the run game, utilizing a size advantage in the trenches.

When the Hokies load up the box, Jacory Harris is finding the open receiver and the Canes have trimmed the lead to three points.

Virginia Tech fans cannot be too confident about this game right now.
The Hokies reverted back to riding David Wilson on offense.

The result?

A 28-yard field goal by Cody Journell giving Virginia Tech a 24-14 lead. Looks like this game will go down to the wire.
The aggressive Virginia Tech secondary just got burned.

In a huge way.

The Hokie defender jumped the route and missed, leading to a 77-yard touchdown throw from Jacory Harris to Travis Benjamin.

Every time the Hokies look to pull away, Miami reels them back in.


Have the Hokies finally found an answer at punter?

The redshirt was finally removed from true freshman Michael Branthover, who just made his first appearance for Tech.

His first attempt? 53 yards.

He received loud approval from the Lane Stadium faithful and could be the long-term punting answer for the Hokies.
Halftime Report- Virginia Tech 21, Miami 7

An impressive first half performance by Virginia Tech in the first half. The Hokies showed no signs of last week's struggles on offense, particularly in the passing game.

Logan Thomas has been stellar thus far, completing 15 of 16 passes for 191 yards and two touchdowns. He also added a rushing touchdown that started the scoring for the Hokies in the first quarter.

The surprising news is that David Wilson has yet to get going. He has 49 yards on 11 carries. With his team leading at halftime, expect Wilson to see more action in the second half.

For Miami, they need to get Lamar Miller more involved in the offense. The star running back only has six carries for 20 yards and one reception for a loss. Despite trailing, the Hurricanes cannot afford to abandon offensive balance with two quarters left to go.

Virginia Tech looked like the more impressive team in the first half. However, the Hokies were not without mistakes with a fumble in the red zone and long passes against their secondary.

And let us not forget, Tech has struggled mightily in third quarters this season.

In order to hold on for the victory, Virginia Tech must look to extend the lead and contain the deep passes by Miami.
Big answer by Virginia Tech.

Despite questionable clock management inside the five-yard line, the Hokies convert a touchdown to regain a 14 point lead at 21-7 with four seconds remaining in the first half.


Miami got the break it needed with an overturned call on an incredible sideline catch by Allen Hurns.

On the next play, Hurns made another spectacular catch in the corner of the endzone to get Miami on the board.

What a turn of events. Virginia Tech fumbles on its way to go up 21-0. Miami converted the turnover into a touchdown, making the score 14-7.

New ball game now, folks.
Shift in momentum?

Virginia Tech quarterback Logan Thomas fumbled a snap in the red zone and Miami recovered.

It looks like Miami is going to try to get Lamar Miller involved. This is a big series for both teams.
Where was this last week?

That is the question Virginia Tech fans are asking themselves after Logan Thomas completed a long TD pass to Danny Coale to put the Hokies up 14-0.

Maybe last week was simply a bad night for the young quarterback.
Virginia Tech is playing like it has a chip on its shoulder.

The Hokies offense has played well, getting chunks of yardage with intermediate passes from Logan Thomas and running the spread option.

The defense is swarming passes from Jacory Harris, and Jayron Hosley dropped a potential interception late in the first quarter.

Can the Hokies keep this performance up? Or will Miami get the ground attack going with Lamar Miller?
Logan Thomas has similar size to former Auburn quarterback Cam Newton.

He played like him on that drive.

Thomas made accurate throws, converted on 3rd and long, and executed the spread option to perfection en route to leading his offense to a 7-0 lead.

A big defensive play and a solid touchdown drive has the home crowd jumping for joy in the first quarter. A perfect start for the Hokies.
Thus far on the Hokies' first drive, Logan Thomas has exhibited more poise in the pocket than in previous games. The line is giving him time, and Thomas is taking advantage.

On a negative note for the Hokies, defensive lineman James Gayle was helped off the field with an injury. With its lack of depth at defensive line, Tech can ill-afford to lose Gayle for an extended period of time.
Miami's first drive was characterized by mis-directions, play-action passes, and blown coverages by the Virginia Tech defense.

Until Al Golden rolled the dice on a fake field goal on 4th and 1.

The Hokies were ready for it and the Lane Stadium crowd has erupted.
Jacory Harris off to a good start. 25 yard completion on 2nd and 10.

Play action works against this aggresive defense.
A suggestion for Coach Frank Beamer.

Whenever winning the coin toss, the Hokies always choose to kick-off to start the game. Change it up a little. If Virginia Tech wins the toss today, they should receive the kick.

By doing this, they can make a statement on offense and give the defense an early lead. Plus, it instills some confidence in quarterback Logan Thomas that he sorely needs.

Just a thought.
Virginia Tech entrance. One of the best entrances in college football.

Hokie fans always have a little more excitement when Miami comes to town.



The ACC needs Miami and Virginia Tech to excel.

Remember when these two teams would battle it out for Big East titles? The Canes and Hokies used to annually play primetime games that would decide conference championships.

Now, this ACC tilt gets lost in the shuffle of college football mediocrity.

In the interest of the Atlantic Coast Conference, both Miami and Virginia Tech need to be prominent top 15 teams in order to draw national interest.

Maybe next year, as they say.
Beautiful day for football in Blacksburg. Tailgaters are beginning to file into Lane Stadium. You can smell those turkey legs from a mile away.

The pressure is beginning to mount in a must-win game for both teams if they want to contend for the ACC Championship Game.
With just over two hours until kickoff, here are some pregame notes to wet your appetite.


In 28 meetings, Miami holds the series edge with a 17-11 record against the Hokies.


Total score margin? Miami-551 Virginia Tech-514.
Virginia Tech is 5-2 against Miami in ACC competition.


The Hokies have won six of eight games against the Hurricanes.


Virginia Tech has scored in nine consecutive quarters versus Miami.


Last time Miami beat Virginia Tech in Lane Stadium was in 2005, a decisive 27-7 victory over Marcus Vick and the Hokies.


In College Gameday selections, Lee Corso picked Miami and Kirk Herbstreit selected Virginia Tech.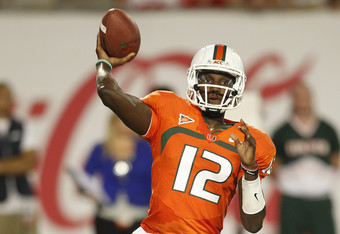 Good morning college football fans. Before you head out to tailgate this afternoon, here are three pivotal matchups to watch during the game between Miami and Virginia Tech.
David Wilson vs Miami Linebackers

The Canes' linebackers have been terrible this season, contributing to a porous run defense. They have struggled to make tackles at the point of attack, which does not bode well against the elusive David Wilson. Look for the Hokies to run the ball often, call screen plays, and target the weak link that is the Miami linebacker group.

Jacory Harris vs Virginia Tech Secondary

Jacory Harris is coming off a game in which he did not throw an interception for the first time in six appearances. Taking care of the football is something he will need to continue against a ball-hawking secondary that has picked off a pass in 12 straight contests. If Harris can make safe, quick decisions, he can make some head way against the Virginia Tech defense.

Logan Thomas vs Miami Secondary

Similarly, inexperienced quarterback Logan Thomas must avoid forcing passes into coverage against a dangerous Hurricane secondary led by new returnee Ray-Ray Armstrong. Thomas has also had accuracy problems, which he must correct in order to lead his team to a victory.
This article is
What is the duplicate article?
Why is this article offensive?
Where is this article plagiarized from?
Why is this article poorly edited?

Virginia Tech Football: Like this team?