Oklahoma vs. Texas: Live Score, Highlights and Analysis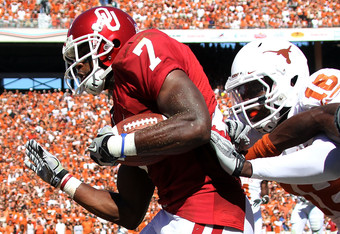 Ronald Martinez/Getty Images
Oklahoma 55, Texas 17, Final
One of college football's greatest rivalries will be renewed on Saturday when third-ranked Oklahoma and eleventh-ranked Texas meet at the Cotton Bowl in Dallas.
Oklahoma will be looking for its second straight win in the series known as the Red River Rivalry, after holding off the Longhorns for a 28-20 win 53 weeks ago. Texas won the 2009 meeting, 16-13.
Oklahoma's Bob Stoops owns a 7-5 advantage over Texas' Mack Brown in their 12 head-to-head meetings.
The Sooners rolled over Ball State last week in Norman, while the Longhorns won their second consecutive road game, cruising past Iowa State in Ames. Both teams have avoided significant injuries, and will be at or near full strength for the Noon ET kickoff, televised nationally on ABC.
Check back Saturday before, during and after the game for updates, commentary and analysis of the showdown between the two teams who have combined to win the last seven Big 12 titles.
Oklahoma wins their second straight over Texas, 55-17. After dropping from first to third in the polls, there's a decent chance OU moves back up after their performance today.
Offensive Player of the Game: Landry Jones. His accuracy wasn't spectacular, but he protected the ball and never gave Texas a chance.
Defensive Player of the Game: Frank Alexander. Almost every Sooner defender made a big play, but Alexander was a force on the defensive front
Looking Ahead: Texas hosts Oklahoma State next week in Austin, while Oklahoma heads to Lawrence to take on Kansas.
Texas needed that touchdown from Shipley. They need any confidence boost they can get with the Pokes coming into Austin next Saturday.
Jones finishes 31 for 50 for 367 yards and 3 touchdowns. Still right in the thick of the Heisman race.
Oklahoma holds after Texas had a bit of a drive going, and Drew Allen will now take over at quarterback for the Sooners.
To add insult to injury, Jamell Fleming does his best Gary Payton impression and just steals the ball from Mike Davis after a completed pass and takes it back for an OU touchdown. This is the third time in 12 years OU has hit the 55-point mark against Texas.
How far will Texas fall in the polls? I'll say they just barely stay in the Top 25 around #23 or #24.
Texas will punt on 4th and 49. That about sums up their offensive day right there.
Tony Jefferson could be the next Troy Polamalu. He's that good.
Hate to see Tom Wort get helped off. He's played very well today. Travis Lewis also was down on the same play but appears to be fine.
Well hello Oklahoma running game. Dominique Whaley breaks off a 64-yard touchdown to extend the lead to 48-10. Even Bevo has given up. Despite the lopsided score, Whaley needed a big play like that.
OU has no desire to let Texas score an offensive touchdown today, and they'll play hard right down to the final whistle in order to do so.
McCoy fumbles again, and David King scoops and scores. 41-10. Give Frank Alexander credit for the strip. He's been a force today. Texas freshmen look like freshmen today.
I do not expect OU to take its foot off the gas here. Maybe against Ball State, but not against Texas.
'Horns will start on offense in the second half, unless Whittaker takes another kickoff to the house.
Halftime Stats:
Jones: 23-35, 305 yards, 3 TDs
Whaley: 11 carries, 11 yards
Stills: 5-51, 2 TDs
Broyles: 5-98, 1 TD
Ash: 2-6, 15 yards, 2 INTs
McCoy: 6-10, 63 yards
Whittaker: 3 carries, 28 yards
Oklahoma answers right back to take away any momentum Texas had. Jones to Stills again for his third touchdown pass of the day. He's over 300 yards in the first half.
It might be a little nit-picky with the score 34-10, but OU is really struggling on the ground. If they see LSU or Alabama down the road, who have the two best secondaries in the nation, they'll have to be much more balanced. Against a young secondary like Texas though, bombs away.
Just like that, Fozzy Whittaker takes the kickoff 100 yards for the Longhorns' first touchdown. Might be too little, too late, but that'll bring some life into the 46,000 or so seated in the north end of the Cotton Bowl that had been silent for a quarter and a half.
Major true freshman mistake from David Ash. A ball with very little zip is picked off by Demontre Hurst who takes it all the way for an OU touchdown. Getting very ugly now at 27-3. Starting to feel like 2003.
Oklahoma turns it over on downs, but that was the right call to go for it on 4th and 9 from the 33-yard line. No reason to think Texas will be able to take advantage of the good field position here.
Despite his performance on that three-and-out, I'd stick with David Ash going forward. Oklahoma's defense is too fast to allow McCoy's speed to be a weapon. Ash can make more throws than McCoy.
Texas holds after a big Ryan Broyles drop that would have put the Sooners inside the 10-yard line. Longhorns will start at their own 15-yard line after an OU punt.
Roy Finch looks really good today. Definitely has some Quentin Griffin in him, and wears the same number as Griffin did.
Come on Musburger. Stoops is not going to pile it on just because Bryan Harsin was the coordinator of a team that beat him in a BCS bowl. A lot of coordinators have beaten Stoops in BCS bowls.
Great trivia question. Peterson had quite a day in the Sooners' 12-0 victory in 2004. No touchdowns though, as Kejuan Jones had the two scores.
There's that Broyles guy again. Jones finds #85 in the front corner of the end zone for his second touchdown pass of the day. Play will be reviewed to make sure the ball crossed the goal line, but the call will stand.
OU uses their final timeout of the half before a very, very crucial 3rd and goal at the 5-yard line. 'Horns cannot fall behind by three scores here.
Back-breaker. Jones find Jaz Reynolds for 30 yards on 3rd and 25. Huge play. OU was likely out of field goal range before that play. Now they're inside the 5-yard line.
This article is
What is the duplicate article?
Why is this article offensive?
Where is this article plagiarized from?
Why is this article poorly edited?

Oklahoma Sooners Football: Like this team?