Air Force vs. Notre Dame: Live Score, Highlights and Analysis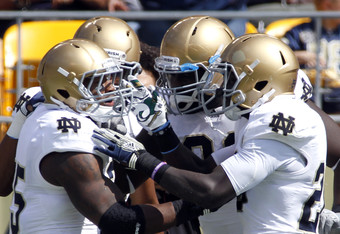 Justin K. Aller/Getty Images
Notre Dame 59, Air Force 33 -- FINAL

The Air Force Falcons have made their way to South Bend to take on Brian Kelly and the Fighting Irish of Notre Dame.
It's the first visit to Notre Dame Stadium for the Falcons since a 41-24 upset of the Irish in 2007.
Like I mentioned in my preview article of this game, there are a number of key matchups to watch during Saturday's game.
How will Notre Dame's defense perform against Air Force's third-ranked rush-defense? Will Air Force be able to contain a Notre Dame offense that has gone over 500 yards on three separate occasions?
We'll get the answers to those questions shortly.
This will be a tell-tale game for Brian Kelly and co. after winning three consecutive games following a 0-2 start.
A loss would be devastating, but a win would likely propel Notre Dame back into the Top 25 rankings.
Keep it here at Bleacher Report for live scores, highlights and analysis.
Heading into the fourth quarter with a 33-point lead, Notre Dame still hasn't let up.
It's a welcome change after many years of simply running the clock out, a philosophy that took away from developing a killer instinct.
This Irish football team is showing a mental toughness and a tenacity not seen by a Notre Dame squad in years.
The most promising aspect of the future of the program is Kelly's effort to recruit what he calls RKG's or right kind of guys.
Guys who love to play the game of football.
Jonas Gray rumbles ahead for the Notre Dame touchdown.
Current score: Notre Dame 49, Air Force 16
The Notre Dame defense has been burned by one thing in particular and that is defending the third level of the option.
By third level I mean the third option. For example, on a typical speed option, Tim Jefferson rolls out to either side and usually ends up pitching to his halfback.
The Irish have done an excellent job of taking away the first two options, but have been awful at covering Asher Clark on the outside.
The good news is that Notre Dame has limited the Falcons to 16 points.
If the defense can keep the Falcons off the scoreboard, a win is in the books.
We've reached halftime at Notre Dame Stadium with the Irish leading Air Force 42-16.
Perhaps the most impressive aspect of Notre Dame's play in the first half is the efficiency with which they've operated.
On six possessions, the Irish have scored six touchdowns, resulting 42 points.
Also, the Irish have not turned the football over. That was one of the keys to the game, and Notre Dame has stuck to that principle.
Irish quarterback Tommy Rees has been nearly perfect thus far, and has thrown four touchdown passes to four different receivers.
That's a testament to his patience in the pocket.
The defense hasn't played as well, but have limited Air Force to only 16 points despite yielding over 280 rushing yards.
Bob Diaco must make the adjustments to shore up the play of the outside contain men defending against the option plays.
Notre Dame may have a 26-point lead, but this game is far from over.
Time for the Irish to display their mental toughness and killer instinct.
Tommy Rees connects with the shifty Theo Riddick for the Irish touchdown.
Current score: Notre Dame 42, Air Force 16
Last season against Navy, Notre Dame didn't convert on its first possession. After that, Navy took the Irish to the woodshed.
The story is much different against fellow service academy Air Force.
Brian Kelly's squad came out and threw the first punch and continue to punch.
That mentality has been the large reason for the Irish having won three consecutive games.
It's a mentality that the team simply didn't have last season. Also, the anger of losing the season's first two games against South Florida and Michigan still runs through the veins of each player and coach.
It's the sign that Notre Dame has developed a killer instinct. They simply will demoralize the opposition.
It was evident in last week's beat-down of Purdue.
Here's to hoping it continues.
Jonas Gray got a lesson from former Irish great Jerome Bettis over the summer.
Bettis told him to run like he weighs 230 pounds, not 215.
Gray has taken that lesson to heart. He carried the pile into the endzone for the Irish touchdown.
Current score: Notre Dame 28, Air Force 9
Air Force reaches the endzone after Notre Dame commits an offside penalty, giving the Falcons new life.
The extra point attempt was blocked by Darius Fleming.
Current score: Notre Dame 21, Air Force 9
At the end of the first quarter that belonged to Notre Dame, one thing is for certain. This game is certainly very far from being over.
Air Force has not struggled to move the ball by any stretch of the imagination.
Falcons quarterback Tim Jefferson has been operating the option offense to perfection, and has shown why he is such an efficient passer.
Aside from those worries, the Irish offense continues to roll after being on fire at Purdue last week.
In three trips to the redzone, Notre Dame has reached pay-dirt three times, something that has been lacking through five games.
Also worth mentioning is the avoidance of turnovers for the Irish.
Tommy Rees connects with the "Hawaiian Rocket" Roby Toma for the Irish touchdown.
Current score: Notre Dame 21, Air Force 3
Notre Dame's defense has not been taking care of business on the outside contain.
Air Force will be able to freely pitch the ball to the edges without fear of being shut down.
Again, when playing against an option team such as Air Force, executing individual assignments is crucial.
The outside contain men have not been executing thus far. It's up to Bob Diaco to hammer the theme of execution into the minds of his charges.
Luckily the defense was able to the Falcons to a field goal on the last possession.
Current score: Notre Dame 14, Air Force 3
Tommy Rees loves not only Michael Floyd, but tight end Tyler Eifert as well.
The two hooked up for the touchdown, Notre Dame's second score of the game.
Current score: Notre Dame 14, Air Force 0
Turnovers will kill you. Just ask Notre Dame.
Air Force may be dealing with some of those turnover issues today.
On the first play from scrimmage, Falcon running back Asher Clark rumbled 28 yards, but had the ball stripped out by Jamoris Slaughter.
With each possession for the Irish being crucial against Air Force's clock-melting attack, this first forced turnover is huge.
The defensive leaders, Manti Te'o and Harrison Smith, have made it clear that creating turnovers are a significant priority.
That plan has been working out well thus far.
What a tremendous pass from Tommy Rees to Michael Floyd for the Irish touchdown.
Floyd appeared to be out of bounds, but after review, the play was confirmed. Touchdown.
Current score: Notre Dame 7, Air Force 0
With warmups well under way at Notre Dame Stadium, there are a few observations worth mentioning.
Defensive end Ethan Johnson looks to be a no-go for today's game with a high ankle sprain that has not fully healed. Aaron Lynch will likely be starting in his spot.
The other interesting tidbit has to do with uniforms for both teams.
Notre Dame players and coaches will be rocking pink apparel for breast cancer awareness month. The Irish also wore pink against Pittsburgh last season.
It's a very meaningful tradition for Brian Kelly, as his wife, Paqui, has previously battled breast cancer in her life.
Notre Dame's opponent, Air Force, will be donning the gray "freedom" jerseys they wore in last week's victory over Navy.
We're only a few hours away from kickoff at Notre Dame Stadium.
Have you found yourself wondering how Notre Dame will fare against the tricky Air Force offense? I'm sure you have.
There's legitimate reason to be afraid, for Air Force quarterback Tim Jefferson is even better than former Navy quarterback Ricky Dobbs.
Dobbs was able to give Notre Dame fits during his career at Navy, so there's reason to believe that Jefferson might be giving Irish fans nightmares.
Through four games, the senior quarterback has been one of the nation's most efficient passers, having completed 33 of 47 pass attempts to along with six touchdowns.
That's good for one touchdown pass for every six pass attempts.
It'll be interesting to see if the Irish defense will be able to contain Jefferson or if he'll have his way similar to Dobbs.
This article is
What is the duplicate article?
Why is this article offensive?
Where is this article plagiarized from?
Why is this article poorly edited?

Notre Dame Football: Like this team?