NFL Picks Week 5: Minnesota Vikings and Indianapolis Colts Will Fall to 0-5
October 7, 2011
Peter Aiken/Getty Images
The Minnesota Vikings and Indianapolis Colts are bad. That's a given.
But which team is worse? Which team will win the Andrew Luck sweepstakes?
They both have legitimate chances to win this weekend, with the Vikings playing the Arizona Cardinals and the Colts playing the Kansas City Chiefs.
The combined records in those two games add up to a whopping 2-14.
And, I'm here to tell you that things aren't going to get any better for the two 0-4 teams.
Here's a breakdown of why the Colts and Vikings will fall to 0-5.
Colts vs. Chiefs
The Chiefs haven't been very good this season either, but at least they have a steady quarterback.
I am certainly not calling Matt Cassel good, but at least he's started every game for the Chiefs this season.
Curtis Painter will be in just his second start of his career and has missed a lot of easy throws so far.
He's managed to keep the Colts close for the two games he's been in, but he's just not good enough to win games like Peyton Manning can.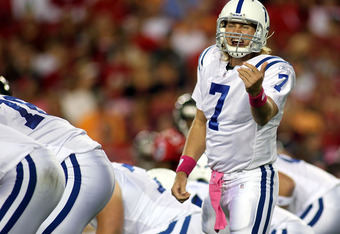 Marc Serota/Getty Images
As for the Chiefs, they should be able to rely on Ryan Succop's leg to make the difference in this game.
Prediction: Chiefs 16, Colts 13
Vikings vs. Cardinals
Cardinal fans are already starting to turn on newly-acquired quarterback Kevin Kolb.
But, he won't hear the hometown boos this week, since this game is in Minnesota.
Look for him to earn back the fans' respect this weekend against the hapless Vikings.
Larry Fitzgerald is returning home and should have a good game if Kolb can put the ball in the same area code as him.
Also, look for the Vikings to be winning at halftime before having one of their trademark second half collapses.
If things take even a slight turn for the worse in the second half, the fans will jump all over Donovan McNabb and company, making it even harder for the Vikings to keep a lead.
Prediction: Cardinals 27, Vikings 20