2011 NLDS Game 5: St. Louis Cardinals vs. Philadelphia Phillies Live Blog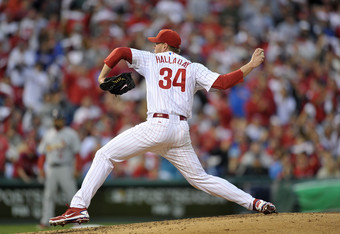 Drew Hallowell/Getty Images
Updated Score: Cardinals 1, Phillies 0
Somebody's season ends tonight.
Philadelphia and St. Louis have battled for four straight games and now they each send their ace starting pitcher to the mound to decide who will advance to the NLCS.
Game time is 8:37 and I'll be here with you throughout the game covering the play by play.
Here's what I need from you: PARTICIPATE!
Talk to me about the game, your fantasy football team or even your cats. Everything is on the table.
Lets. Do. This.
These games rarely live up to their hype, but Carpenter vs. Halladay exceeded the hype.
This was an amazing game with clutch defensive plays and dominating pitching performances.
Roy Halladay was virtually unhittable after the first inning and Chris Carpenter turned in the best LDS pitching performance in baseball history.
MVP of the game is obviously Chris Carpenter. His final line was 9 IP, 3 H, 0 ER, 3 SO. Just Amazing.
LVP of the game goes to Ryan Howard. Howard did his best Alex Rodriguez impression by going 0-4 and failing his team in clutch situations.
This was an amazing series and the NLCS should be a great battle between two teams that played evenly 9-9 throughout the regular season.
The Cardinals are going to have a good flight to Milwaukee after all.
I'll be back with final thoughts in just a few minutes.
Nope, he ground out to second base and the ball game is over!
The St. Louis Cardinals are going to the NLCS to face the Milwaukee Brewers.
It will be a re-match of the 1982 World Series after all.
Howard goes down with an apparent injury and is being helped off the field.
A-Rod in a similar situation and struck out.
Will Howard follow suit?
Pence quickly grounds out.
Carpenter is one out away from the best LDS start in MLB history and one out away from sending the Cardinals to the NLCS.
Ryan Howard up.
Ugh. Utley drilled the first pitch he saw out to the wall in right-center field.
Cardinals are two outs away from the NLCS.
Strike three, inning over.
HERE. WE. GO.
UTLEY
PENCE
HOWARD
Descalso strikes out and there are two away.
Molina grounds out. I rejoice.
Madson in the game for Halladay. Great start by Halladay, it's sad someone has to lose this one.
Inning over!
Cardinals are three outs from the NLCS.
Be prepared for lots of Robin Yount and Ozzie Smith footage over the next week!
Molina with a bad throw and a hustling Gload is safe at first! Love it!
Furcal with a clutch defensive play showing off that rocket arm. He's always had an amazing arm.
Cardinals are four outs from the NLCS.
Polanco grounds out. Five outs from the NLCS.
I don't think many Rangers fans will be contributing to this fund.
Halladay gets out of an impossible situation. We're headed to the bottom of the eighth. The Phillies are six outs away from elimination.
Bad strike call by the ump. He had the first two calls right that he called balls, and then the ump gives Halladay a gift strike call and completely changed the at bat. Bad call, but I'll take it.
Halladay gets the strikeout!!! Wow. Huge K. Matt Holiday to the plate.
Very mediocre Phillies crowd. They need to be louder right now.
Jon Jay gets the bunt down, which means Pujols is about to get walked and we're going to have bases loaded with one out and Lance Berkman at the plate.
The picture of David Wells in that Toronto photograph was just classic.
Ruiz makes a bad decision and tries to get Carpenter out at second, but Carpenter beats the play and the Cardinals have two on, nobody out, and I'd bet anything that LaRussa is bunting here too.
Chris Carpenter with a hit of Halladay. You just can't script this stuff.
Nope, he sure can't.
Carpenter only needs six more outs for Cardinals vs. Brewers 1982 World Series rematch in the NLCS.
Ibanez to the plate with two outs.
Can the old man step up?
Howard swings at a 3-0 pitch and flies out to right. Huge turn of events right there.
I agree with the TBS announcer, regardless of the outcome I think Howard should've been taking right there.
This article is
What is the duplicate article?
Why is this article offensive?
Where is this article plagiarized from?
Why is this article poorly edited?