Boston Red Sox: Henry's Comments Hint That Theo Epstein is On the Way Out
October 7, 2011
J. Meric/Getty Images
It has been a really tough few weeks for fans of the Boston Red Sox. Just a little over two weeks ago, they polished off the biggest collapse in the history of the league.
Just hours after walking off the field in Baltimore on the last day of the season, the organization and manager Terry Francona parted ways.
Now it's beginning to look like Theo Epstein, the general manger that put together the 2004 and 2007 World Series Championship teams, is on the way out as well.
Francona and Epstein certainly have their doubters in Boston, but even their biggest detractors have to be a little upset considering their departures would signal an end to an incredibly successful era of Red Sox baseball.
The Cubs have reportedly asked permission to speak with the Red Sox GM. Red Sox owner John Henry has not said whether or not he has allowed the Cubs to speak with Epstein, but when he recently appeared on the "Dennis and Callahan Show"on WEEI in Boston, he sounded like a man that knew his GM is headed out of town.
Henry had the following to say on the show, according to Gordon Edes of ESPNBoston.com:
"I think there's a certain shelf life in these jobs,'' said Henry "You can only be the general manager if you're sane. You can only be the manager for a certain amount of time. It's a tremendous pressure cooker here, 162 games. It's a long season, and the pressure here is 365 days."
Henry continued on:
"So Theo is not going to be the general manager forever. Just as if Tito (Francona) had come back for the last two years, would he have gone past 10 years? I can't imagine that he would have. I think that Theo will. He's the guy now, he's been the guy, we've had tremendous success."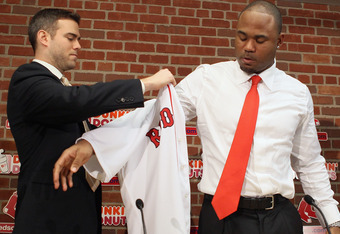 Elsa/Getty Images
Nothing has been decided yet, but it sure sounds like Henry is starting to spin the narrative in the event Epstein does decide to head to Chicago.
At the end of that last quote, he says that he thinks Epstein will still be the guy, but I'm not sure that's not just a way for Henry to keep speculation from running wild.
On his Twitter page, Jon Heyman of SI.com said that many don't expect Epstein to end up in Chicago:
Everyone in baseball expects theo epstein to be offered cubs job. From what I can tell, a slight majority expect him to say no.
Consider me one that doesn't think he'll be back in Boston. For me, there's no reason that Henry makes those comments if he doesn't have an inkling that Epstein will leave.
If Epstein does come back, these comments might make things awkward. Epstein may wonder if Henry has a clock on his time with the organization.
Interesting days are ahead for the Red Sox. Whatever decision is made by the involved parties, it will have a huge impact on the organization in the near future.