College Football's Top 25 Uniforms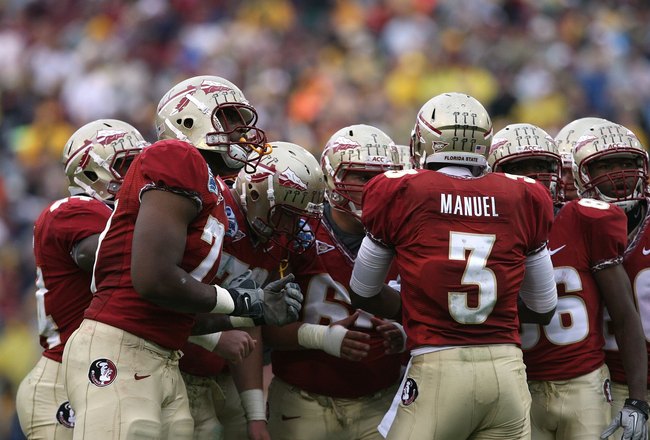 Doug Benc/Getty Images
Although a number of great football players have come through the gates of the University of Oregon over the course of the last century, only a select few have succeeded in few NFL. Dan Fouts, Norm Van Brocklin, Dave Wilcox, and Gary Zimmerman are among those that were able to thrive after they left Eugene.
Furthermore, as the program gained momentum during the years that Mike Bellotti was at the helm, the school saw an increase in the number of athletes that made their way to the pros.
While Joey Harrington and Akili Smith are among the notable Oregon players that have been busts in the NFL, the last decade has also seen a handful of ex-Ducks prevail as Pro-Bowl and All-Pro selections.
In this slideshow I will rank the nine best former Ducks that are currently on NFL rosters. To qualify for this list, these athletes must have played at least two full seasons in the NFL. These rankings will be based on their performance in the pros, not at Oregon.
Clemson Tigers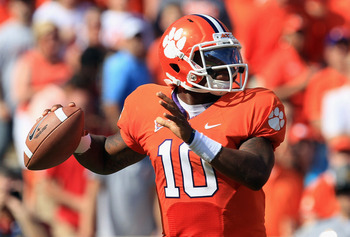 Their niche: Purple and Orange, the Tiger paw
Clemson went through their piping phase in the past few seasons, eventually landing on new, classic uniforms last year.
The use of the Tiger paw on the helmet and sleeves makes the uniform. There really is no need for excessive stripes or piping.
Using purple only as trim is also an intelligent decision. Too many teams with vibrant color schemes utilize them their wrong way. Clemson's emphasis on orange and white, with a small dose of purple, makes for a striking look.
Their occasional purple jerseys and pants can rub people the wrong way, depending on the combination, but overall, Clemson has beautiful threads.
Florida State Seminoles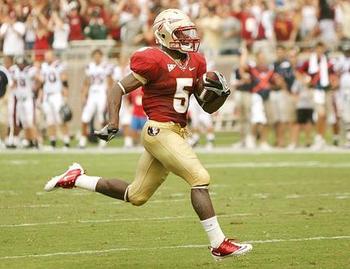 Their niche: The Spear

Florida State's uniforms are a perfectly modernized version of their traditional style. The spear helmet with the axe decals make for one of the best helmets in the football world, if not the best.
The collar and sleeve design is also trademark and unique, and cannot be duplicated by other schools.
Overall, however, their look is simple and is enhanced with a great color scheme of garnet and gold. The Seminole logo on the hip is also easily recognizable and unique.
Georgia Tech Yellow Jackets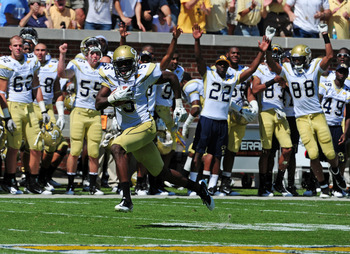 Scott Cunningham/Getty Images
Their niche: Owning white
Georgia Tech is one of the few schools that utilizes white as a primary color.
Their style guide lists two shades of gold, navy blue, and black. But, Georgia Tech has traditionally worn white jerseys for home and road games in their long and storied history.
Last season, Georgia Tech took that identity to the next level. The Yellow Jackets have not one, but two different white jerseys that they wear depending on whether or not they are at home, or on the road.
Their new uniforms for 2011 play off this concept very well. The home set is a white uniform accented with gold, while their road set is white accented by navy blue.
This distinct concept is a very clever way of fully grasping a great brand, and their simple uniform design is modern, yet classy.
North Carolina Tar Heels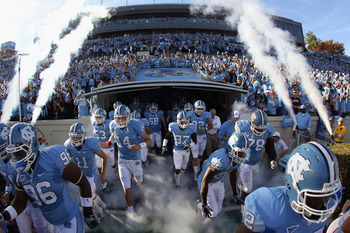 Streeter Lecka/Getty Images
Their niche: Carolina blue
North Carolina is another team that lets their color scheme, not a dynamic design, do the talking.
Like Clemson, UNC has a dual color scheme--theirs being carolina blue and navy blue.
But, the Tar Heels use Carolina blue in white as the emphatic colors, while the navy blue accents the design.
They do occasionally sport navy blue jerseys and pants, which don't really speak to UNC's identity, but overall their look is fantastic and immediately identifiable.
Oklahoma Sooners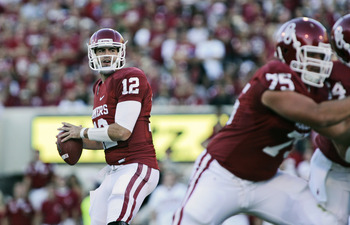 Brett Deering/Getty Images
Their niche: Cherry red lids
Oklahoma's uniforms are one of the most simple sets in the world of American football. They combine crimson and white, using zero jersey trim of any fashion.
What sticks out on their uniforms is the shine of their cherry helmets, as well as their simplistic logo. The only real "design element" in their set is the pants stripe.
Another identifiable element of their uniform set is the extra-large script on their jerseys. Few modern day teams have held onto the giant wordmarks of the yesteryear, but Oklahoma is not one of them.
Texas Longhorns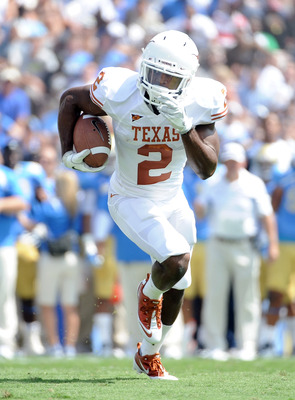 Harry How/Getty Images
Their niche: The original storm trooper uniforms
Now a days just about every other college football team has at least tested an all-white uniform design. Some newer examples are Arizona State, Florida, Iowa State, Oregon, California and South Florida.
The thing is, any team in college football can probably have an all-white uniform set that looks good. Why? Because every team has worn a required white road jersey for years. White can work with any color scheme.
But, Texas will always be identified as the team that owned the all-white look (although Penn State deserves consideration as well).
Texas' all white uniforms, which in the past have often included long, all white socks, earned them the unofficial "storm trooper" nickname, based off the villain army from Star Wars.
Cincinnati Bearcats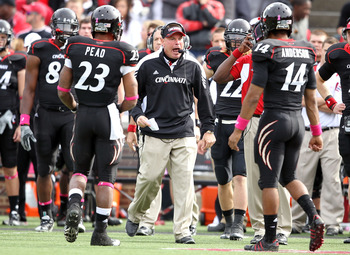 Andy Lyons/Getty Images
Their niche: The claw marks
Cincinnati has a great helmet with a fantastic logo, but their uniform design has suffered plenty in the past.
This season the Bearcats finally got it right, and have won themselves a place on this list. Their latest Adidas uniforms dropped the giant black stripe from their white pants, and have simpler jerseys as well.
Cincinnati's great uniform element is the scratch marks on the side of the pants, which also show up on their basketball team jerseys.
The all-black set looks fantastic, and the hints of red really stand out. Also, the Bearcats have an original wordmark and number font, which is always a plus when it comes to branding.
Ohio State Buckeyes
Kevin C. Cox/Getty Images
Their niche: The pride sticker helmets
This one is a no-brainer.
Ohio State's football uniforms are known for their helmets. That's because the Buckeye's helmets don't have logo decals on either side. Also, their pride stickers are very large.
So, the Buckeyes have made a habit of filling their helmets from front to back with the stickers, creating an easily identifiable and unique look that cannot be copied.
Their jerseys are also timeless classics. Just a few years ago the Buckeyes made a subtle change to their jersey striping, making it more consistent with the pants and helmet.
That change was noticed by nearly every fan in Buckeye nation.
Not a lot of team's uniforms are as sacred as The Ohio State University's.
Penn State Nittany Lions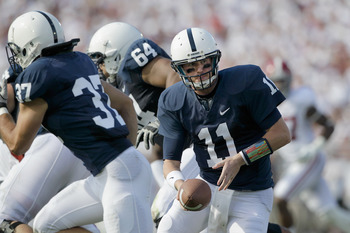 Rob Carr/Getty Images
Their niche: Nothingness
Penn State's uniforms, as of 2011, only have one design element.
That element is a single blue stripe over the top of their helmet. That's it. Their jerseys are actually new this year.
In years past, the collar and cuffs of Penn State's jerseys were white for the home jersey and navy for the road jersey.
According to their equipment manager in an interview posted on the Nike blog, the reason for this was that Nike could not replicate the same color on the jersey material and the collar/cuff material.
They finally found a way to create the color consistency, meaning Penn State made the change to the simpler look.
There's zero logo placement on these uniforms, making them look like generic equipment you would buy at a local sports store.
That's what makes Penn State Penn State. Their uniforms speak to the fact that pure performance is relevant, while appearance is not.
Wisconson Badgers/Nebraska Cornhuskers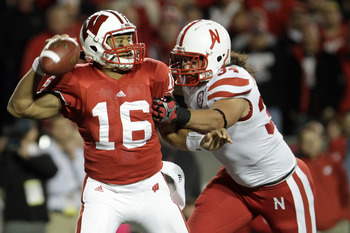 John Gress/Getty Images
Their niche: Red, white, and double stripes
There's a reason both of these teams are listed in one slide.
Aside from different logos, a slightly different helmet stripe, and a few other specifics, Nebraska's and Wisconsin's football uniforms are nearly identical.
Word of the Cornhuskers' move to the Big Ten sparked jokes concerning the team's similar threads.
One who watched the latest Wisconsin-Nebraska game might have thought they were watching a spring scrimmage.
The only way you can tell these teams apart, other than the helmet logos, is the fact Wisconsin's T.V. numbers are on the sleeves while Nebraska's are on the shoulders.
Also, Nebraska's stripes are thicker, and they only have one stripe on their helmet. The best thing about Nebraska's uniform is the fact the "N" logo is so simple it completely ties into the simple design.
Michigan Wolverines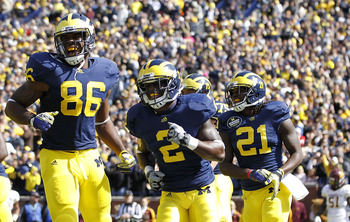 Leon Halip/Getty Images
Their niche: The helmet
Here's another easy pick.
Michigan's helmet, which is adorned with a simple design that was worn by multiple teams decades ago, is a classic. The Wolverines "winged" design has even made its way onto the team's hockey helmets and lacrosse helmets.
They also are one of the few teams that have zero white in their home uniform. Michigan lets their incredible blue and maize color scheme do all of the talking.
New white jerseys were brought in this year as well. For the past few years Michigan wore white jerseys with specific design elements that were not consistent with their home jerseys.
A number of players actually wore last year's jerseys in last week's game at Northwestern. No one is quite sure why, but other than that simple flaw Michigan has an undeniable look.
Marshall Thundering Herd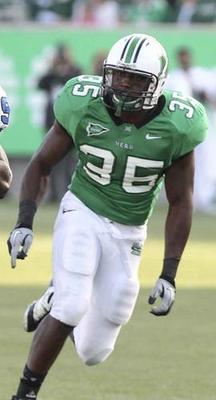 Their niche: Green, Black, and White
Marshall, until this season, actually had the most dated looking uniforms in college football from a technology standpoint.
Literally, Marshall had been wearing jerseys that were older than any other team's. This season they finally bought new jerseys from Nike, complete with a new chest script, but the Thundering Herd have continued to wear their old road jerseys.
The aesthetically pleasing part of their uniform is the helmet and color scheme. They balance green, black, and white to perfection, while offering a classic looking uniform.
The new "M" logo they are using on the helmets also greatly enhances their look.
Tulane Green Wave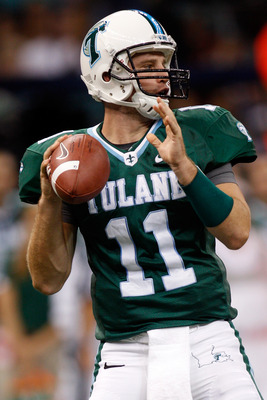 Chris Graythen/Getty Images
Their niche: The color scheme
Talk about one of the most overlooked uniforms in sports. Tulane might have some of the best in any sport.
The Green Wave don a green, light blue, and white get-up complete with a classic style jersey, the Fleur-de-Lis, and that always nostalgic chest wordmark.
There's nothing not to like about these sets, especially since they began wearing white helmets as primaries last fall.
Ohio Bobcats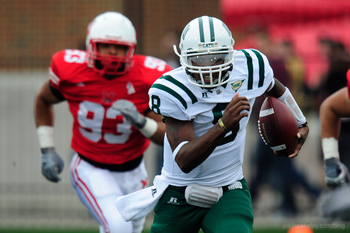 Their niche: Simplicity
A lot of really small schools try to use fresh uniforms to get an up in recruiting.
Ohio, for a long time, did not budge in that department. Depressingly enough, the Bobcats gave in and bought new black uniforms from Russell this fall, complete with Russell's latest micro-logo based design.
But, the Bobcats primary home and road uniforms are oustanding.
The jersey set uses a consistent double-stripe on the helmet and shoulder, which really pops on all of that green or all of that white, depending on the set worn.
The helmet is also sweet too. Not a lot of schools combine a white helmet with a white facemask, but Ohio pulls it off.
Northern Illinois Huskies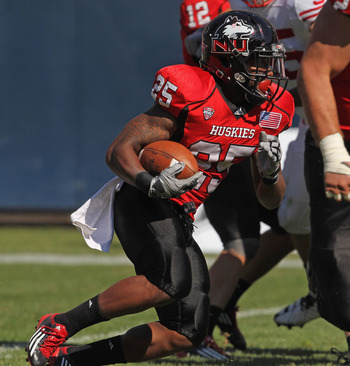 Jonathan Daniel/Getty Images
Their niche: Black, Red, Black
The niche, listed above, refers to the helmet-jersey-pants color combination that Northern Illinois has taken ownership to.
The Huskies always wear black helmets, red or white jerseys, and black pants, which makes for a cool look.
Their one downside was the outdated look of their uniforms, but last year they received new sets from Adidas. They are one of the few teams that wears a modern uniform template with some class.
That's because a lot of modern uniforms features are excessive and can be colored in based on team's requests. A lot of teams over do this and get awful results. Northern Illinois wears a pretty simple version, but it's still striking and progressive looking.
San Diego State Aztecs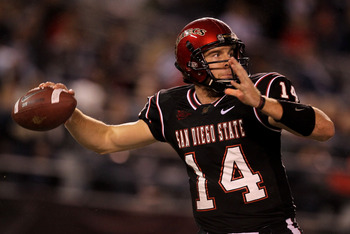 Stephen Dunn/Getty Images
Their niche: The helmets and branding
San Diego State is that team known for wearing the shiny crimson lids, black jerseys, and black pants.
Despite a dynamic and well designed identity, San Diego State has worn a classically striped, yet modern uniform, defying trends.
They actually even wore a two-toned helmet in the past, with an air-brushed black area at the bottom of the helmet, turning into red on top.
That helmet was scrapped several years ago, but their current unique shade of red is still a huge part of their look.
Southern California Trojans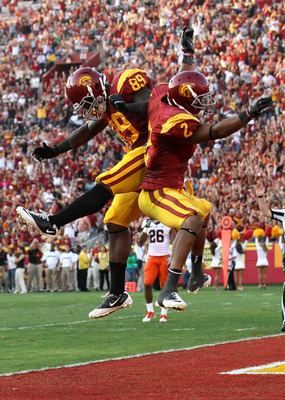 Stephen Dunn/Getty Images
Their niche: Color Scheme
USC's uniforms are striking thanks to a wonderful color scheme. The home uniforms have zero white on them, and the banana-stripe on the jerseys is a design element that has become USC's to lose as more and more teams move to modern styles.
They also don a grey facemask, which gives a throwback look to the uniform.
Oregon Ducks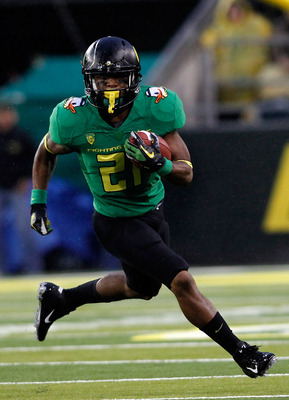 Jonathan Ferrey/Getty Images
Their niche: Change
Yes, I realize Oregon's style contradicts the parameters set at the beginning of the article. But, let me tell you why they deserve the spotlight in this list.
Oregon was the team that started the uniform craze in college football. Before the Ducks' relationship with Nike produced college football's biggest wardrobe closet, college football uniforms were not given much attention.
Turn the clock ahead to 2011, and every team is going into the next week thinking of what new uniform they are going to throw on next.
Every time some team wears a different colored helmet, or special jersey, or excessive doses of black, the first thought that goes through someone's mind is, "Who do they think they are? Oregon?"
Oregon owns change. They own craziness. They own dressing outside of the box. Their brand is wearing fresh digs, and if they stopped doing that we would probably all scratch our heads.
Because of this, Oregon is exempt, and should be encouraged to keep breaking barriers. Plus, a lot of their uniform combinations actually look fantastic.
Georgia Bulldogs
Kevin C. Cox/Getty Images
Their niche: The Silver Britches
Georgia's pants are the most emphasized part of their uniform.
No other college football team claims that.
The "Silver Britches" was the nickname given to the Dawgs decades ago, and the importance of this look was brought into a new light this fall when Georgia wore plain, red pants in their season opener.
The only downside to this uniform is the fact the material Nike uses these days does not allow for a shiny finish, leaving Georgia's pants matted and dull.
Other than that, these uniforms are classic. Georgia's helmets are also iconic, and their jerseys are simple yet striking.
And, the red-white-black stripe on Georgia's pants has become Georgia's to own. No other college football team could wear that stripe pattern and get away with it. When a team has leverage in a design element, it deserves a place on this list.
A lot of modern uniforms rely on design elements that are presented by manufactures. Georgia owns their own element, which a lot of teams on this list can't even relate to.
Tennessee Volunteers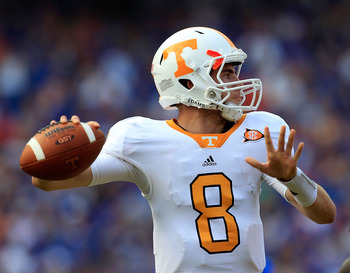 Sam Greenwood/Getty Images
Their niche: That darn shade of orange
Alabama and Florida fans love to tell Tennessee how ugly their orange is.
But, anyone in their right, unbiased mind knows the Volunteers have awesome uniforms.
The "T" is another iconic logo that uses simplistic design to its advantage. Also, the Volunteer's are another team that doesn't mess around with crazy stripes or piping.
Certain teams have taken so much ownership in their color scheme that they use their colors, not their cool designs, to display their identity.
Tennessee is obviously one of those teams. They are also another team that uses a lot of white in their home and road uniforms.
Alabama Crimson Tide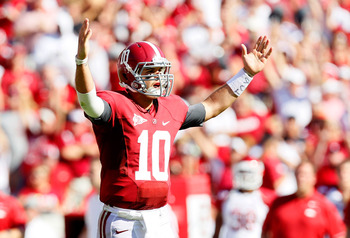 Kevin C. Cox/Getty Images
Their niche: Numbered helmets
You can't think of classic uniforms without thinking of Alabama.
The Crimson Tide's simple uniforms don't even warrant a helmet logo.
Alabama has traditionally worn helmet numbers instead of T.V. numbers on their jerseys, giving them an iconic look. It also doesn't help that their shade of Crimson is unmistakable, and the grey facemask is a throwback element that will never go away.
Alabama's uniforms are so timeless that they barely changed when their Pro Combat versions arrived last season. The Pro Combat uniforms simply used a sublimated houndstooth pattern in the helmet numbers and jersey numbers, and the pants stripe was slightly altered to conform with the new material.
Sure, their uniform can be boring, but it's too unique to dump and it never will be dumped.
Auburn Tigers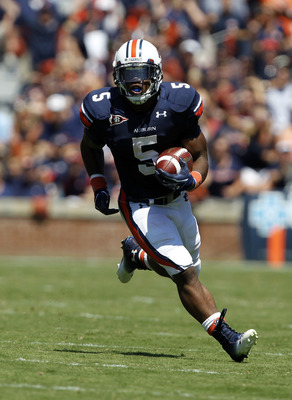 Butch Dill/Getty Images
Their niche: The Tri-Stripe
Auburn is the team that technically owns the "tri-stripe", which is the stripe design seen on the helmet and jerseys.
Their color scheme or deep blue and bright orange is also awesome, and the balance of all three colors in their home uniform is wonderful.
Auburn's only negative uniform element is a new one.
This season they began wearing new uniforms from Under Armour that feature a material-restriction on the pants. Auburn's pants stripe actually is truncated near the knee, which means the stripe is cut off because of a seam in the material.
That leaves a really, really strange looking pants design. Other than that, Auburn's overall look is awesome.
Brigham Young Cougars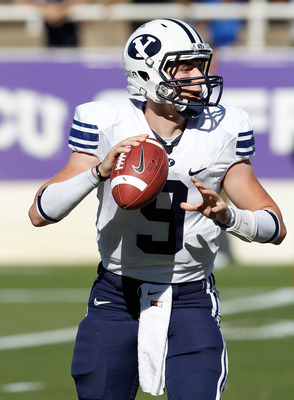 Tom Pennington/Getty Images
Their niche: The "Y" in the oval
For a team called BYU, it's interesting that they choose "Y" to be the only letter present on their helmet.
That's drawn enough attention to BYU's uniform to earn it an award.
Other than that, you've got to love the simple combination of navy blue and white.
Notre Dame Fighting Irish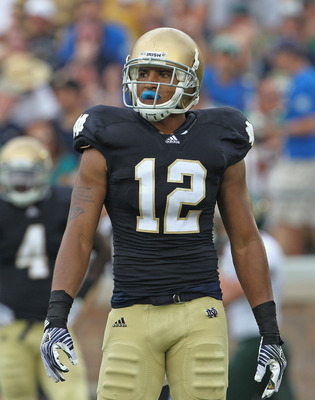 Jonathan Daniel/Getty Images
Their niche: The golden domes
Notre Dame is known for their plain, gold helmets.
The equipment team actually repaints the helmets with glittery, gold paint before every game.
No other team in college football has equipment that gets just as much treatment as the players do from the training staff.
Keep Reading