Michigan Wolverines: Why 2011 Is 2010 Is 2009 and Why It Isn't
October 7, 2011
Leon Halip/Getty Images
I hate the fact that Michigan is ranked No. 12 in the country right now. If Michigan fans have learned anything over the past two seasons they should understand why. It's not that I don't like to see Michigan get recognized for success but that recognition should come with a little realism.
Or am I being too pessimistic? Michigan has shown improvement in key areas and there are definitely some winnable games ahead.
Any good debater can tell you they key to winning an argument is being able to argue both sides so let's take a look at the 2011 so far and what lies ahead. We'll examine the Wolverines from both perspectives and see which one comes out on top.

Why 2011 is 2010 is 2009
First of all I'm just going to ignore the wins over Eastern Michigan and Western Michigan. Those victories matter about as much as half of the NBA season.
Next, let's take a look at Notre Dame. For the second year in a row, Notre Dame handed Michigan on a silver platter with five turnovers, three of which were unforced, and it still took a last-minute miracle drive, some lucky jump balls, and a hilariously wide open Jeremy Gallon to win that game. Notre Dame is better than they played that game and the only thing that win tells us is that Michigan isn't really as good as advertised.
In Week 4 Michigan played host to a San Diego State team that lost its head coach, offensive coordinator, and its five best receivers to either the NFL or injury. SDSU was good last year but not a lot of teams can perform to the same level after taking those kind of losses.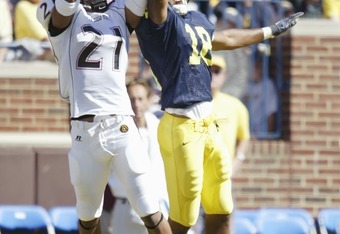 Tom Pidgeon/Getty Images
Last week Michigan absolutely dominated a Minnesota team that was forced to start a true freshman at quarterback that enjoys throwing passes to his imaginary friend in the sky, has no defense to speak of, and really has no business being on the same field as any other Big Ten team this year. The Gophers will probably go winless throughout the rest of the conference schedule.
But last time I checked wins were a good thing, right? Sure, but I think you have to look at the quality of the wins and Michigan lacks that on their resume right now. Did I mention all of these were home games for Michigan?
What's worse is that, from that perspective, this Northwestern game tomorrow is almost a lose-lose. Beat Northwestern and that tells us next to nothing; Michigan is supposed to beat Northwestern. Lose to Northwestern and, well, you just lost to Northwestern which just isn't good for anyone.
The most telling game will come in two weeks at Michigan State although the jury is still out on what kind of team MSU is fielding this year. They lost on the road against Notre Dame and their best victory came on the road against Ohio State in what might have been the ugliest and most uninspiring Big Ten game of the season (at least until Minnesota plays Purdue this week in a game that will probably be remembered as "The pillow-fight").
That being said, Michigan State is still a decent team and probably better than Michigan. They will definitely show up for the Michigan game, as they always do and Michigan could realistically lose this game.
Michigan will still have to close out the season at Iowa, at Illinois, play host to Nebraska and then Ohio State with Herron and Posey (providing they can manage to keep out of trouble until then). The road ahead isn't going to get easier for the Wolverines and for that reason the 2011 season could end up being a repeat of 2010 and 2009.
Why 2011 isn't going to be a repeat of previous years
I think the most important thing to look at here is the coaching situation for Michigan. This isn't to bash Rich Rodriguez (God knows there's been enough of that) but I think Brady Hoke is a wiser man than Rodriguez and he knows not to meddle in his coordinator's affairs. This is what will separate the 2011 Michigan team from their Rich Rodriguez counterparts of the past two years.
First of all, the effects of having Greg Mattison as the defensive coordinator have already shown and I'm talking about in more reliable but less tangible measures than the scoreboard. Take a look at film from the Michigan vs. Western Michigan game and then take a look at film from the Michigan vs. Minnesota game.
If you look closely at the first game you'll notice defensive players in the first example that are confused while trying to line up in formation. You will see blown coverage in the secondary as a safety forgets he's supposed to help J.T. Floyd cover two receivers in the red zone. You will see sloppy tackling, bad angles and over-pursuit.
Now look at the second tape and try to pick out any of those same mistakes. If you can pick up more than six of those mistakes then you were watching a different game than I was. Michigan tackled well on the day and played solid, patient defense.
And that, ladies and gentlemen, is know as progress on the defensive side of the ball. Feels kind of strange and different but I like it.
On the other side of the ball we have offensive coordinator Al Borges who, I'll admit, I had to google to see what all he has done in his career. I was impressed with what he had done but I was skeptical with what he could do with Denard, the likes of which he had never coached before.
There is no denying that the offense has regressed from the machine it was last year and part of that is by design. Another part of that isn't. Denard doesn't look comfortable throwing vertical routes, nobody has really emerged as a go-to running back, and just about every snap from the I-formation has been a wasted down.
The good thing is that Al Borges is an extremely smart man and has recognized all of these things and, over the last couple of weeks, has addressed just about everything.
In the Minnesota game we saw a lot of shorter and intermediate routes to get Denard's confidence up.
If Denard is the best runner you have then put your back-up in at QB and run some misdirection with Denard in the backfield. (Raise your hand if you were screaming for this last year. Oh good, I'm not alone).
Last week I counted only three snaps from the I-formation. Everything else was from the shotgun or that modified wishbone we saw in the wrinkle situations.
If there is any reason why Michigan is going to be more successful in 2011 than they were in 2010 and 2009, it's that Brady Hoke is smart enough to know that he's not smart enough and so he hired two guys to run his team that have proven they know what they're doing so far.
So which one is it really?
It's hard to tell based on what little information we have gathered so far. A deeper look into stats, individual performance and the depth chart wouldn't reveal too much outside of what we don't already know: The offense consists of Denard Robinson keeping Michigan alive with his feet and the defense has improved by an unmeasurable margin at this point.
They are ranked 99th in passing offense and seventh in rushing offense and are 16th and 54th in passing defense and rushing defense respectively.
Looking at those rankings a quick eyeball test tells us that they've regressed on offense and improved on defense. Based on nothing scientific I would say that leans us in the direction of a repeat of last year, not counting the intangibles of the great job Borges and Mattison are doing.
Michigan fans, don't get your hopes for a BCS berth up just yet because there's still a lot of football to be played and, if Michigan wants to play in the first Big Ten championship game, Michigan State and Nebraska are must-wins. This might be easier said than done.