Andre Johnson Injury: Projecting Numbers for Jacoby Jones and Kevin Walter
October 7, 2011
Bob Levey/Getty Images
This week will be a very telling week for the Houston Texans, because, although they are 3-1 and rolling with confidence, they are without their best player in WR Andre Johnson for the next few weeks.
However, this is also an opportunity for Houston to really display how good of a team they are, because winning games without your best player only makes you that much more dangerous when he returns.
To that end, their two WRs in Kevin Walter and Jacoby Jones must step up in order to keep coach Gary Kubiak's offense a multidimensional threat.
RB Arian Foster, although healthy, has a sensitive hamstring, so using him cautiously is going to force the passing game to be that much more effective—even without Johnson.
And, although the defense has greatly improved, they're still not good enough to consistently win games 10-7, 7-3, or even 14-10.
So there in lies the pressure of the offense, especially Walter and Jones, to step up and get the job done.
How do they perform this week?
Well, let's break 'em both down and see what happens versus the 2-2, but hungry Oakland Raiders.
Kevin Walter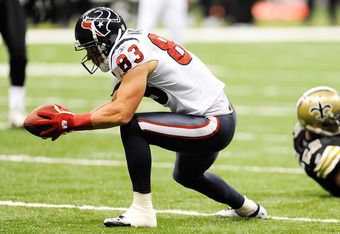 Stacy Revere/Getty Images
Right now Kevin Walter is the key to maintaining the Texans' offense intact.
RB Arian Foster will be solid, but only if Houston can remain versatile, and with Walter's experience and previous success, he'll be held to a high standard.
Since he joined Houston in 2006 he's been the trusty sidekick to Andre Johnson, but now he must emerge as more than just another No. 2 WR.
The Raiders have a weak pass defense, and they allow an average of 274 yards per game, which ranks them No. 22 in the NFL.
However, they're linebacking core is very good in Rolando McClain, Kameron Wimbley and Quentin Groves, so intermediate routes will be tough to come by.
With that in mind, Walter will also see a good amount of single coverage as TE Owen Daniels is currently the best threat since Johnson is out.
This is where Kevin will step up and stretch the field, opening it up for Jacoby Jones (more on him in a bit) and taking pressure off the ground game.
By game's end Walter should have received at least eight or nine targets, caught at least four or five and gained about 60-70 yards.
He's not going to score, but he will prove to be productive enough in drawing a safety for over-the-top help a few times.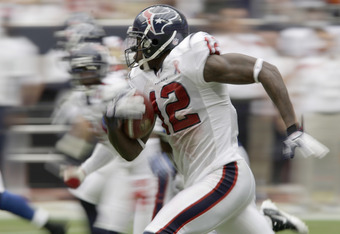 Thomas B. Shea/Getty Images
Jacoby Jones
Although Jacoby Jones has more targets (ten), catches (six) and yards (91) than Kevin Walter, he's not nearly as established of a WR.
However, his contributions are very important in Week 5, because with Walter needing to stretch the field and TE Owen Daniels spreading Oakland's solid LBs in coverage (regardless if it's man or zone), Jones will be open on quick slants, drags and deep comeback routes.
We also may see him receive a fake handoff on a jet sweet or something related to draw up any defender to manipulate the Raiders weak pass defense.
And, as long as Walter can stretch the field, Jones will find it nice over the middle in the zone's as well as on quick screens and bubble screens.
Since he's quicker and can accelerate faster than Walter or Daniels, the sooner the ball gets into his hands the better, because otherwise he won't be as productive.
Also, don't be surprised if he does receive a jet sweep or two to add another dimension to Houston's rushing attack, therefore allowing Arian Foster to not only be a decoy, but deal with less defenders in the box when actually getting a handoff.
For Week 5, Jacoby will have compiled around 50-60 total yards, received seven touches (four catches, three handoffs) and scored one TD to help Houston improve their record to 4-1.
Be sure to check out John on Bleacher Report.
And, you can follow him on Twitter @ Sportswriter27.