LaMichael James: Dislocated Elbow Ends Oregon RB's Heisman Hopes
October 7, 2011
Jonathan Ferrey/Getty Images
When LaMichael James went down with a dislocated elbow in the Oregon Ducks 43-15 victory over Cal on Thursday night, his hopes of winning the Heisman Trophy this year went down as well.
He already wasn't making a strong case for the Heisman, especially after a very slow start to the season against LSU and Nevada.
Against LSU, he only ran for 54 yards on 18 carries in Oregon's 40-27 loss to the Tigers in Dallas.
Not showing up for the biggest game of the year didn't do much to kick off his potential Heisman season. Big time players show up in big time situations, and James didn't do that in his first test of the 2011 season.
He had a rough second week against Nevada too, rushing for only 67 yards on 12 attempts.
But in that game the Ducks won handily, 69-20, so they didn't need much from James. He really could have used some major stats in that game to get back on track and he didn't get them.
Heisman voters will definitely dock him for his slow start to the year.
Now, this dislocated elbow comes at the worst possible time for his Heisman hopes.
He's been absolutely on fire lately, running for 204 yards and three touchdowns against Missouri State, 288 yards and two touchdowns at Arizona and he had 239 yards before injuring himself against Cal.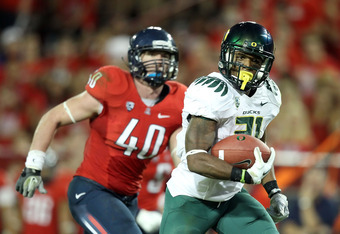 Christian Petersen/Getty Images
Now he's probably going to miss a game or two nursing his injury.
Missouri defensive end Jacquies Smith had a dislocated elbow earlier this season and missed two games, so that's about the amount of time James should expect to miss.
Missing two games during a potential Heisman season is devastating. Not being able to rack up yards and touchdowns against Arizona State and Colorado will effectively end his shot.
James says he thinks he can be ready to play next Saturday, without missing a game.
If that's the case, he's still a long shot to get back on his Heisman track.
The Ducks likely wouldn't hand him the ball 30 times a game. Also, he might fumble more often with opposing defenses targeting the sore elbow.
Both of those things will keep him from eclipsing the 200-yard mark every week.
Ultimately, his dislocated elbow will prevent him from climbing back into contention for the Heisman Trophy.