Fantasy Football Player Rankings: Week 5 Running Back Consistency Rankings
October 7, 2011
Larry French/Getty Images
The fourth week of the football season has come to a close and if your fantasy football team is struggling you need to make moves now before it is too late. With our latest rankings we have figured out which players are truly fantasy elite, not just because they have the most points. With these rankings you can tell which players are going to be consistent, can perform against even some of the toughest defenses and, well, who is just having a monster year.
You may notice some names are missing, as good as players like Kenny Britt and Jamaal Charles are, they are also gone for the year so there is no need to rank them. Some others, like Miles Austin and Aaron Hernandez will still make their respective lists. Sure, they are out for some time, but they have been consistent all year and have the season totals to keep them in the ranks.
How It Works: We analyze each player's performance on a weekly basis, then determine their rankings based on the defenses they went up against. It is too easy to say that the guy with the most points is the best in the week, but what if he went up against the league's worst defense? We would be hyping up a guy that could go and put up a goose egg against a defense like the Ravens. Their overall rankings, however, are then calculated looking at consistency. Just because Jermichael Finley had three touchdowns this past week, it doesn't a guarantee him a spot in the top-5. If you own Finley you were likely let down by the numbers he put up in the first two weeks.
1. Ray Rice, Baltimore Ravens
Rice had an impressive outing against one of fantasy's toughest defenses. The Jets had some trouble stopping Darren McFadden and the Raiders a week earlier and the Ravens exploited those mistakes in week four. Rice could only muster up 66 yards on 25 carries but added a touchdown and 64 receiving yards. The Ravens-Jets matchup featured little offense, and when the unit struggled the Ravens decided to lean on Rice heavily. His 25 carries were the most this season and shows that the Ravens will look to their feature back when times get tough.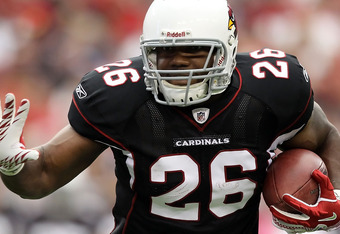 Christian Petersen/Getty Images
2. LeSean McCoy, Philadelphia Eagles
McCoy's week four performance against the 49ers was forgettable to say the least, but we won't hold it against him because the Niners are incredibly tough against opposing running backs. McCoy still has a nose for the endzone taking a short 5 yard pass from Michael Vick to score for the sixth time this year. McCoy's running totals really had been impressive leading up their week four loss to San Francisco, but no one runs against the Niners so we don't hold this matchup against him.
3. Darren McFadden, Oakland Raiders
McFadden owners were probably worried going in to the week four matchup considering Run DMC was nursing a sore hamstring. He still was able to break a 40-yard run and a 25-yard catch in the outing so he didn't appear to miss a step. He did miss an opportunity to score on a short yardage, goal line run that the Raiders inevitably had to bring in Michael Bush to capitalize on however. Still, the Patriots knew that in order to beat the Raiders, they would have to stop McFadden. The Pats had great success doing the same to Antonio Gates earlier in the season, but only mild success against McFadden. It is going to be a race to finish line to see who is fantasy's best back at year's end.
4. Beanie Wells, Arizona Cardinals
Despite missing a game this season, Wells has more fantasy points than some big name players. During the Cardinals week four matchup against the Giants, the passing game really fell apart and, much like the Ravens, the team had to rely on their rushing attack. Wells tallied five yards per carry added three rushing touchdowns from inside the five yard line. Wells' scoring plays were mostly setup by big plays from Larry Fitzgerald and equally poor plays from the Giants' offense. Not to take anything away from Wells, just don't expect him to score a ton of touchdowns in this offense. So far Wells has been the most consistent player on the Cardinals offense by gaining nearly 100 yards rushing in each game and scoring a touchdown in each as well.
5. Fred Jackson, Buffalo Bills
Jackson came in to the season with a chip on his shoulder. He has been a consistent producer for the Bills for years but has never had much national recognition and has had his calls for a new contract go unanswered. So far this year he has looked like a man possessed, and it doesn't hurt that he plays for arguably one of the potent offenses going. Not only is Jackson fourth in rushing yards, but he has made CJ Spiller completely unnecessary with ninth most receiving yards by a back.
Check out TheSportsCannon.com to see the rest of the Fantasy Football Week 5 Running Back Rankings, complete with PPR rankings as well.
The Sports Cannon is a fantasy football news website that offers free advice, rankings, waiver wire pickups and matchup rankings. You can follow TSC on Facebook or Twitter and can even email your questions to: advice@thesportscannon.com.