Week 5 Start 'Em, Sit 'Em: Jermichael Finley and 4 TEs You Must Start
October 7, 2011
Jonathan Daniel/Getty Images
When it comes to fantasy football, having a solid TE each week can really give you a big advantage.
And when we really think about, there's quite a few TEs in the NFL who are the favorite target of their QB.
Then again, the TE is a huge safety outlet in combination with being a solid No. 1 or 2 option when reading through progressions.
That said, here are the four TEs you must start in Week 5, provided you're fortunate enough to have one of them.
Jermichael Finley, Packers (at Falcons)
Although all three of Jermichael Finley's TDs came in one game (Chicago Week 3), he has put up decently consistent numbers otherwise.
And even with Aaron Rodgers having other great targets such as Jordy Nelson, Greg Jennings and Donald Driver, Finley gets his fair share of looks.
Not to mention, now that he's healthy Finley only makes the Packers that much more dangerous.
This week against Atlanta, it will be a battle of TEs (spoiler alert), and Finley will dominate against the Falcons' weak No. 24-ranked pass defense.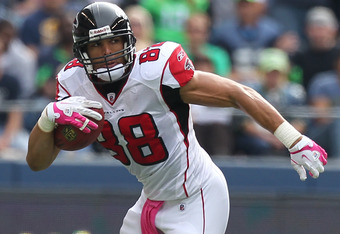 Otto Greule Jr/Getty Images
Now, he's not going to get 150 yards and score two TDs, but he will account for close to 100, and reach pay dirt at least once.
Tony Gonzalez, Falcons (vs Packers)
He's Matt Ryan's favorite target in the red zone, which is where Tony Gonzalez is at his best.
Even though WRs Roddy White and Julio Jones have 45 and 38 targets, respectively, Gonzalez has 33 of his own and leads the Falcons with four receiving TDs.
Out of all of Ryan's targets, Tony is also the most reliable, despite not being great at getting yards after the catch, he can out-leap any defender on the field.
Also, despite the Packers being 4-0 and improving defensively, they still rank No. 31 in pass defense.
Therefore, anticipate Ryan spreading the ball around, but don't worry because Gonzalez will get his numbers (seven catches, 100 yards, one TD) and keep rolling as the NFL's best TE.
Brandon Pettigrew, Lions (vs Bears)
Despite not reaching the end zone yet this season, Lions TE Brandon Pettigrew has 22 catches for 240 yards from 31 targets, all of which are second on Detroit only to Calvin Johnson.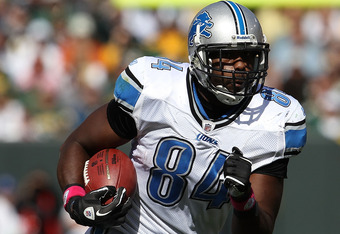 Jonathan Daniel/Getty Images
This week Pettigrew and the explosive Lions play host to the Bears on Monday night, and will dominate, as Chicago ranks No. 29 and No. 23 in pass and rush defense, respectively.
QB Matthew Stafford is excellent at dishing the ball around like John Stockton, and Pettigrew will score his first TD in 2011, as well as contributing with six catches for about 90 yards.
He's obviously not going to match Megatron, but he is the Lions' second best receiving target.
Todd Heap, Cardinals (at Vikings)
Right now Todd Heap is considered a game-time decision, but he hasn't missed a game yet this season, plus Arizona needs all the help they can get right now to win, so chances are Heap suits up on Sunday.
To the end, Heap is a good start versus the Vikings this week, as Minnesota has the No. 28-ranked pass defense.
As for Heap, he only has 13 catches on the year, but much of that could be because he's on a team with a sick WR in Larry Fitzgerald, something Baltimore never had, hence, he was the Ravens' best receiving target.
In Arizona though, Heap will increasingly contribute as QB Kevin Kolb gradually gets acclimated to being a full-time starter for the first time.
Also, in the last two games, Todd has compiled 102 yards on ten catches, so he's definitely being targeted more often.
This week he will have his best game thus far in 2011, and nab eight balls for 110 yards and score one TD.
The Cardinals desperately need him to become a dominant threat also, because that will then open up passing lanes for Fitzgerald, as well as help out their weak run game.
Be sure to check out John on Bleacher Report.
And, you can follow him on Twitter @ Sportswriter27.