Fantasy Football Player Rankings: Week 5 Quarterback Consistency Rankings
October 7, 2011
Matt Ludtke/Getty Images
The fourth week of the football season has come to a close, and if your fantasy football team is struggling, you need to make moves now before it is too late.
With our latest rankings we have figured out which players are truly fantasy elite—and not just because they have the most points. With these rankings you can tell which players are going to be consistent, can perform against even some of the toughest defenses and, well, who is just having a monster year.
You may notice some names are missing, as good as players like Kenny Britt and Jamaal Charles are, they are also gone for the year so there is no need to rank them. Some others, like Miles Austin and Aaron Hernandez will still make their respective lists. Sure they are out for some time, but they have been consistent all year and have the season totals to keep them in the ranks.
How It Works: We analyze each player's performance on a weekly basis, then determine their rankings based on the defenses they went up against. It is too easy to say that the guy with the most points is the best in the week, but what if he went up against the league's worst defense? We would be hyping up a guy that could go and put up a goose egg against a defense like the Ravens. Their overall rankings, however, are then calculated looking at consistency. Just because Jermichael Finley had three touchdowns this past week, it doesn't a guarantee him a spot in the top five. If you own Finley, you were likely let down by the numbers he put up in the first two weeks.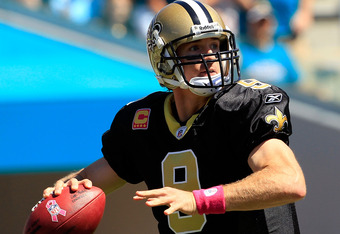 Sam Greenwood/Getty Images
1. Aaron Rodgers, Green Bay Packers
Rodgers had a career day against the Broncos, throwing four touchdowns and running for two more. The Packers' QB is doing it all, and the Pack seem poised for another Super Bowl run. Rodgers isn't just killing it for the Packers, he is probably single-handedly winning you games every week in fantasy too. Rodgers threw for over 400 yards, had four passing touchdowns and ran for two more in week four. That being said, the Pack did play the Broncos. So while Rodgers is still our top rated quarterback, he wasn't our choice for best of the week...
2. Cam Newton, Carolina Panthers
...This guy was. Newton went up against arguably his toughest test of the season on a windy day in Chicago—and came out swinging. The Panthers have totally bought into their rookie quarterback, ignoring the fact the Bears had the 23rd ranked run defense and the team employs two very capable running backs. Newton threw for 374 yards, marking the third time this season he has thrown for over 350 yards. Newton did throw his first interception of his young career, but also picked up two rushing touchdowns on the day.
3. Tom Brady, New England Patriots
Brady didn't have his best game of the season against the Raiders, but he still put up very strong fantasy numbers. Brady owners likely expected more form their gunslinger against a Raiders defense that had given up good points to sub-par quarterbacks this season. There is no arguing that Brady has been scary good this season, but he is a step below Newton and Rodgers as far as the level of competition he has faced.
4. Drew Brees, New Orleans Saints
Brees has had back-to-back two interception games, but we aren't concerned about Brees. The Saints are going to get their main targets back in the passing game with Marques Colston being fully healed from a broken collarbone. Jimmy Graham has stepped up as a Jason Witten-type figure with Antonio Gates' athleticism, so Brees should only improve on what have been very impressive numbers.
5. Matthew Stafford, Detroit Lions
Stafford and the Lions had their work cut out for them against the Cowboys in Big D, but he still found a way to win it at the end. Having Calvin Johnson on your team makes things much easier too, but Stafford has been finding ways to involve more players in the offense lately. Stafford has done a good job of working tight end Brandon Pettigrew into the gameplan lately, and has been able to utilize Nate Burleson and Titus Young when the situation has called for it. The Lions have fallen behind early in the past two weeks, and their run game is one of the worst in the league. This actually bodes well for Stafford's value as it means he will have to pass early and often.
Check out TheSportsCannon.com to see the rest of the Fantasy Football Week 5 Quarterback Rankings.
The Sports Cannon is a fantasy football news website that offers free advice, rankings, waiver wire pickups and matchup rankings. You can follow TSC on Facebook or Twitter and can even email your questions to: advice@thesportscannon.com.