Fantasy Football Week 5 Projections: Sleeper, Creeper, Stud and Dud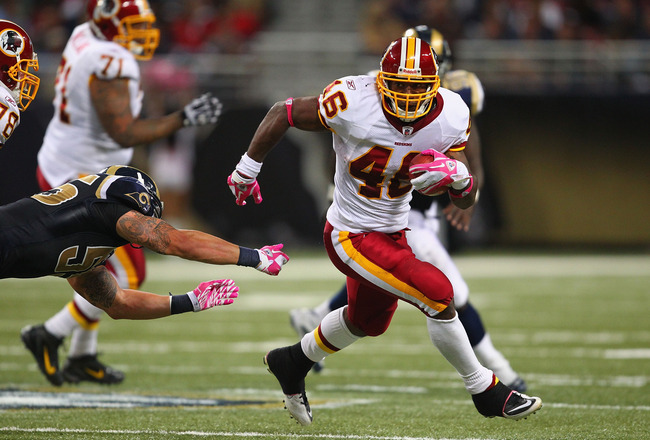 Dilip Vishwanat/Getty Images
The hot waiver-wire claim this week must be Ryan Torain. He had a great week filling in for Tim Hightower and if Washington wasn't on a bye, I'm sure he'd do the same this week. We'll see who is healthy in the Redskin backfield come Week 6 and if Torain retains his value.
Beyond Torain, there shouldn't be too much action on the waiver wire this week. No big injuries or emerging players last week, except for one, who is my Creeper this week.
Outside of finding the hot waiver-wire ticket to fantasy glory, it is important to analyze your players' matchups and figure out who your must-starts are and who might need to sit the week out.
Stud: High draft pick with a favorable matchup this week.
Dud: High or moderate draft pick with an unfavorable matchup this week.
Sleeper: Unknown who has a favorable matchup this week.
Creeper: Known player who has been average recently, but has a favorable matchup this week.
On to the Sleeper, Creeper, Stud and Dud!
Week 5 Sleeper: Isaac Redman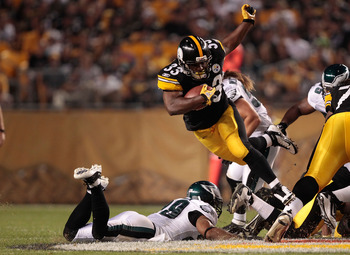 Jared Wickerham/Getty Images
With Mewelde Moore ruled out and Rashard Mendenhall nursing an injury, Isaac Redman is preparing to start Week 5 at home hosting the Tennessee Titans, who have a strong defense. I think the Titans might overlook Redman and prepare for the Steelers to air it out.
With Ben Roethlisberger hobbled by a foot injury, footwork when handing off could be an issue, but draws and screens should be effective beating the Titan pass rush looking to hurry the immobile QB. That is where Redman steps in and takes over this game.
Week 5 Creeper: Curtis Painter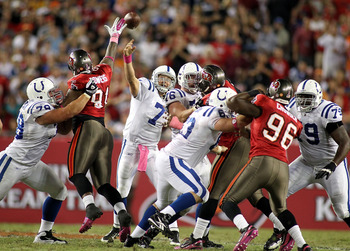 Marc Serota/Getty Images
Curtis Painter received his first start last Monday night on the road and played well enough to earn another this week hosting the Kansas City Chiefs, who are inept at defense without Eric Berry in the secondary.
Painter finished with 17 points in standard leagues (287 yards and two TD passes). Not bad just looking at that, but he did it with a pretty low completion percentage in a losing effort. Expect him to improve upon those numbers as he faces an easier defense and plays at home.
Week 5 Stud: Maurice Jones-Drew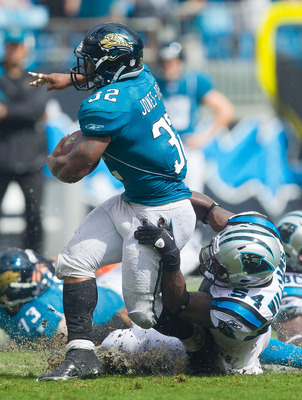 Brian A. Westerholt/Getty Images
Maurice Jones-Drew is a must-start every week, but expect him to really roll at home against a Bengals run defense that has been playing above its ability the first four weeks of the season. I expect them to come in overconfident and get a heavy dose of reality.
MJD is not Frank Gore or Peyton Hillis. He is much faster and more elusive. Expect a big day.
Week 5 Dud: Wes Welker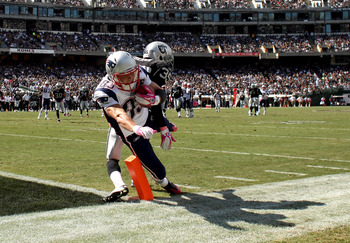 Ezra Shaw/Getty Images
Wes Welker is all too familiar with the NY Jets secondary. He knows when he has a good matchup and communicates it to Tom Brady to get him the ball.
Unfortunately, I don't see the Jets allowing him to get a good matchup. I expect they'll put Welker on Revis Island and limit his impact on the game, forcing Brady to throw outside to Branch and Ochocinco. To beat the Patriots you have to eliminate the quick hitters and pressure Brady constantly. That means blanketing Welker and Gronkowski, who will be a mismatch wherever he lines up.
Eliminating the run is important too, but that won't keep the Patriots out of the game. Regardless, Welker will receive fewer targets as the Jets will force Brady's attention elsewhere, resulting in a below-average fantasy output for Welker.
Keep Reading