Miami Dolphins Won't Intentionally Suck for Luck, but Could Still Get Lucky
October 7, 2011
Ezra Shaw/Getty Images
A 0-4 start to the season has all but ensured that the Miami Dolphins find themselves in the Andrew Luck sweepstakes.
The No. 1 pick in the 2012 NFL Draft has become as coveted by fans of less successful teams as the Super Bowl is to fans of the Steelers, Ravens, Packers, Patriots, as well as other members of the NFL's elite.
With the Colts, Vikings, Rams, and Dolphins all winless, they currently find themselves in pole position for college's most in-demand quarterback since Peyton Manning.
Kansas City Chiefs and Seattle Seahawks are not yet out of the running either, and, like Miami and Indianapolis, they still find themselves without a franchise quarterback. 
However, with Miami fans so optimistic before the season began, their mood has changed suddenly. Now, many, if not most, are actually supporting the idea of their team losing games to get a shot at drafting Luck.
A large proportion of Miami Dolphins fans want to see their team—the only team to ever win the Super Bowl in an unbeaten season—lose to the Jets, Patriots and Bills on their way to securing the services of a college quarterback.
Firstly, though, it should be made abundantly clear that the Dolphins are not losing on purpose, as some critics have accused them of.
The current team are playing to win.
They don't want to be the worst team in the NFL, and they certainly couldn't care less about a college kid who may or may not declare for the next draft.
Tony Sparano also looks set to be replaced as head coach, as his stay of execution from last year would only be extended if the Phins registered a winning season—something that looks highly unlikely.
Jeff Ireland could also follow Sparano out the door, as his continuing penchant for puzzling personnel decisions continues, so why would the 'Bifecta' instruct their players to lose, knowing that they won't be around next year to coach Luck?
For the record, it's also worth pointing out Luck is a red-shirt junior.
He can stay at college another year if he so chooses, and while it's unlikely, it seems unlikely that any NFL team would tank a season for a player who doesn't necessarily have to enter the draft this year.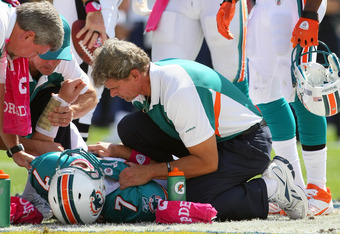 Donald Miralle/Getty Images
However, it should become very clear to fans that no team wants to lose games. Just look at Curtis Painter's performance on Monday night for the Colts for evidence.
All players play the game to win, and it would be very difficult to fathom a team losing games on purpose for a higher draft pick, particularly when their poor performances could result in them being replaced anyway.
Miami is trying to win. And while they aren't going to "Suck for Luck," their poor start to the season suggests that they might unintentionally achieve their goal, because right now, they do not look like a good team.
While Henne's work ethic, attitude and toughness are all beyond reproach, he has not been able to deliver the wins Miami has needed, and the Dolphins will look to the draft for his replacement.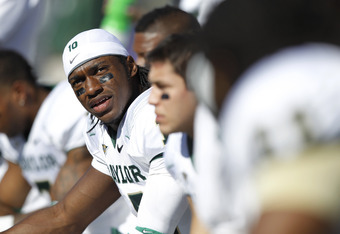 Joe Robbins/Getty Images
However, while the idea of tanking a season for the best college quarterback in the nation seems worryingly appealing when your team is winless after four weeks—and set to start afresh next year—it seems completely against the ethics of the game, and would go against everything that professional athletes have ever been taught throughout their careers.
Regardless of what the teams around them are planning, Miami should not intentionally lose their games for Luck.
The Dolphins, who had a 7-9 record last year, should also win enough games to avoid the worst record in the NFL based on individual talent, but mounting pressure and injuries could severely impact their play.
The season-ending injury to Chad Henne has further hampered their season, and with Matt Moore and Sage Rosenfals as the only quarterbacks on the roster, the Dolphins' struggles could escalate.
There are obviously problems on the coaching, playing and front office side of affairs, but Miami is surely a better team than Indianapolis, Kansas City, Seattle and St Louis, right?
Whether they can translate their talent into wins is yet to be seen (so far, they haven't), but why should they stop trying?
If the Dolphins find themselves 1-11, 2-12, or worse, then it is a different proposition.
Why not give the backups some playing time and allow the rookies an opportunity to shine? Miami may uncover some gems in the process, but if they don't, and lose the final couple of games, maybe it wouldn't be the worst thing to ever happen to the franchise if they get that No. 1 pick.
However, until the final few weeks of the season, let's put off any talk of "Suck for Luck."
Right now, it would do more harm than good.
This isn't to say that Luck is not as good as everybody seems to think he is. He really is that good.
He is the surest thing coming out of college since Peyton Manning, and it is easy for everybody to see just how good Manning is: His Super Bowl ring proves it.
The Stanford quarterback is so highly touted that even Al Davis would be unlikely to pass up the chance at drafting him (note: it's unlikely, not impossible).
Luck is the prospect with the best chance of turning around the fortunes of the Dolphins. He is the best quarterback in college right now, and is a proven winner.
Furthermore, a player with Luck's reputation will almost certainly fill those empty seats that the Dolphins have found in the early stages of the season.
There are plenty of reasons why fans, players, coaches and the owner would want Andrew Luck on their team, but Miami should secure an early pick in the draft regardless of whether it is the first.\
And with the selection there are likely to be a number of quarterbacks available.
Landry Jones, quarterback for current No.1 Oklahoma, is an excellent prospect, with outstanding size, poise, and leadership ability. He is also a proven winner, who threw for over 4,700 yards with 38 touchdowns to 12 interceptions last season.
Matt Barkley, of the USC Trojans, is another candidate.
He is a winner, who has a touchdown-interception ratio of 14-4 in his first five games this season. While he doesn't have the size of other players, he has been touted as a potential first pick of the draft for several years (only most expected him to declare in a different year to Luck).
Robert Griffin III is also likely to make a Cam Newton-esque run at the Heisman Trophy.
And while few expect him to win right now, his performances this year will see him surge up teams' boards closer to the draft.
Judging by his performances over the last two years in college, he could be the real deal, having thrown more touchdowns than incomplete passes so far this season.
Any one of those prospects could succeed in the NFL, so Miami should take their chances trying to win games in the NFL, and then see where they finish the season.
With their pick, it's hard to imagine they wouldn't be in a position to take one of the four quarterbacks mentioned, and any could turn around the fortunes of this franchise.
However, there are a lot of problems which need fixing in Miami.
The defense has been awful this past season; the running game is inconsistent; receivers are dropping passes; the starting quarterback is now on injured reserve; most fans could only name one tight end on the roster; and the offensive line could get a quarterback killed.
Without solving at least half of those problems, even Andrew Luck wouldn't be able to bring a Super Bowl to Miami, so there is plenty on the front office's agenda for the offseason already.
At the end of the season, even if Miami picks second in the draft, then "they are where they are."
Every football fan wants Luck on their team, but if the Phins have to settle for another, then so be it.
They just move on, and strengthen the other areas of need, building the team around their new signal caller.
As for the "Suck for Luck" scenario, it seems highly unlikely that Miami will intentionally follow that path, knowing that it will result in the coaching staff's dismissal, and a rebuild of current playing personnel.
However, the Dolphins might just suck enough for Luck without trying to secure his services.
However, fans should remember that Andrew Luck is not the only man capable of leading Miami to victory, particularly before they start hoping their team loses to the Jets.