The Most Influential Slash Players in NFL History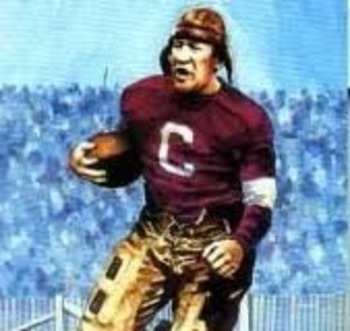 Jim Thorpe was the ultimate sports slash having played football, baseball, basketball, as well as having won Olympic Gold in the pentathlon and decathlon. Currently Tim Tebow's presence in the NFL has made it important to encapsulate an over-looked facet of football.
This article became important to put together based upon all the sports talk about Tim Tebow of late. The question for some fans is why doesn't he get any playing time? While the question for others is: How do you salvage an already damaged situation? Prior to reading this article, you might want to read the following three part series affectionately known as the Tebow Slash-ability Trilogy shown here:
Tebow Slash-ability Trilogy (Part 1)
Tebow Slash-ability Trilogy (Part 2)
Tebow Slash-ability Trilogy (Part 3)
At the origins of the game of football, the concept of a "slash" was built into the framework of iron man football. It usually implied that players would play both an offensive and a defensive position. With such low roster numbers, it was necessary in the early days to have players who knew the game from both sides of the ball.
The college game and professional game began to become independent from one another around the 1940's in their rules and game philosophies. So at the college level, players were always pushed to more or less "give it the old college try" to fill in the gaps that their teams had. This led to players playing a couple positions on their team. Occasionally, at the professional level, there were a few offensive players who would play a combination of tailback, fullback and flanker. Few players could play a combination well that included the quarterback position. However, the concept of a true "slash" player was still a long way off.
In a nutshell, a "slash" is usually a quarterback, but he may not be a starter, and it may not even be his regular position. A "slash" by definition plays multiple positions on the offensive side of the ball, which makes him a threat to run, pass or catch on any given play.
In the modern day NFL, quarterbacks are usually protected within the rules better than they ever have been. Quarterbacks who are slashes basically lose some of that protection once they are involved in the run or the receiving part of the pass game. Keep in mind the financial and franchise investment on any player absolutely has an impact on how they are used.
In the early years, Jim Thorpe became the first Native American Indian to play professional football in the NFL. Thorpe once won two Olympic Gold Medals, one in the pentathlon, and another in the decathlon. However, he was the ultimate sports slash having also played baseball, basketball and football at a high level.
While statistically his numbers were far less than what people would expect from a running back, defensive back, and kicker among other positions. His impact on the game of football transcends the game and the era he came from. Thorpe once kicked two field goals in a driving blizzard through each goal post from midfield for the halftime entertainment. He eventually became known as the best athlete of the 20th Century.
For his pioneering efforts Thorpe makes this list as an honorable mention only because he was not a quarterback for the most part.
The Slash Honorable Mentions That Never Played Quarterback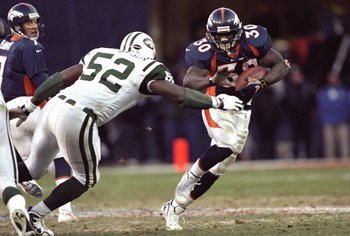 Terrell Davis never played quarterback in the NFL, but he was one of football's all-time notable slash players.
Brian Bahr/Getty Images
In addition to Jim Thorpe, other influential players deserve honorable mentions as well.
Jim Brown is not only a Hall of Famer, but he was the leading rusher in NFL history. He also caught passes out of the backfield and returned kickoffs regularly as part of his regular duties on those Cleveland Browns teams. He also threw for three touchdowns during his time, opening the window of possibilities to the future of the game.
Others like Bob Parsons (Chicago Bears) and Bill Van Heusen (Denver Broncos) also made impact as receivers, tight ends, and as punters. Van Heusen still ranks among the Broncos best punters of all time and owns the average yards per catch record (20.5 yards per catch).
Perhaps, no other player in the history of the NFL took a path quite like the one taken by Terrell Davis. As a high school player, Davis played fullback, nose tackle and four other positions for his team in San Diego. He really had no significant stats or a high volume of film for him to get a traditional look at a D-I school. Fate had things work out with Davis' brother Reggie Webb playing starting tailback at Long Beach State. He encouraged then head coach, the late George Allen, to give Davis a look and possibly a scholarship.
The rest is history. He played tailback at Long Beach but was forced to transfer once the program folded. Davis had a choice between UCLA and Georgia, he chose to pursue the Bulldogs program but then again he had to persevere. He was a backup to Garrison Hearst, then he had an injury, disagreements with the coaching staff, and questions about his toughness arise. It was a lot for an aspiring starting running back to endure.
In the 1995 NFL draft, there were 21 running backs selected ahead of Davis, "TD" as he became know to the Broncos and their fans. TD rushed for over 1,000 yards in his rookie season, then he reached heights of 1,538, 1,750 and 2,008 yards per season over the next three years. Along that road, he helped to lift John Elway and the Broncos onto the championship platform to hoist two Lombardi Super Bowl Championship trophies.
Finally, TD accumulated just under 10,000 cumulative yards on the ground and through the air. He was the best back over a four year period than any other player in the history of the NFL. While that hasn't landed him in Canton yet, it should eventually put Terrell Davis where he belongs - in the Pro Football Hall of Fame.
Now, let's look at the true NFL slashers who also played the quarterback position and try to reach some conclusions.
Fran Tarkenton Was Better Known as the Scrambbler Due to His Running Style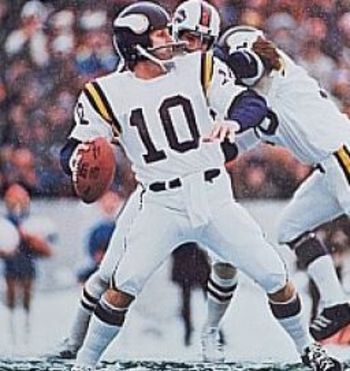 Fran Tarkenton scrambled and passed his way into the record books - in sunshine, rain, or snow.
Fran Tarkenton played 18 years in the NFL as a quarterback starting in 1961. He was not a slash at all during his career, however, he opened the door for the quarterback position to become more than it ever was.
Tarkenton was known as "The Scrambler" because he constantly found ways to get out of the pocket and usually create positive yardage plays due to his illusive style of running with the ball. He was the first quarterback to produce both staggering numbers on the ground as a runner from the quarterback position and through the air as a passer.
When he retired he owned the passing yardage record and rushing record for quarterbacks.
For young quarterbacks who want to see what it originally meant to "scramble" with the ball, look at this highlight clip.
Fran Tarkenton (QB record 124-109-6)
Career Span: 1961-1978
Career Completion Percentage: 57.0
Passing Yards: 47,003
Yards Per Game: 191.1
Yards Per Attempt: 7.3
Yards Per Completion: 12.8
Touchdown Passes: 342
Interceptions: 266
QB Passer Rating: 80.4
Rushing Attempts: 675
Rushing Yards: 3,674
Rush Average: 5.4
Rushing Touchdowns: 32
Marlin Briscoe Was a Pioneer as a Slash at Quarterback and Wide Receiver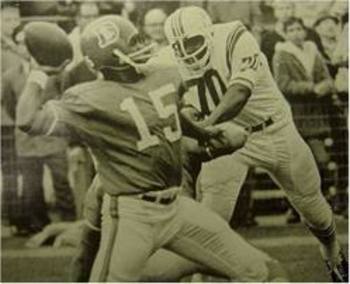 Marlin Briscoe was the first African American to be a starting quarterback in the NFL. He also played wide receiver for five other teams, most notably the undefeated 1972 Miami Dolphins.
In 1968, Marlin Briscoe became the starting quarterback for the Denver Broncos. He started training camp as the No. 8 quarterback on the depth chart. Call it ironic but it is true, three of the most influential "slash" players got their start with the Denver Broncos, all at the quarterback position.
Briscoe is best known for becoming the first starting NFL quarterback who happened to be African American. Additionally, he was one of the first quarterbacks to make things happen with his legs. While in Denver, he became the starter after the starting quarterback Steve Tensi went down with a season ending broken collarbone, and his replacement Joe DiVitto was ineffective.
Briscoe went 2-3 as the Broncos starter that year and connected on 93 of his 224 passes, good for only 41.5 percent. However, he also rushed for 308 yards and scored three rushing touchdowns as the Broncos quarterback. He also threw for 1,589 yards and 14 touchdowns in his only season with Denver—his rookie campaign.
Briscoe was later dealt to the Buffalo Bills where he played flanker and wide receiver. He also played for the Miami Dolphins, Detroit Lions, San Diego Chargers and New England Patriots during his nine seasons in the NFL.
Though he never played quarterback again, what was born was a player who was a true pioneer, a true "slash" of the old school "iron man" ilk. During his career as a receiver and a flanker, he totaled an additional 3,537 yards through the air while scoring 30 touchdowns.
His quarterbacking skills were not developed further during the course of his career. However, his receiving skills helped him find his niche in the NFL, and he showed the world he had a diverse skill-set, which even for it's time was under-appreciated.
Marlin Briscoe (QB record 2-3-0)
Career Span: 1968-1976
Career Completion Percentage: 41.6
Passing Yards: 1,697
Yards Per Game: 144.5
Yards Per Attempt: 7.3
Yards Per Completion: 17.1
Touchdown Passes: 14
Interceptions: 13
QB Passer Rating: 62.1
Rushing Attempts: 49
Rushing Yards: 336
Rush Average: 3.2
Rushing Touchdowns: Three
Receptions: 224
Receiving Yards: 3,537
Receiving Average: 15.8
Touchdowns: 30
Danny White Transitioned from Punter into a Quarterback and Halfback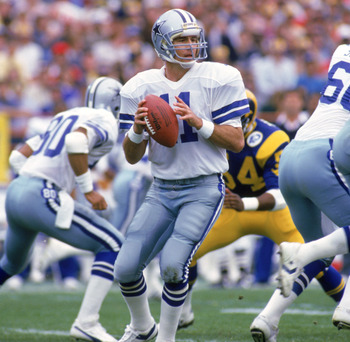 Danny White is most famous for a famous comeback against the Atlanta Falcons and being the losing quarterback vs. Joe Montana in a game defined by "The Catch".
George Rose/Getty Images
Danny White had a fair level of perseverance and patience as an NFL player. He was the eire apparent to Roger Staubach, but he had to wait a very long time (five seasons) before he ever became a full-time starter. So White excelled as the punter for the Dallas Cowboys for most of his NFL career.
Once he was a starter, White constantly kept the Cowboys in the playoffs, and they even reached the NFC Championship three consecutive seasons only to lose out. Nonetheless, he did play a vital role in Super Bowl XII when Roger Staubach was injured he helped to carry the offense for a time and keep the Broncos at bay.
White also engineered one of the greatest come from behind victories when he rallied the Cowboys late to overcome a late deficit against the Falcons on their home turf at Fulton County Stadium. White was as good a game manager as there was, and he was usually supported with a superior rushing attack.
Finally when Staubach was the starter, the Cowboys would occasionally use Danny White on gadget plays to send a sense of fear into the defense and show off his diverse talents. However, when compiling this list, he was probably the least athletic of all the slash players.
Danny White (QB record 62-30-0)
Career Span: 1976-1985
Career Completion Percentage: 59.7
Passing Yards: 21,959
Yards Per Game: 132.3
Yards Per Attempt: 7.4
Yards Per Completion: 12.5
Touchdown Passes: 155
Interceptions: 132
QB Passer Rating: 81.7
Rushing Attempts: 159
Rushing Yards: 482
Rush Average: Three
Rushing Touchdowns: Eight
Receptions: Three
Receiving Yards: 18
Receiving Average: 6.0
Touchdowns: Two
Punts: 610
Punt Yardage: 24,509
Punt Average: 40.2
Longest Punt: 73
Jim Jensen Played Quarterback, Tight End, Special Teams and Wide Receiver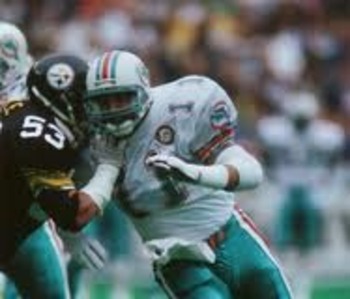 Jim Jensen was not afraid to mix it up as a tight end or on special teams.
Jim Jensen played quarterback, special teams and wide receiver for the Miami Dolphins from 1981 to 1992. He was a one of a kind at the time. He was a college quarterback but had to find a way to stay on the Dolphins roster once Dan Marino was drafted to become the next franchise quarterback in Miami.
Jensen was not afraid to mix it up either, so he could play special teams and even line up at tight end on occasion, usually for blocking purposes. He never had amazing numbers, but he could get the job done. Regardless of the work, he could block and tackle well.
A very important footnote to remember about Jim Jensen is that he came into the NFL as a quarterback from Boston University who finished with a 17-3-1 record. He was a solid college quarterback who could not play that position at the NFL level, yet he was able to stick around out of the urgency to retain an NFL career as a "slash."
Jim Jensen (QB record 0-0-0)
Career Span: 1981-1992
Career Completion Percentage: 57.1
Passing Yards: 102
Yards Per Game: .6
Yards Per Attempt: 14.6
Yards Per Completion: 25.5
Touchdown Passes: Two
Interceptions: 0
QB Passer Rating: 188.7
Rushing Attempts: 26
Rushing Yards: 142
Rush Average: 5.5
Rushing Touchdowns: 0
Receptions: 229
Receiving Yards: 2,171
Receiving Average: 9.5
Touchdowns: 19
John Elway Brought Solid Tools, Confidence and a Face to Mobile Quarterbacks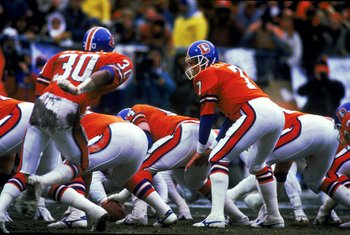 John Elway's legend was built upon the foundation of "The Drive" in Cleveland during the 1986-87 AFC Championship game.
Bob Martin/Getty Images
Two years after Jensen's entry into the league, John Elway was drafted by the Baltimore Colts and later traded to the Denver Broncos. Elway was not a true "slash" though he did catch a few passes in his day; he was a quarterback who was a pure passer. His weapons were his rocket arm and his legs that got him out of numerous hairy situations and helped to create plays.
John Elway's impact on the game of football is self-evident at this point. However, the strength he brought was his ability to run north and south with some elusiveness. It somewhat eliminated the need for a quarterback to scramble as much as Fran Tarkenton had and opened the door to a more solid model or frame of context for quarterbacks to work within.
While Tarkenton's elusiveness is still an important teaching tool for quarterbacks, Elway's focus to get the yards needed to move the chains was his most amazing skill set. He had a nose for where the markers were and insisted on getting the next first down or touchdown. No other time was this skill greater than during "The Drive" in Cleveland during the 1986-87 AFC Championship.
When Elway retired, he had thrown for nearly 10,000 yards more than Fran Tarkenton, ran for roughly 200 less yards and won two out of five Super Bowls. Tarkenton played two more seasons than Elway but reluctantly finished 0-3 in the Super Bowl. Both of these quarterbacks were the very best at opening Pandoras' box to what the future could bring to the game of football.
His legs also helped him run for more yards and touchdowns than any other quarterback prior to his era. In some regard, Elway, Randall Cunningham and Steve Young are at least somewhat responsible for NFL teams seeking more mobile quarterbacks. The eventual entry of Kordell Stewart into the NFL altered that equation even more, but we'll hold that thought for the moment.
Immobile quarterbacks have long been targeted by strong blitz packages to limit their success on the field. Mobile quarterbacks turned the tables on the defenses so that they had to "stay at home" in order to not surrender big plays to the more agile quarterbacks.
John Elway (QB record 162-89-1)
Career Span: 1983-1998
Career Completion Percentage: 56.9
Passing Yards: 51,475
Yards Per Game: 220
Yards Per Attempt: 7.1
Yards Per Completion: 12.5
Touchdown Passes: 300
Interceptions: 226
QB Passer Rating:
Rushing Attempts: 774
Rushing Yards: 3,407
Rush Average: 4.4
Rushing Touchdowns: 33
Receptions: Three
Receiving Yards: 61
Receiving Average: 20.3
Touchdowns: One
Steve Young Had Mobility and the West Coast Offense To Aid His Slash-Ability
Steve Young brought the best of both worlds together first. A mobile quarterback was married to the west coast offense.
Mike Powell/Getty Images
Steve Young brought the best of both worlds together first. A mobile quarterback was married to the West Coast offense. What this did was open up the running game for Young who was a highly mobile quarterback, and it also took pressure off the quarterback position while distributing the ball through a balanced approach to attacking defenses.
John Elway, Steve Young and Randall Cunningham became highly influential players because of their mobility. These NFL greats impacted the future direction of the quarterback position and advancing the "slash" concept without really being full-on "slash" types themselves.
In the old NFL it used to be frowned upon by coaches to have their quarterbacks run and scramble to pick up yards. This sort of thing over-rode the playbook and control that most coaches like to have. Over time, the philosophies changed to make it more acceptable and mainstream to have a mobile quarterback. Since that time, the list of quarterbacks with slash ability has grown greatly since the mid to late 1980s.
Young's slash ability is best typified by a long run he had against the Minnesota Vikings in Candlestick Park with him making every effort to break every tackle and launch himself into the end-zone after a 50 some odd yard run.
Steve Young (QB record 102-55-0)
Career Span: 1984-1999
Career Completion Percentage: 64.3
Passing Yards: 33,124
Yards Per Game: 196.0
Yards Per Attempt: Eight
Yards Per Completion: 12.4
Touchdown Passes: 232
Interceptions: 107
QB Passer Rating: 96.8
Rushing Attempts: 722
Rushing Yards: 4,239
Rush Average: 5.9
Rushing Touchdowns: 43
Randall Cunningham Surpassed Fran Tarkenton in Total Rushing Yards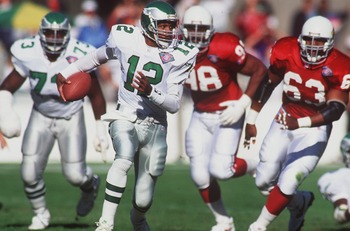 Randall Cunningham was unique in his ability to find daylight.
Stephen Dunn/Getty Images
Randall Cunningham had a frame like no other quarterback before him. He was built similar to an NBA player in his lankiness, add to that being elusive and a coach like Buddy Ryan who was willing to put him anywhere—the future had begun to arrive in Philadelphia.
Greats like Elway, Young and Cunningham did as much damage with their legs as they did through the air. That template of play also lent itself to opening up other facets of the offense like the spread offense, which initially made defenses porous. While none of the quarterbacks mentioned had any significant receiving stats, the possibility was born for having more athletic quarterbacks.
Cunningham was genuinely special and retired with more yards running than any other quarterback in the history of the NFL, surpassing Tarkenton by gaining 4,928 yards on the ground during the course of his 16-year career.
Randall Cunningham (QB Record 85-58-1)
Career Span: 1985-2001
Career Completion Percentage: 56.6
Passing Yards: 29,979
Yards Per Game: 186.2
Yards Per Attempt: Seven
Yards Per Completion: 12.3
Touchdown Passes: 207
Interceptions: 134
QB Passer Rating: 81.5
Rushing Attempts: 775
Rushing Yards: 4,928
Rush Average: 6.4
Rushing Touchdowns: 35
Kordell Stewart Was the Quintessential Slash for Other to Imitate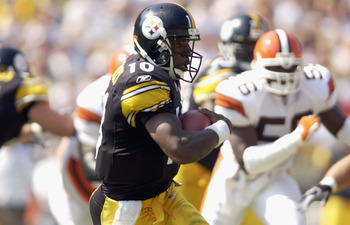 Kordell Stewart got the Steelers to the AFC Championship where they fell to John Elway and the Broncos in one of Stewarts best career games.
Ezra Shaw/Getty Images
In a somewhat unexpected way came Kordell Stewart, who was unique in his own right, with abilities and true slash system that impacted how he was used. For the first time, a fully embodied and fully embraced "slash" was born into an NFL franchise, the Pittsburgh Steelers. In fact, Stewart's nickname with the Steelers soon became "Slash."
Stewart had a rare ability to run with the ball well while having an accurate arm, and he hadan even rarer talent because he could run receiver routes well. Route running is probably the second hardest skill to acquire in football behind playing quarterback. But it's important to understand the Pittsburgh Steelers took a gamble to embrace Kordell's skill set.
Generally speaking, "slash" players are usually not the best at their position, unless they are quarterbacks first. However, in order to be a "slash" you have to rank or be seen as someone who can cause headaches or mismatches for the defense at some other capacity.
Kordell Stewart (QB Record 50-36-0)
Career Span: 1995-2005
Career Completion Percentage: 55.8
Passing Yards: 14,746
Yards Per Game: 117.0
Yards Per Attempt: 6.3
Yards Per Completion: 11.2
Touchdown Passes: 77
Interceptions: 84
QB Passer Rating: 70.7
Rushing Attempts: 560
Rushing Yards: 2,874
Rush Average: 5.1
Rushing Touchdowns: 38
Receptions: 41
Receiving Yards: 658
Receiving Average: 16.0
Touchdowns: Five
Michael Vick Might Become the Ultimate Slash Before His Career Ends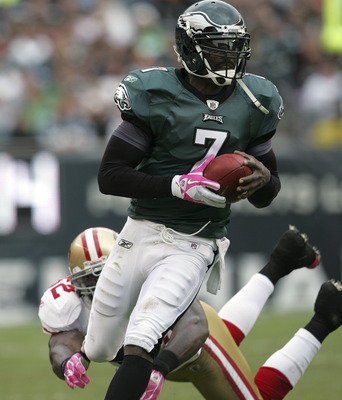 Michael Vick brought back the triple running threat to professional football in tandem with the Falcons FB and TB during his time there.
Rich Schultz/Getty Images
Michael Vick (QB Record 48-34-1)
Career Span: 2001-2006, 2009-present
Career Completion Percentage: 55.4
Passing Yards: 2,198
Yards Per Game: 150.6
Yards Per Attempt: 6.9
Yards Per Completion: 12.5
Touchdown Passes: 97
Interceptions: 60
QB Passer Rating: 80.4
Rushing Attempts: 677
Rushing Yards: 4,783
Rush Average: 7.1
Rushing Touchdowns: 32
Will Tim Tebow Play as a QB or a Slash in the NFL?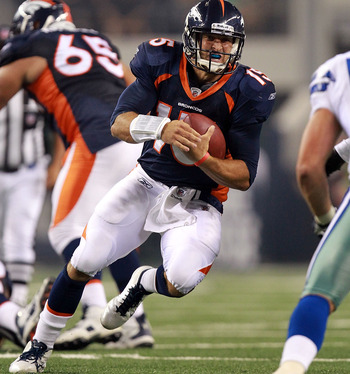 Tim Tebow had college stats, but he hasn't proven he can handle the NFL as a starting quarterback just yet. Nonetheless he will have an impact on the future of players with slash-ability reaching the NFL.
Ronald Martinez/Getty Images
None of Tim Tebow's current statistics give a clear-cut answer on whether or not he makes it in the NFL as a quarterback. Moreover, none of it tells us if he can become a successful slash in the league, however, he will ultimately leave an impact on the game and how future slash players are handled at the NFL level.
Tim Tebow (QB Record 1-2-0 with the Denver Broncos)
Career Span: 2010-present
Career Completion Percentage: 50.0
Passing Yards: 654
Yards Per Game: 218.0
Yards Per Attempt: Eight
Yards Per Completion: 16.0
Touchdown Passes: Five
Interceptions: Three
QB Passer Rating: 82.1
Rushing Attempts: 43
Rushing Yards: 277
Rush Average: 5.3
Rushing Touchdowns: Six
* Tebow lost one additional yard rushing against the Packers in yesterday's one play feature of the Tebow package.
Cam Newton Shows Real Potential To Elevate the Role of a Slash QB in the Lineup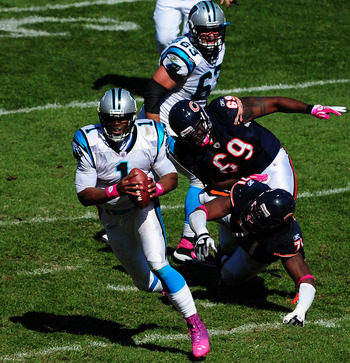 Cam Newton is a special athlete who is making a successful transition into a starting QB role with the Carolina Panthers. It remains to be seen how his slash-ability will eventually impact the game of professional football.
Scott Cunningham/Getty Images
Cam Newton had his doubters this season but he's off to a great start statistically speaking.
Cam Newton (QB Record 1-3-0)
Career Span: 2011–
Career Completion Percentage: 59.5
Passing Yards: 1,386
Yards Per Game: 346.5
Yards Per Attempt: 7.7
Yards Per Completion: 14.3
Touchdown Passes: Five
Interceptions: Five
QB Passer Rating: 84.5
Rushing Attempts: 33
Rushing Yards: 133
Rush Average: Four
Rushing Touchdowns: Four
Note: Cam Newton has played in all four NFL games of this his rookie campaign at press time. He already has had the best debut by a rookie NFL quarterback in the history of the league.
So what do you think about the history of slash past to present and the prospects for the future?
Sound off!
--
Follow Chaz's national sports feed and other linked list on Twitter!
http://twitter.com/Chaz_Mattson
Keep Reading

Denver Broncos: Like this team?