Arizona Cardinals vs Minnesota Vikings: How Leslie Frazier Can Save His Job
October 7, 2011
Hannah Foslien/Getty Images
It's time to put up or shut up for Leslie Frazier, but will this week be the last game Frazier coaches or can he still save his job from going belly up?
The problem isn't just that the Vikings are 0-4. The mismanagment of his own coaching staff and player personnel is also a very big, glaring problem for the Vikings.
Everything starts with the head coach in the coaching tree, and Vikings fans have watched Fred Pagac and Bill Musgrave make unbelievably idiotic calls that have contributed to the current situation.
One or two games with these types of problems are par for the course, but four consecutive games is unacceptable—clearly showing that Frazier is not guiding his staff the proper way.
The same can be said for player management.
Not playing certain players on offense, and keeping Donovan McNabb the starter when he is clearly way past his time of being effective on the field, falls directly on the shoulders of Leslie Frazier.
So how does Frazier go about avoiding the good old pink slip, even if it is for just one week? Well, call me crazy, but he could start by actually winning this game.
The Arizona Cardinals are ranked 26th against the pass and 15th against the run, so it isn't as if this is not a winnable game.
Conversely, the Cardinals are ranked 18th overall on offense compared to Minnesota's 23rd ranking.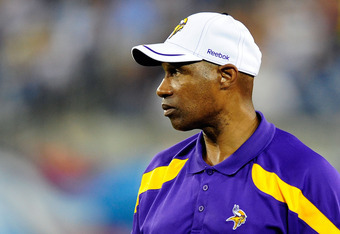 Grant Halverson/Getty Images
If Coach Frazier can show the ability to guide his team to their first win, it could prevent the ax from being lowered, and it can all start with simply fixing the aforementioned.
Frazier needs to manage this game from the inside out. If the coaching staff below him fail to properly make the right call, he needs to step in and either say something or take over.
Frazier needs to show he is not afraid to make a controversial decision by letting the rookie play if the veteran fails to get the job done again. Frazier needs to show he can make the right calls, by utilizing the right players in certain in-game situations.
Get Percy Harvin more involved than just kickoffs, use Adrian Peterson for a full four quarters and stop trying to play cute with seven freaking end-arounds in one lousy game.
If Leslie Frazier can show he has the wherewithal to accomplish these feats, then he may just wind up saving his job providing he actually wins.
However, any deviation from any one of these points, and Frazier won't be answering any postgame questions anymore.