Jets vs. Patriots: Why New York Will Win Week 5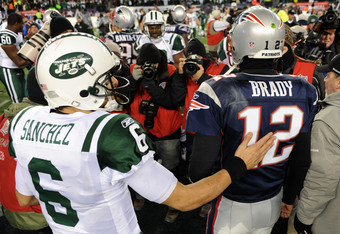 Michael Heiman/Getty Images
It's not easy to be a positive prognosticator for Gang Green right now, heading into a big Week 5 matchup at New England on Sunday.
Let's bullet point the main reasons why, shall we?
The Jets are coming off a brutal loss to the Baltimore Ravens, in which the offense (which failed to score a TD) couldn't have looked any worse. The team had no running game to speak of, and Mark Sanchez had one of his worst games as a pro, turning the ball over four times and completing just 11 of 35 passes for 119 yards.
One of the big reasons the Jets offense struggled Week 4, and has struggled this season, is the current state of the offensive line. The unit has been without center Nick Mangold, who suffered a high-ankle sprain in Week 2, and are getting obliterated through the A-gaps as a result. The team also desperately misses the veteran leadership of retired right tackle Damien Woody.
Regardless of the offensive line woes, it's becoming pretty apparent that Shonn Greene is not an above-average, NFL-caliber running back. The Jets starter is averaging 3.1 yards per carry on 51 rush attempts this season, with one TD (a goal-line score), and a long of 15 yards. Greene is a north-south runner with subpar speed, lacks shiftiness, and can't make defenders miss.
Finally, what was a top 10 rush defense during Rex Ryan's first two years in New York is ranked 27th in the league after four games. It's mostly due to being gashed by the Raiders' Darren McFadden in Week 3, but the Jets have noticeable tackling issues at every level of the defense, and are now down outside linebacker Bryan Thomas (done for the season with a potentially career-threatening Achilles' tendon tear).
So yeah, pretty discouraging stuff up there. No fear though, because now is the part where I tell you why the Jets are going to pull off an upset against the Patriots, and potentially form a three-way tie atop the AFC East.
Bear with me here, Jets Nation.
For starters, the Jets are 3-2 in the their last five meetings with their chowder-chugging division rivals. The most recent win, of course, was the Jets' 28-21 victory in the divisional round of last year's playoffs. The Jets won that game by pressuring Brady (five sacks), and behind a stellar, mistake-free performance from Sanchez (16-24, 194 passing yards, 3 TD, 0 turnovers).
Patrick Smith/Getty Images
The Jets hadn't fared well against the Patriots during the first eight years of the Brady-Belichick dynasty, but there's something about this matchup that brings the best out of Rex Ryan. Clearly the Jets coach is adamant about winning every game, but his open admiration for Bill Belichick, and recognition of how high the stakes are when these two teams meet, has yielded positive results.
Heading into this weekend, Ryan faces a New England team that could easily be 4-0 right now, had they not blown a 21-0 lead against the Buffalo Bills in Week 3. The Pats are averaging a staggering 507 yards of offense per game, which is nearly 200 more than the Jets' 308-yard output.
The Jets aren't going to win the yardage battle on Sunday, that I will flat-out guarantee. In last year's playoff victory, the Patriots out-gained the Jets in total yards 372 to 314, dominating time of possession as well (34:56 to 25:04).
It's hard to expect anything different this time around, what with the Patriots offense on pace to break several team and individual single-season records, while the Jets offense is sputtering behind the aforementioned maligned offensive line.
While the Jets are overmatched from an offensive standpoint, they are clearly the better defensive team thus far. The Jets are ranked eighth in total defense (thanks entirely to their stellar secondary), while the Patriots are dead last, giving up an atrocious 477.5 yards per game.
What is the biggest key to a Jets victory?
Granted, the NFL's best team, the Green Bay Packers, are ranked 28th in total defense, but the numbers are a bit skewed at this early stage. The Packers are still second against the run, still generate a hell of a pass rush, and while the secondary has struggled, a large chunk of the yards they've given up have come while nursing multiple TD leads.
The Patriots on the other hand are 18th against the run, have no pass rush to speak of, and have given up yards at a much more consistent pace than the reigning champs. Yes, early-season totals are misleading and heavily dependent on early-season opponents. But even considering that, the Patriots defense is still filled with holes and is one of the league's worst units, until proven otherwise.
So will the Jets' advantage on defense (juxtaposed against a large disadvantage on offense) be enough to secure a road victory?
Here are five other keys to suggest why the Jets will be victorious come Sunday:
The return of Nick Mangold. Whether or not he's 100 percent (he wont be), Mangold at 80 percent is still light-years better than a fully healthy Colin Baxter, who has looked lost in every aspect of the center position. Mangold's presence is desperately needed for opening up the interior running game, as well as protecting Sanchez from inside pressure, courtesy of New England defensive tackles Vince Wilfork and Albert Haynesworth.
Getting Sanchez back on track. Sanchez doesn't need to match Brady blow-for-blow, and if he tries too hard, he'll set the Jets up for failure. Instead, Sanchez needs to do what he does best: make big passing plays (i.e. touchdowns, say two or three), while not turning the ball over more than…once.
Loss of Jerod Mayo. A huge break for the Jets will be the absence of, arguably, New England's best defensive player, Jerod Mayo (it's either him or Wilfork), their Pro Bowl middle linebacker who is out with a knee injury. Mayo is the team's play-caller, and as such, the leader of the defense. It's hard to imagine New England's defense getting any worse than they've been, but the loss of Mayo is a huge blow that the Jets need to take advantage of.
Stop the Patriots sneaky-good running game. While the Pats will most likely be without former Jets RB Danny Woodhead, the duo of veteran BenJarvis Green-Ellis and rookie hot shot Stevan Ridley cannot be ignored. The Jets' primary objective is always to stop the pass, but Ridley especially needs to be spied (when he's been on the field this season, he usually gets the ball) due to his explosiveness in the open field.
Turnover Brady. It's the key to the game, and really the only way to beat the Patriots machine at QB (just ask the Bills from Week 3). Look, it's not like you can tell Darrelle Revis, Antonio Cromartie, Jim Leonhard, Eric Smith, or whoever, to go out there and intercept a Brady pass. It's also a tough task to sack Brady (only taken four so far), especially for a Jets defense that needs to blitz to pressure the QB (a risky play with the quick-slinging Brady). No matter, the Jets need to find a way to win the turnover battle, and if they do, they will most likely win this game.
This article is
What is the duplicate article?
Why is this article offensive?
Where is this article plagiarized from?
Why is this article poorly edited?

New York Jets: Like this team?