2011 ALDS Yankees-Tigers Game 5: Live Analysis of Game's Biggest Stories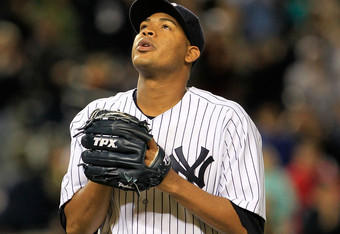 Chris Trotman/Getty Images
Welcome to Bleacher Report's ongoing coverage of the American League Divisional Series between the Detroit Tigers and New York Yankees.
After surviving an elimination game with a victory at Comerica Park on Tuesday, the Yankees are back on home turf at Yankee Stadium to stave off elimination once again at the hands of the Tigers.
In a rematch of the suspended Game 1 matchup, rookie Ivan Nova of the Yankees and Doug Fister of the Tigers will be called upon to extend their team's season. Nova, pitching in his first-ever postseason game, got the best of Fister last Saturday, allowing just two runs on four hits in 6.1 innings.
Fister will be looking to rebound after giving up six runs on seven hits in 4.2 innings. This time, however, both pitchers can get back to their normal routines after technically being called into relief for the suspended Game 1. Whether or not that makes a difference for either pitcher will be seen later tonight.
So, as the character Margo Channing famously said in the 1950 movie All About Eve, "Fasten your seatbelts, it's going to be a bumpy night!"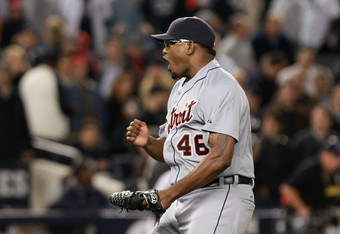 Well, that's one Game 5 on the books!
Stay tuned tomorrow, as Bleacher Report continues to provide live coverage of the 2011 MLB playoffs, with coverage of both Game 5 matchups in the National League, as the Arizona Diamondbacks attempt to come back from a 2-0 series deficit against the Milwaukee Brewers, and Roy Halladay and the Philadelphia Phillies attempt to beat Chris Carpenter and the St. Louis Cardinals.
Thanks for sticking with us tonight, and for the Detroit Tigers, it's on to Texas.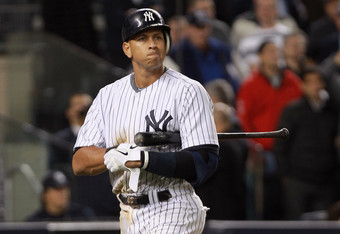 Rodriguez ends his ALDS hitting just .111, which will no doubt inflame the passions of New Yorkers over the next few hours and days.
Teixeira, Rodriguez and Swisher hit a combined .164 during the series. When your 4-5-6 hitters offer that kind of production, is it any wonder they're going home?
The Detroit Tigers will now travel to Texas to take on the Rangers, with Game 1 scheduled for Saturday night.
Valverde strikes out Alex Rodriguez, and the Detroit Tigers win on the road in Yankee Stadium, 3-2!
Yankees down to final out of season, with Alex Rodriguez carrying the weight of New York on his shoulders.
Three up, three down for Mariano Rivera.
His counterpart, Jose Valverde, who was a perfect 49 for 49 in save opportunities during the regular season, will now be called upon to put the Tigers into the ALCS to face the Texas Rangers.
Gotta love good drama in the bottom of the ninth.
Tigers 3, Yankees 2, Mid 9th
Yankees manager Joe Girardi got exactly what he wanted, Robertson and Rivera in the eighth and ninth.
However, he wanted a lead when it happened.
Oh well, you can't have everything.
Tigers 3, Yankees 2, two outs, Bottom 8th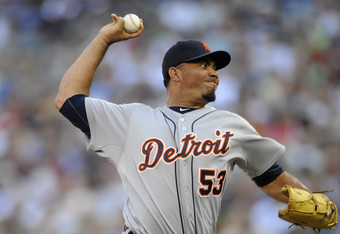 Wow.. A collective gasp could be heard when Derek Jeter lifted a long fly ball to right field.
Not quite long enough, settling into the glove on Don Kelly on the warning track.
Joaquin Benoit with a HUGE performance, getting five outs.
Tigers 3, Yankees 2, End 8th
Gardner slaps a single into left field, putting the tying runner on base with two outs.
How pesky has Gardner been during this series?
Benoit freezes Russell Martin with a nasty slider for the second out of the inning.
Tigers 3, Yankees 2, two out, Bottom 8th
Nice play by Jhonny Peralta, ranging far to his left to nail Posada by half-step.
Jorge Posada up to face Joaquin Benoit in bottom of eighth inning in what could be final appearance in a Yankee uniform.
Tigers 3, Yankees 2, Bottom 8th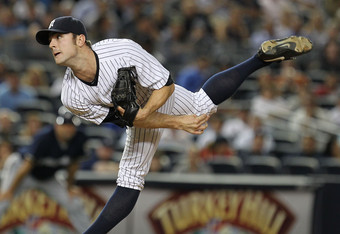 Yankees setup man David Robertson set the Tigers down in order in the top of the eighth.
Robertson retired all six batters he faced in the ALDS, building on his incredible regular season, in which he posted a 1.08 ERA and struck out 100 batters in just 66.2 innings.
And the Yankees signedRafael Soriano as the heir apparent to Mariano Rivera because...why?
Tigers 3, Yankees 2, Mid 8th
Benoit gets Swisher on a high outside heater, leaving the bases loaded and quieting the boisterous Yankee Stadium crowd.
That's 10 runners now stranded by the Yankees.
Tigers 3, Yankees 2, End 7th
Benoit walks Teixeira with the bases loaded, now a one-run game.
Nick Swisher up for the Yanks.
Tigers 3, Yankees 2, bases loaded, two outs, Bottom 7th
HUGE strikeout for Joaquin Benoit, getting A-Rod on a nasty changeup...
Bases still loaded for the Yankees' other non-producing power guy, Mark Teixeira.
Benoit completely misses on Cano weak grounder, Yankees now have bases loaded with Alex Rodriguez coming up.
Can this be the at-bat that turns things around for A-Rod in this series?
Tigers 3, Yankees 1, bases loaded, one out, Bottom 7th
Yankees now have tying run on board after Granderson single to right field, with the ever-dangerous Robinson Cano at the plate.
Tigers 3, Yankees 1, two on, one out, Bottom 7th
Leyland turns to set-up man Joaquin Benoit early, replacing Scherzer.
Home plate umpire Ted Barret now telling Benoit to remove band-aid from left side of face as well.
Yankees obviously engaging in a bit of gamesmanship here.
Jeter beats out infield grounder to Jhonny Peralta, who was late on the throw.
Maybe a little squibber can light a fire for the Yankees.
Tigers 3, Yankees 1, one on, one out, Bottom 7th
Scherzer comes all the way back from 3-0 count to punch out Brett Gardner.
Tigers 3, Yankees 1, one out, Bottom 7th
Delmon Young appears to have suffered an injury to his side, coming off the field during warmups, replaced by Ryan Raburn in left field.
That's a huge bat out of the Tigers lineup.
Tigers 3, Yankees 1, Bottom 7th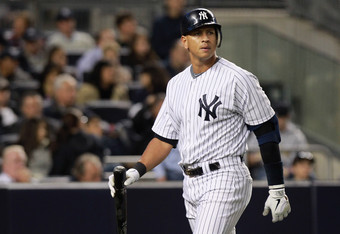 Stretch time in New York...
Speaking of stretch, is it too much of a stretch to ask A-Rod and Mark Teixeira to start contributing?
Let me know if I'm asking too much....
Tigers 3, Yankees 1, Mid 7th
Back-to-back strikeouts by Rafeal Soriano to start the seventh.
Where was this version of Soriano during the regular season?
Tigers 3, Yankees 1, two outs, Top 7th
If the Yankees can't get it done in next three innings, the trio of Jorge Posada, Derek Jeter and Mariano Rivera will likely end their record run of 17 years together.
Wow, WHAT kind of a swing was that by Martin?
Scherzer gets the job done, stranding Posada at first.
Tigers 3, Yankees 1, End 6th
This article is
What is the duplicate article?
Why is this article offensive?
Where is this article plagiarized from?
Why is this article poorly edited?

New York Yankees: Like this team?