The Jets Head to Foxboro: Can They Beat the Pats?
October 6, 2011
Patrick Smith/Getty Images
I wouldn't want to be Brian Schottenheimer right now. I have a feeling that Rex Ryan is going to be in the offensive meetings all this week. 
He was asked about it at his Monday press conference and was non-committal as to his exact plans. Lucky for me, that gives me plenty of freedom to speculate.
But first, let's dispense with this notion that the Jets have somehow deliberately chosen to go all Air Sanchez on opponents. That's way too facile of an explanation. Yes, the Jets are passing more this year than the previous two. And yes, a lot of that has to do with Sanchez's growth as a quarterback. 
But it is not the only reason. First off, the run game so far has been appalling. Whether it's predictable playcalling, ineffective running by the backs, poor run block execution or just plain indifference, who knows? 
I think it's a combo of all of the above. Plus, it's not like it's a secret that Schotty likes calling pass plays. It's nice for him now that Mark can execute most of them. Don't forget, Schotty used to be the QB coach for Drew Brees in San Diego.
Secondly, when you get behind and your run game can't get any traction, you tend to have to put the ball in the air. Plus, the Jets have fancy wide receivers who can make plays. But nothing is working right now.   
It's time to get back to fundamentally sound football.
Here is what I think is happening behind the scenes in Florham Park this week: It'll be a flashback to mid-season 2009. In case you don't remember, let me walk you down memory lane. 
After an incredible 3-0 start for the rookie QB and rookie head coach, including beating the Pats at the Meadowlands in Week 2, the Jets fell off a cliff. They went into a nausea inducing seven-game midseason skid (they lost 6 of 7) that Sanchez in particular had a huge role in. The ship just couldn't be righted.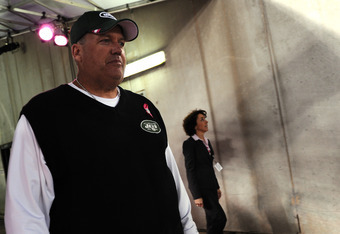 Patrick Smith/Getty Images
So what happened? Rex, heretofore hands off the offense, got personally involved. The playbook got simplified. Sanchez got a color-coded wrist band to remind him when it was OK to take a chance and when to be conservative. 
Rex sat in the offensive meetings and basically breathed down everybody's neck until all parties got the message that this was going to have to get turned around or else. And it worked. They pulled out of the nose dive and ended up going on an unlikely playoff run all the way to the AFC Championship Game.
This time around it is not Sanchez's fault. I know it looks bad now, but he is not the problem.  He'll be able to get the receivers those balls when he doesn't have to worry that the instant the ball is snapped he is going to get his clock cleaned. 
This time around, the problem is offensive protection and effective running. Passing is about timing, touch and finesse. Running is about heart and desire and sheer physicality. As is blocking.    
This is where Ryan comes in. He pointedly said that he is not about to take over playcalling duties. But I think the place where he can and will make a difference is by being in those offensive meetings and demanding accountability. 
Anybody who watched "Hard Knocks" knows Rex Ryan is superb at this. Championship offenses run and block with maximum effort. With his own homespun brand of profanity-laced "don't disappoint me, let's get this done" bravado, Rex will get his message across. He is the master at this. 
Lost in the (my) hysteria after the Sunday Night Football loss, was the 180 degree turnaround by the Jets defense at Baltimore after the sorry showing in Oakland. Sure, defense is about scheming and good technique, but it is also about heart, effort and hustle. 
The difference between the half-hearted defense the Jets played against the Raiders and the tremendous job they did against the Ravens was night and day. What changed? Attitude. 
Whenever I see a basketball team struggling to get shots to fall, my prescription is always the same: Get out of your head and forget about trying to take more and more shots that just clang off the rim. 
Instead re-focus on playing lockdown defense. Block shots, harass the other team's shooters and hustle at the boards for rebounds. And voila! Like magic your shooting touch will re-appear because you're no longer pressing and your natural athleticism will take over and the shots will fall.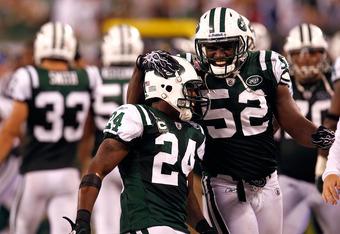 Jeff Zelevansky/Getty Images
That's what the Jets need to do in order to go into Foxboro and beat the Patriots. Get out of your head(s) and get the focus back to tough, smart, well-executed football. In both of their two losses, they've been out-played physically. That changes now. I predict that Rex will preach a slightly more colorful version of this exact sentiment.
There are two keys to beating Tom Brady. The most obvious is keep him (and his formerly flowing locks) off the field. He can't beat you while he's on the sideline. 
The other is to apply relentless pressure to him in the pocket. The Jets did that in the playoffs last year and beat him. Tom doesn't want to get his knee blown out again. 
(BTW, when did Bernard Pollard end up with the Ravens? Remember, he's the guy who put the hit on Brady that caused the 2008 season ending knee injury. I wonder if Nacho knew that? Shhh. Don't tell him in case the Jets meet the Ravens again. Probably best he doesn't know that.)
Look, I'm not saying it will be easy in New England. Dreamboat gave an interview over the summer where he said that the loss to the Jets in last year's playoffs was worse than the David Tyree helmet catch loss to the Giants in the Super Bowl. 
Just sit with that for a minute: For Brady, losing to the Jets in the playoffs was worse than losing the Super Bowl and a potentially undefeated 19-0 season. Brady has since backed off that comment. Still, he will be extremely motivated to win. 
But these aren't the Pats of the early 2000s. In my opinion, those teams were great not just because Tom was coming into his own and Belichick realized he had a Hall of Famer on his hands. 
They were great in no small part because of their brilliant  and smart defensive players. Guys like Vrabel, McGinest, Bruschi, Harrison, Seymour. This is a different Pats team which relies on Brady now much the same way the Colts have relied on Peyton Manning the last few years.
The Jets can beat the Pats. Remember they are 3-2 against Brady and Belichick since Ryan and Sanchez rode into town. I don't want to go too far out on a limb here, but I think it is safe to say this is a must-win game for the Jets. 
Just observing what is coming out of Florham Park, I think that the Jets are in a state of behind the scenes turmoil. Way too much sniping from the usually unified (publicly at least) Jets. Something doesn't smell right.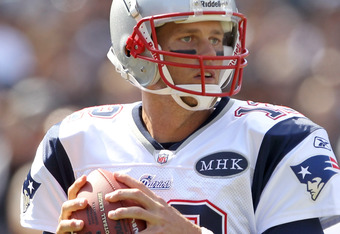 Ezra Shaw/Getty Images
Sanchez, very uncharacteristically, did not take full blame for the Jets loss to Baltimore at the post game press conference. That in itself is telling. It's Mark's oblique way of saying, I can't be the only one accountable around here. Everyone has to step up. 
Nobody is saying it outright, but I think watching that game film was sobering for everybody. But Rex is right. Winning divisional games is crucial and the Patriots are the first ones up. 
In a strange way, maybe the awful loss to the Ravens is just what is needed to get the Jets back to their "it's us against the world" scrappy fighting identity. Win this Sunday and all the angst and drama will recede.   
It's like John Madden used to say, "Winning is the best deodorant."