WWE: Has Zack Ryder Reached His Highest Point in the Company?
October 7, 2011
Zack Ryder is the ultimate example of how a wrestler can benefit from being repackaged.
The 26-year-old from Merrick, New York debuted with the WWE in 2006, and boy oh boy, has he come a long way.
Ryder started off in the company as Brett Major, where he teamed with Brian Major (now Curt Hawkins) as the Major Brothers. But Vince McMahon soon realized that Ryder and Hawkins weren't in fact brothers, asked himself why the hell he was portraying them as such and put the Major Brothers to bed. For good.
Ryder would, however, remain with Hawkins—both guys going by their current ring names—and both wrestlers aligned themselves with Edge's "La Familia" faction, where they were known as "Edgeheads" and became the youngest WWE Tag Team Champions in history.
The duo would eventually split in April 2009, when Ryder was drafted to the ECW brand and repackaged once again as a typical Jersey Shore guido who loved to say, "Woo woo woo...you know it."
The two highlights of Ryder's heel run on ECW were his ECW Championship match against Christian (a very good one, I might add) and his victory over Tommy Dreamer that forced Dreamer to leave the WWE.
But once ECW folded in February 2010, Ryder was moved to the Raw brand, where he became almost completely lost in the shuffle. I know, I know—he did get a WWE Championship match against Sheamus, but come on. 
That match lasted all of 11 seconds and was done to make Sheamus look like a monster more than anything else.
Ryder wouldn't appear on Raw for much of 2010, instead wrestling on Superstars and appearing as a pro on NXT. He was buried so far down the WWE roster that unemployment wasn't too far out of sight.
So, he decided to do something about it.
In February 2011, Ryder started a video series on YouTube called Z! True Long Island Story which also helped him become one of the biggest presences on Twitter in all of the WWE.
It didn't take long for Ryder's charisma and comedic timing to make him immensely popular on the Internet and win him a legion of followers as a result. Despite getting little to no TV time, WWE live shows were bombarded with "We want Ryder!" chants.
Nothing happened at first, and Ryder still wasn't getting on TV, but then the WWE brass decided to finally listen to the fans.
Ryder was named the assistant to Smackdown general manager Teddy Long, and he's gotten much more TV exposure by teaming with Jerry Lawler and Air Boom and picking up two victories over United States Championship Dolph Ziggler.
Fans of Ryder rejoiced when he finally got his due on TV, but he's now taken a backseat once again. He's still appearing on TV, but not as much as we'd like, and he didn't get the United States title win that many fans thought he deserved.
It's left us wondering: Has Ryder peaked? Is this as far as he's ever going to go in the WWE?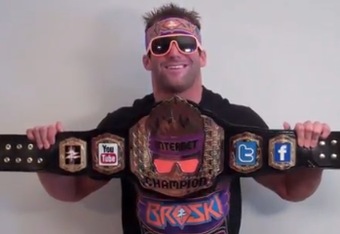 Are you serious, bro? Ryder hasn't reached his potential. Not by a long shot.
You could say that the highlight of his career thus far has been his tag team title win with Hawkins while he was an Edgehead, but hardly anybody even remembers that.
Now, though, Ryder has a huge fan base...and one that's just getting started.
The fans have spoken up for him and helped get him where he is today, and they're not going to stop until he wins singles gold.
I thought Ryder would beat Ziggler for the United States Championship at some point, but that hasn't happened yet. I wouldn't completely dismiss it as a possibility, however.
Ryder is as over as almost any mid-card baby face, and he works well in his current comedic role. His gimmick may be a bit silly at times, but it's downright hilarious and features catchphrases that people will always remember.
He's the perfect fit for a US title run like I mentioned or even as an opponent for Cody Rhodes and his new Intercontinental Championship. That secondary title range is exactly where he belongs, and that's likely where he'll be for the next couple of years.
Ryder's got the charisma, the look, the in-ring skills and the "it" factor to be around for a while, but I'm not sure he's going to ever be a main eventer. He's not a total comedic character like Santino Marella, but he's not serious enough to be wrestling for World titles just yet.
Maybe if he tweaks his character, that'll change. But his current character is what makes him so special.
Keep Ryder exactly the way he is, but let him go after the WWE's top mid-card heels.
If that happens, then Ryder will only rise up the ranks. Although he's yet to reach his highest point, that point is pretty damn close.